Review: JEFFREY at Rainbow Theatre Project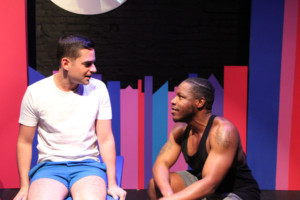 Sometimes, life can be so terrifying, the fear simply paralyzes us. That's the situation we find our titular lead in at the opening of Rainbow Theatre Project's production of Paul Rudnick's play, Jeffrey. Jeffrey, a young gay man in New York in the early 90s, is grappling with the impact of the AIDS crisis on his life and social group. It's not just that he fears the disease himself, but he's petrified of what it means for his relationships - what if he gets close to someone, and he has to watch them go through the course of the disease and its treatments? What if he falls in love, only to lose that person? To protect himself, Jeffrey swears off sex and dating.
It's bad timing, though, because just after he makes this decision, he meets his dream man at the gym. Steven, it turns out, isn't just a gym buddy, but someone who's integrated in Jeffrey's world - he tends bar at the same type of events the catering company Jeffrey works for covers, and he's friends with Jeffrey's close friends, Sterling and Darius. But Jeffrey's fear is so great, that even after he agrees to a date, he panics and cancels at the last minute. His impulse to withdraw hurts his relationships with his friends as well as his potential partner, and leaves him feeling lost and isolated.
Jeffrey is set against the backdrop of the early 90s gay scene in New York City, portraying not just the AIDS crisis but also the hookup culture and dating scene, alternative options taken by those who were worried about physical contact, the prejudices faced even by those who meant well, the fundraisers and memorials that were a part of daily life, and daily life itself. It's a show that speaks very specifically to those who share these experiences, but the themes - love, loss, self-preservation, friendship, and finding yourself - are universal. Most importantly, though, is that theme of love - love for self, love for friends, romantic love, and love for life. Jeffrey's withdrawal isn't just a retreat from romantic relationships, but from life itself, and, in the end, that's what he needs to face.
The Rainbow Theatre Project's production of Jeffrey captures these themes beautifully. The small, black box theatre and the creative, minimalistic set (the work of PJ Carbonell) create a wonderfully intimate atmosphere that draws the audience into Jeffrey's world. The costumes, created by Hannah Katherine Herold, perfectly capture the era. James Morrison's lighting keeps the story moving, especially through the many transitions, and Director Robert Minz and Production/Stage Manager Deborah Gur deserve tremendous credit for running a strikingly tight show that never feels restrained.
But the true heart of this production is the cast. Rinaldo Martinez's Jeffrey is a wonderful protagonist, drawing sympathy for even Jeffrey's worst impulses. Matthew Pauli, as Jeffrey's best friend, Sterling, is delightful, but also delivers a heartbreaking performance when his veneer of control is broken. Sterling's lover, Darius, is played by the enchanting Randyn Fullard, whose zeal and pure joy radiates off the stage. Reginald Richard rounds out the main cast with a layered, lovely portrayal of Steven, sliding easily from confidently flirtatious to rightfully indignant without ever losing his charm. The ensemble cast - Craig Houk, Emily Levey, Joshua Street, and Rick Westerkamp - is brilliantly versatile and hilariously funny. They bring a much-needed levity to the show, making it genuinely humorous, but also providing a good counter for the more serious, aching moments. This cast is why I spent a good portion of the show laughing, then found myself frantically digging in my bag for a tissue - they balance humor, grief, and sweetness admirably.
Jeffrey manages to be funny, heartbreaking, and incredibly profound, with its core message of embracing life radiating throughout. It's a wonderful show produced by a wonderful team.
The Rainbow Theatre Project's production of Jeffrey plays at the DC Arts Center through February 10th. Run time is approximately two hours with one intermission.
Photo Credit: RCG Photography, featuring Rinaldo Martinez and Reginald Richard
| | |
| --- | --- |
| Vote Now for the 2022 BroadwayWorld Washington, DC Awards | |
| voting ends in | |
Rachael is a native New Yorker and life-long theatre devotee. She saw her first Broadway show, "Joseph and the Amazing Technicolor Dreamcoat," at age five, and has been hooked ever sinc... (read more about this author)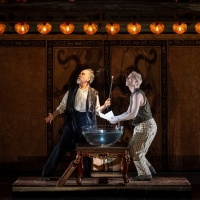 Review: THE TEMPEST at Round House Theatre // Folger Theatre

December 1, 2022

It's clear that a tremendous amount of talent, effort, and care has gone into this telling of The Tempest, and those affiliated certainly deserve high praise. Do yourself a favor and go see this production.
---
Review: INTIMATE APPAREL at Theater J

October 27, 2022

'Intimate Apparel' is a fascinating look at an intriguing woman, time period, and world, but the production just didn't meet the standards Theater J has set for itself over the years.
---
Review: CLOUD GATE DANCE THEATRE OF TAIWAN: 13 TONGUES at The Kennedy Center

October 22, 2022

Cloud Gate Theatre of Taiwan's '13 Tongues' is the perfect season starter for the Kennedy Center's wonderful international dance program.
---
Review: OLD STOCK: A REFUGEE LOVE STORY at Theater J

September 12, 2022

Theater J's season opener, 'Old Stock: A Refugee Love Story' is both a story about refugees who fall in love and a love story to refugees.
---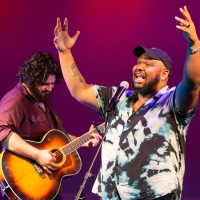 Review: TEMPERED: A CABARET at 4615 Theatre Company

August 1, 2022

'tempered' isn't going to cure or remove your rage – it will still be there. But there's something freeing about leaning into it, about sharing it through music and poetry, that makes carrying it much more bearable.
---