BWW Review: PERFECT ARRANGEMENT at DezArt Performs - What's In Your Closet?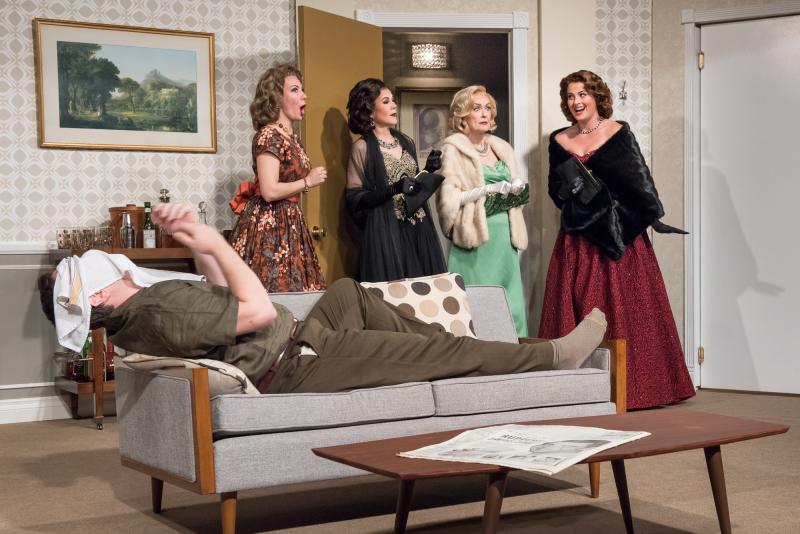 Everyone has a secret or two stashed away. We hide them for fear of being shamed or in some cases, worse. Shame is solely the product of 'agreed upon' societal 'norms'; if we don't fit into any given box then we have an Achilles heel, something others can use to hurt or destroy us. Mean girls, churches, and government have always been exceptionally good at shaming.
In the 1940s, Senator Joseph McCarthy created a wide-spread panic that communism had infiltrated all walks of America and needed to be stopped. Most of us know the lasting results of the Red Scare. But do you know about the Lavender Scare?
It's an ironic story. In an effort to discredit McCarthy, an investigation culminated with a 1950 report known as (I kid you not) the Hoey (Hoo-ee) report titled "Employment of Homosexuals and Other Sex Perverts in the Government", declaring "those who engage in overt acts of perversion lack the emotional stability of normal persons." Over 600 employees were fired in the first few months.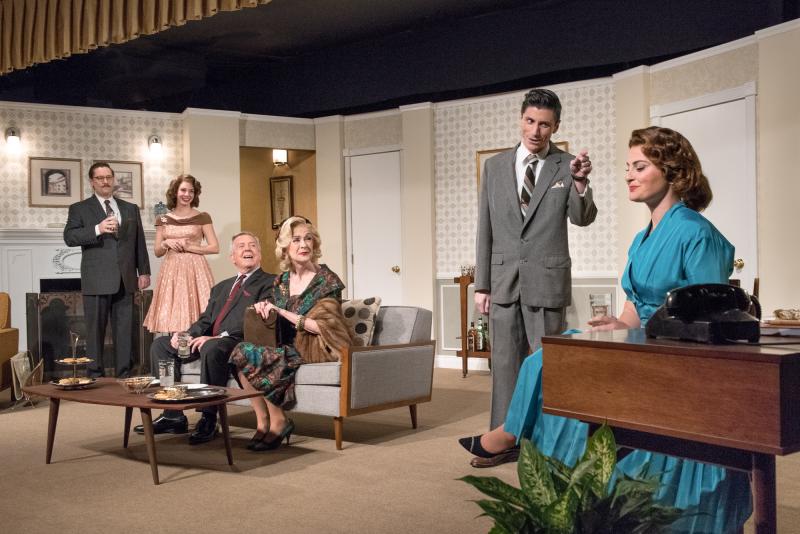 In Perfect Arrangement, Bob Martindale (Adam Jonas Segaller) works for the government in HR, and his wife's BFF Norma Baxter (Olivia Saccomanno) is his assistant. Norma is married to Bob's BFF, Jim Baxter (Hanz Enyeart) and at curtain up we are halfway into a cocktail party at the Martindale's well-appointed home with Bob's boss, Theodore Sunderson (Hal O'Connell) and his wife Kitty (Deborah Harmon). But this cocktail party is straight out of a 1950s sitcom with a laugh track provided by the partygoers themselves. There are even commercial breaks as Millie (Phylicia Mason) responds to compliments by delivering spot-on commercials for the products that helped her get well-polished furniture or shiny hair. She's Donna Reed on steroids, making sure everything is just so while doing her best to avoid Kitty's well-intentioned but pushy overtures of friendship.
Bob's boss, Theodore, is one of those guys that can't leave business at the door, and doesn't. He notifies Bob, and everyone in the room that the government is widening their search from communists to any employee they feel could be susceptible to blackmail: loose women, drunkards. and gays.
"You mean fags?" Kitty asks. "Don't be off-color," Theodore responds, chastising his wife's choice of words. In this man's world, it's okay to take away someone's livelihood for being gay, but to use a derogatory term is wrong.
After the Sundersons leave, the Baxters and the Martindales drop the façade. We quickly learn they have a secret of the closet variety. They have married each other's partners so they can appear 'normal' in 1950s America. It was Bob's idea.
Their living arrangement is also ingenious, which is a funny and apropos reveal, and everything is going hunky-dory until Kitty begins making demands of Millie and Norma's time with constant girl-trips, manicures, and opera dates that include chatting about married life. Norma has to work, but Millie is a "stay at home wife" and is running out of excuses for not hanging out with Kitty.
As it turns out, Kitty is the least of their worries, because she shows up. Barbara Grant (Yo Younger) is an overseas government interpreter, is a bit of a rockstar at her job, and lives her life out loud. That she could be vulnerable to blackmail is a non-starter; she has no secrets.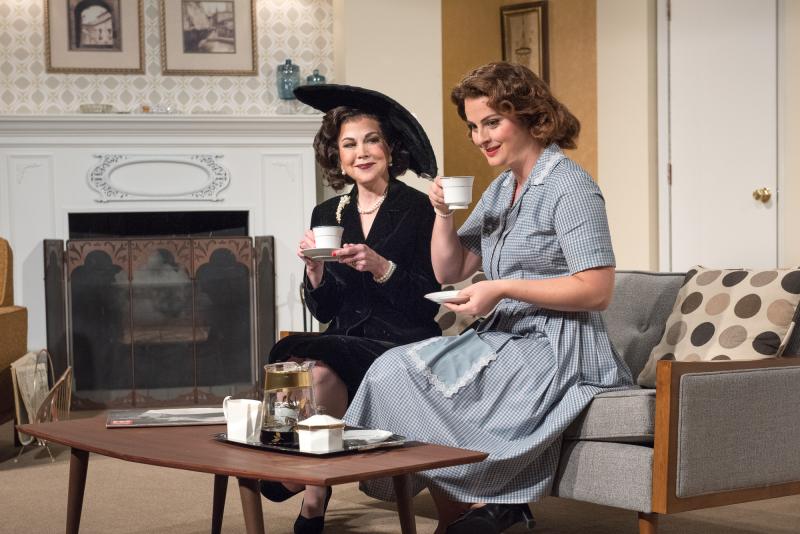 Yet, the government has her in its crosshairs. And that's when things start to go downhill for our little foursome. You see, Barbara had a fling with Millie back when Millie was a college student, and Barbara has the receipts. She is fully aware of the arrangement these two couples have, and she knows that Bob and/or Norma can help her get back to work as a foreign interpreter if they choose to do so. But any attempts to help Barbara, and thus themselves, sends a rainbow flag up to the boss.
As always, director Michael Shaw knows how to use a stage, get the best out of his actors, and how to keep a comedy firing on all cylinders. Segaller does a fine job as Bob, a man who is willing to throw others under the bus in order to keep their arrangement safe, and Enyeart handles Jim's ebullient character without going over the top. O'Connell, too, hits the mark as the bureaucratic and clueless Sunderson.
This play, however, belongs to the women. From Harmon's ditzy Kitty, who knows how to slow things down a bit for a genuine laugh, to Younger's chic Grant, who is reminiscent of Roz Russell when Russell's all business, they both gleefully throw their respective wrenches into the mix with accuracy and humor.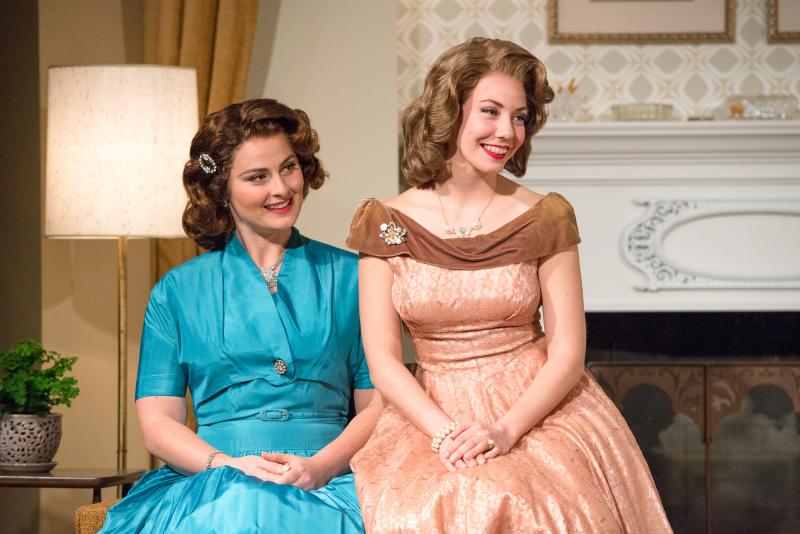 Saccomanno's Norma is elegant and strong but grows convincingly soured and conflicted by her job. Last but not least is Mason's Millie, who keeps the madcap alive. Millie has a penchant for creative storytelling (aka lies) which more often than not lead her on a journey to cover up the lies she tells so as not to be caught in the BIG lie. Of all the characters, Millie is the most three-dimensional. She is the one that works hardest to keep their arrangement under wraps with all of her madcap antics, but she is also the one, in the end, who changes the most. Mason pulls it off in spades.
Now for the final character: the production itself. Thomas L. Valach's set is brilliant. It's 1950s but without a hint of Modernism, because, you know, that might 'give them away'. It is so heteronormative no one would suspect that it is merely a carefully crafted illusion. Big bravo to Valach and his crew for this elegant set.
As if that weren't enough to ballyhoo about, the costumes (Michael Mullen) and the wigs (James Geier) are almost indescribably delicious. The color palette creates a rich tableau of 1950s life, and is close to perfection. I Take That back. It IS perfection.
Perfect Arrangement was written by Topher Payne and is one part farce, one part screwball comedy, and at play's end, a drama. Payne won The American Critic's M. Elizabeth Osborn Prize for Best Play by An Emerging Playwright in 2014 and was a finalist for a 2017 Lambda Literary Award.
Perfect Arrangement runs through Jan. 20 at the Pearl McManus Theater, 314 S. Cahuilla Road, Palm Srings. For tickets, visit dezartperforms.org or call 760-322-0179.
| | | |
| --- | --- | --- |
| | Donations | Arts Orgs |
Related Articles View More Palm Springs

Stories

Shows