Latest News on Olivia Saccomanno
Olivia Saccomanno News
Attend NO HOME: A Staged Reading on December 10
by Chloe Rabinowitz - Dec 5, 2019
'Here, the roads to success and seclusion look exactly the same for a long time. And there's no way to tell which you'll get.' -Neema Join us for A Staged Reading of a new play by Kate Bailey, NO HOME Directed by Colleen Labella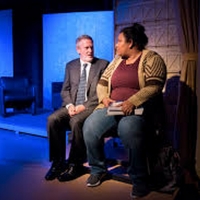 Dezart Performs Recieves 17 Desert Star Award Nominations For Its 2018-19 Season.
by David Green - Aug 5, 2019
Dezart Performs has secured 17 nominations for the annual a?oeDesert Star Awardsa?? including the categories of Outstanding Production Comedy and Drama, Director, Lead Actor and Actress, and Set, Sound and Lighting Design. The winners will be announced at the 32nd annual Desert Theatre League Gala on Sunday, October 13.
Cast Announced For THE COMEDY OF ERRORS At Shakespeare By The Sea
by Julie Musbach - May 29, 2019
For its stunning 22nd season, Shakespeare by the Sea opens The Comedy of Errors starting June 13 at the seaside Point Fermin Park in San Pedro. Veteran director James Rice helms the mistaken identity romp which culminates in one day of wild mishaps, hijinks, and hilarity.

BWW Review: PERFECT ARRANGEMENT at DezArt Performs - What's In Your Closet?
by Kay Kudukis - Jan 15, 2019
Everyone has a secret or two stashed away. We hide them for fear of being shamed or in some cases, worse. Shame is solely the product of 'agreed upon' societal 'norms'; if we don't fit into any given box then we have an Achilles heel, something others can use to hurt or destroy us. Mean girls, churches, and government have always been exceptionally good at shaming.
Press Release: PERFECT ARRANGEMENT at Dezart Performs At Pearl McManus Theater
by Kay Kudukis - Dec 26, 2018
Dezart Performs Continues 11th Season with Perfect Arrangement. Secret Lives set in the midst of the 1950s Red Scare is the focus of thhis dark but witty comic work by Topher Payne

Dezart Performs Continues 11th Season with PERFECT ARRANGEMENT
by Julie Musbach - Dec 17, 2018
Imagine I Love Lucy with Ricky and Fred sharing a bed and Lucy and Vivian as lesbian lovers with State Department credentials. In a nutshell, that's the recipe for the improbable secret high-wire act brought to life in Topher Payne's darkly comic Perfect Arrangementfrom the award winning Dezart Performs of Palm Springs. Set against the backdrop of the 1950s "Red Scare" and the burgeoning gay rights movement, the play runs January 11 - 20 at thePearl McManus Theater (at the historic Palm Springs Woman's Club / 314 S Cahuilla Road, Downtown Palm Springs) and is directed by Dezart Performs founding artistic director Michael Shaw.
Review: Katherine Parr, THE LAST WIFE of King Henry VIII, Revealed as an Early Supporter of Women's Equality
by Shari Barrett - Jan 20, 2018
By now, we all know that new laws have been enacted which allow the first born, whether male or female, of the reigning heir to the British monarchy to be named that person's successor. This new move to equality of the sexes when it comes to being named the crown was perhaps initially started by Katherine Parr, the sixth and final wife of King Henry VIII, who he made Queen Regent when he went off to war (allowing her to rule in his place). Parr then took it upon herself to have his daughters Mary and Elizabeth (Bess) added to the line of succession should their younger half-brother and heir apparent, Edward, die without any legal heirs to assume the crown. That move led to advancing their status as women of royal privilege as more than just a piece of property to be used as a bargaining chip for royal alliances through marriage.
Shakespeare & Company's 'VANYA & SONIA' to Begin 8/6
by Tyler Peterson - Jul 21, 2014
With a healthy dose of hilarity, heart and humility Vanya and Sonia and Masha and Spike joins the Bernstein repertory with director Matthew Penn at the helm. Christopher Durang's Tony-award winning homage to Chekhov leaves no stone unturned when it comes to family dynamics, sibling rivalries, love, lust, hopes and dreams in this razor sharp comedy. The stalwart cast includes audience favorites Tod Randolph and Elizabeth Aspenlieder, and S&Co. newcomers Jim Frangione, Angel Moore, Mat Leonard and Olivia Saccomanno. Performances run in the Elayne P. Bernstein Theatre August 6 - September 14. Press Opening is Friday, August 15 at 8:00pm. To RSVP or for interview opportunities contact Communications & Press Director Elizabeth Aspenlieder: aspenlieder@shakespeare.org.
Olivia Saccomanno Videos