BWW Review: Desert Theatreworks' THE SOUND OF MUSIC is Not to be Missed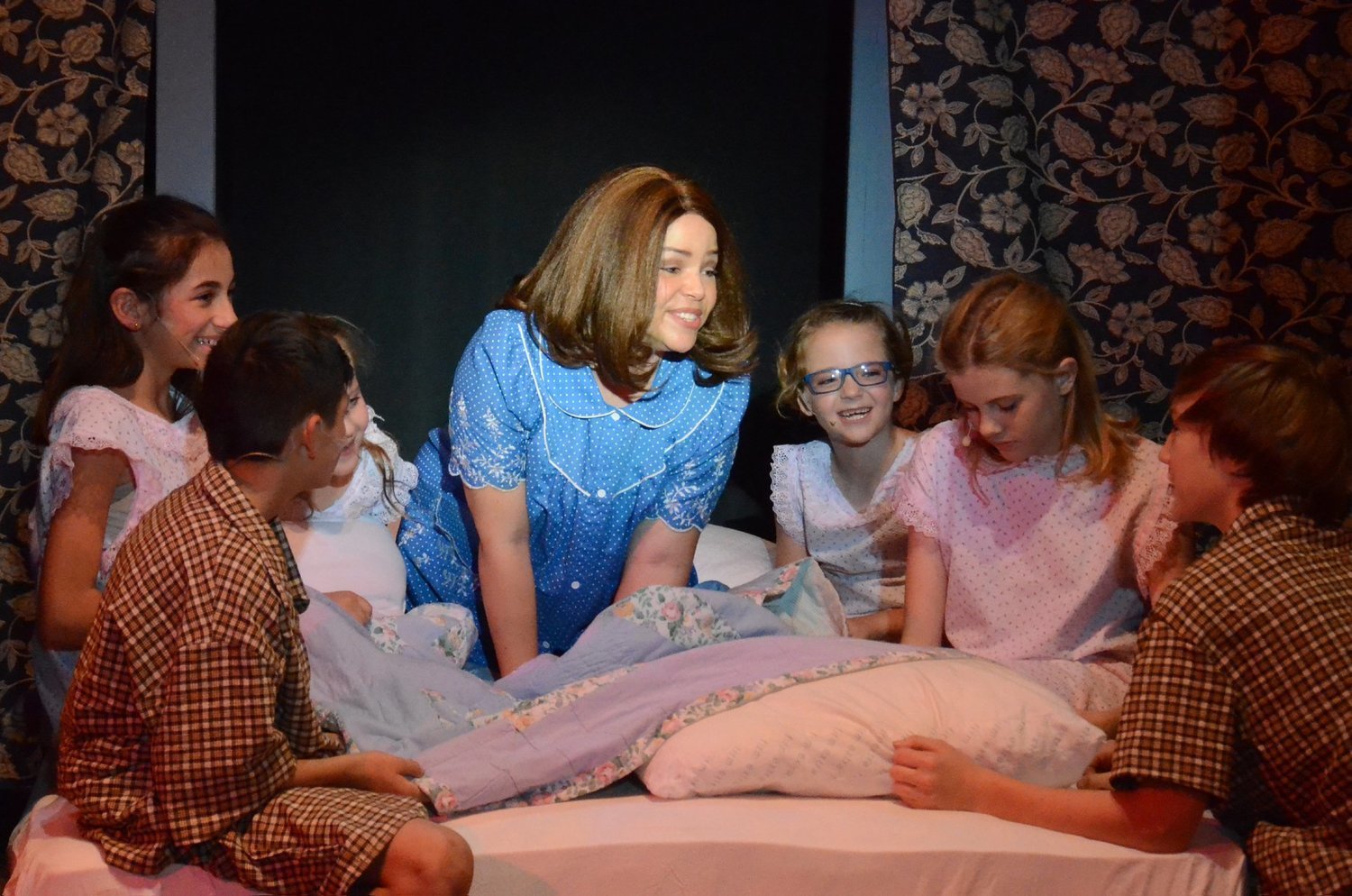 (Note: This is a corrected version of the original review).
It takes creativity, talent, and a deep bench to stage Rodgers and Hammerstein's THE SOUND OF MUSIC - its score is complex, it requires a large cast and numerous scene changes, and it happens to be one of the most adored musicals of all time. Desert Theatreworks (DTW) has proven itself up to the challenge; its current production is a must-see that provides feel-good entertainment for the Christmas season.
For anyone living under a rock, THE SOUND OF MUSIC is the fictionalized story of the von Trapp family, whose members founded a singing group (still in existence, generations later) and ran a ski resort in Vermont, after escaping from post-Anschluss Austria. In the show, Maria, a postulant who is clearly not ready for life as a nun, is sent to the home of a widowed, retired Austrian Navy captain, Georg von Trapp, to serve as governess to his seven children. She teaches the children how to sing, earning first the wrath, then the gratefulness, and eventually, the love of the irascible captain. After the Third Reich "offers" Georg a commission in the Nazi navy, the family must escape over the mountains to sneak into Switzerland. The score includes such classics as "Do Re Mi," "My Favorite Things," "Sixteen Going on Seventeen," and "Climb Every Mountain."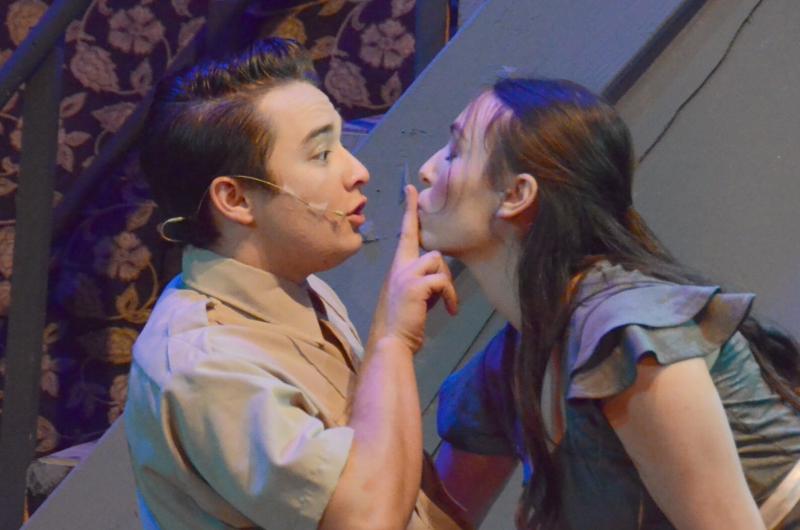 DTW's cast members have fabulous singing voices, as well as top-notch acting skills. As I say in every review of her work, Alisha Bates, who plays Maria, is a true "triple-threat," and one of the most likely performers I know to make it to Broadway. She imbues Maria with warmth and feistiness; it's easy to see why the von Trapp kids, as well as their staid naval officer father, would fall in love with her. Michael Pacas, who plays Captain von Trapp, is also a superb, charismatic performer. Mr. Pacas plays Georg as a man with deep emotions, and resists the temptation to turn the captain, who is very much a martinet when we first meet him, into a caricature. I'm sure some of the audience members got tears in their own eyes when they watched Mr. Pacas's eyes well up as he sang "Edelweiss." With his bearing and his good looks, it is easy to see why the much younger Maria would fall for this Captain von Trapp.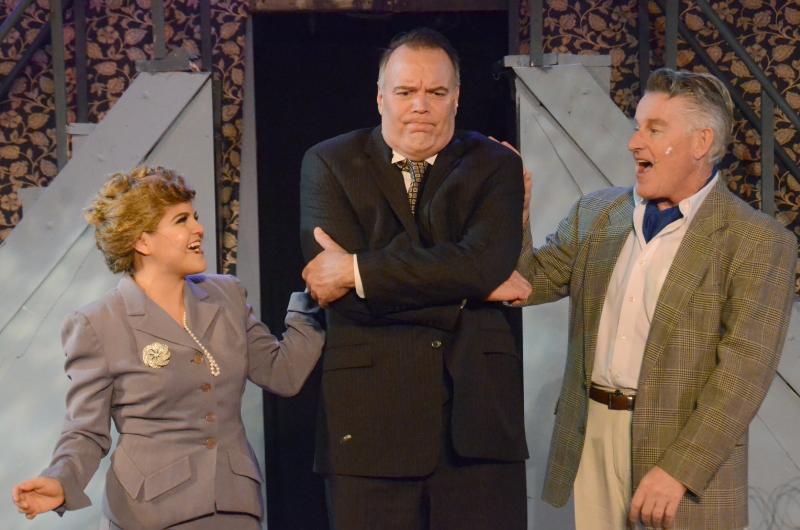 The large supporting cast is also excellent. Director Shafik Wahhab appears to have decided to have the actors play their roles straight (wisely, in my opinion), except for the Nazis, whom he allows to use exaggerated accents and expressions. As a result, even unscrupulous freeloader Max Detweiler (Timm McBride) and Georg's snobby fiancee Elsa Schrader (Leslye Martinez) come across as likeable people. Their duet, "How Can Love Survive?," a holdover from the original Broadway production that does not appear in the Julie Andrews movie, is a wry delight. Suzie Thomas Wourms's Mother Superior comes across as a genial leader who cares very much for her flock, and Karen Schmitt's housekeeper is a sweet woman who seems to care very much for the von Trapp family.
The cast is too large to describe everyone's performance individually, but they are a fine ensemble. I do want to give a specific shout-out to the fourteen actors playing the children, grouped into two separate casts. The fabulous Hammerstein cast, whom I saw, will appear again on December 12, 13, 19, and 20. That cast consists of Alana Mittleman as Liesl, Logan Jewitt as Friedrich, Annabelle Poland as Louisa, Landon Sterling as Kurt, Adah Burgen as Brigitta, and Ava and Alana Romero, as Marta and Gretl. The Rodgers cast, which will perform on December 14-16 and 21-13, consists of Keanna Garcia as Liesl, Joseph Portoles as Friedrich, Rosie McInerny as Louisa, David Caris as Kurt, Victoria Mendoza as Brigitta, Miracle Franco as Marta, and Tess Phillips-Martinez as Gretl.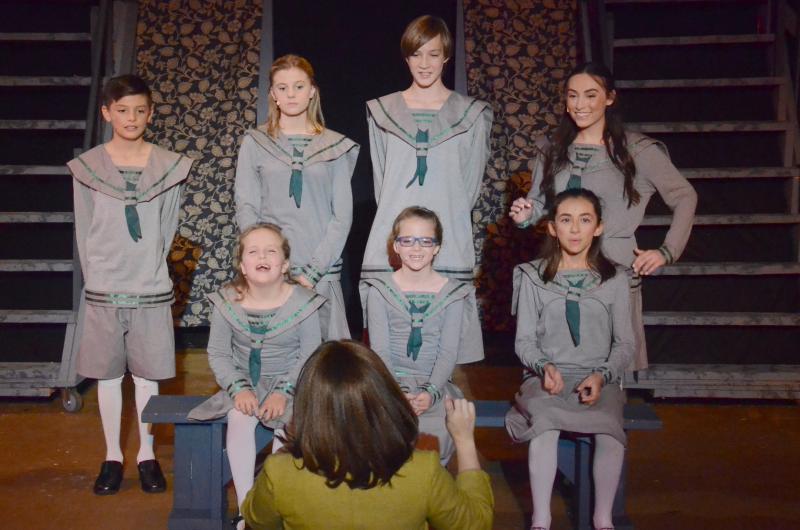 The production's technical aspects are also wonderful. The stage is too small to hold everyone at once, but the staging takes advantage of the area in front of the seats and on the aisles. In addition, some of the characters enter and exit through a door that leads from the house to the backstage area. The scenery (designed by Lance Phillips-Martinez) is simple and modular, and is attached to wheels. Two steep staircases lead to an upper balcony of the von Trapp's house when situated one way, but are placed back to back to serve as the mountains. The actors and a few stage hands roll the pieces around. For the party scene, a chandelier was lowered from the flies. A few people laughed, probably thinking what I was - here comes THE PHANTOM OF THE OPERA. The lighting (designed by Phil Murphy) is imaginative, making it possible to have so much important action take place in nontraditional locations. Maddox Martinez, who operates the lighting, and Dean George, who operates the follow spot, have essential roles, which they perform well.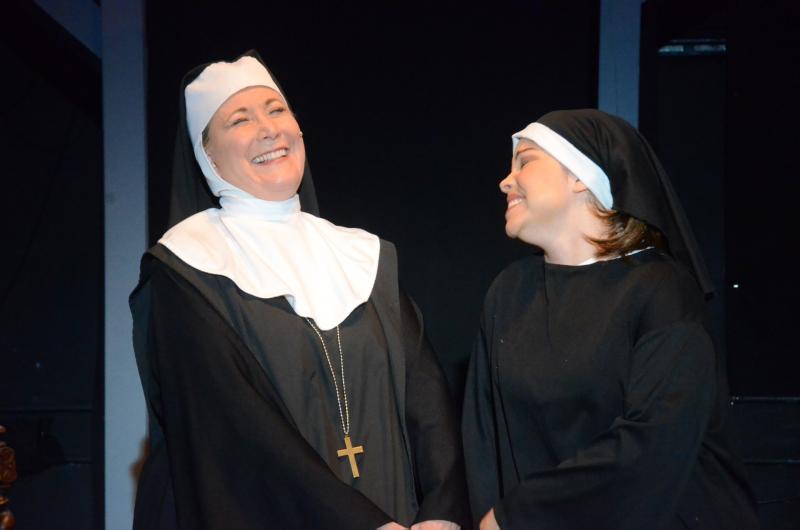 My one minor complaint is in the area of sound. Miguel Arballo's sound design is excellent, as is the sound operation by Billy Franco and Trevin Ortega. However, probably for cost reasons, the production uses pre-recorded musical tracks, instead of a musical combo. Once or twice, there seemed to be problems with the tracks, and the singers wound up out of sync with the music and with each other. I happen to despise pre-recorded tracks for these reasons, but such problems may well not be noticeable to someone who does not bear my antipathy towards canned music.
The costuming (by Michelle Mendoza) is a delight. I loved the children's sailor suits and the clothes made of old curtains. The one costume feature that is guaranteed to induce cringes is, of course, the swastika armbands on the Nazis. The Nazis, as I indicated, speak and move in what I consider exaggerated swaggers as they run around offering stiff-armed salutes. I applaud director Wahhab's decision to portray them as dangerous fools, not because it makes them less scary - it does the opposite - but because it shows how easily people can be bribed to do evil by the chance to feel important. Some of the Nazis in the show say "Heil," and some say "Sieg Heil," but no one utters the even more odious "Heil Hitler" - something for which I, as the child of a Holocaust refugee, am grateful.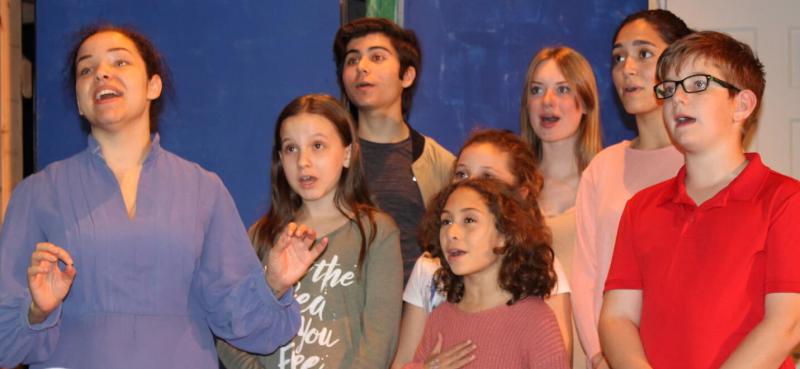 This show is a perfect holiday outing for the entire family. Be sure to see it!
The rest of the cast consists of Jason Lewis (Franz), Arnie Kleban (Herr Zeller), Ryan Holmes (Rolf Gruber), David Brendel (Admiral von Schreiber), and additional ensemble members Arissa Avila, Jana Baumann (who also plays Sister Margaretta), Timothy Cagney, Laurie Holmes (who also plays Sister Berthe), Shelley Mann (who also plays Ursula), and Nick Wass. The rest of the crew consists of Tessa Walker (stage manager and props), Michelle Mendoza (assistant director), Donald Kelley (musical director), Heidi Hapner (choreographer and makeup), Kaylyn Bernal (assistant stage manager), Art Healey (hair). Costume helpers are Julie Caris, Monica Sterling, Heather McInerney, and Jana Baumann. Set builders and painters are Adam Fashempour, Miguel Gomez, Tessa Walker, Steve McMillen, Cece Cruz, Susy McMillen, Michael Pacas, Timothy Cagney, and Jana Baumann.
THE SOUND OF MUSIC will run Wednesday and Thursday, December 12-13, and for two more weekends, through Sunday, December 23rd. Evening shows are at 7:30. Matinees are Sundays at 2:00 p.m. All performances take place at the Indio Performing Arts Center, 45175 Fargo Street, Indio, CA 92201. Desert Theatreworks' individual ticket prices are $30.00 (general admission-musicals), $28.00 (general admission-plays), $20.00 (ages 13-18), and $16.00 (ages 12 and under). Flexible season packages and group rates are available. Seating is reserved.
Most productions include at least one weeknight performance. Some run for three weekends, and others for two. Check the ticket purchase information for specific schedules. For tickets and further information, go to the Web site at www.dtworks.org or call (760)980-1455.
The rest of the 2018-19 season consists of:
BRIGHTON BEACH MEMOIRS
By Neil Simon
January 11-27, 2019
Puberty is confusing enough without having a Great Depression and a cramped Brooklyn apartment full of family members to worry about. But those are the turbulent waters Eugene finds himself navigating in Neil Simon's semi-autobiographical coming-of-age comedy BRIGHTON BEACH MEMOIRS. The first play of his Tony Award-winning Eugene Trilogy, this classic redefined the late master of comedy's career as he mined his own past growing up Jewish during the Depression. RATED PG-13
SOME ENCHANTED EVENING: THE SONGS OF RODGERS AND HAMMERSTEIN Music by Richard Rodgers, Lyrics by Oscar Hammerstein II, concept by Jeffery B Moss.
February 8-17, 2019
The legendary musical theater duo Rodgers and Hammerstein provide the inspiration for this intimate night of beautiful songs. You'll hear more than 30 tunes created by the 20th century Broadway icons, including numbers from CAROUSEL, THE KING AND I, OKLAHOMA, SOUTH PACIFIC, THE SOUND OF MUSIC, CINDERELLA, and more. RATED G
HAIRSPRAY
Music by Marc Shaiman, Lyrics by Scott Wittman/Marc Shaiman, Book by Thomas Meehan/Mark O'Donnell Music.
March 8-24, 2019
Set in 1960s Baltimore, this Tony-award winning smash musical tells the story of lovable plus-sized teen Tracy Turnblad, a misfit who becomes a local celebrity by dancing on TV's Corny Collins Show, and whose passion for justice transforms her into an unlikely heroine, triumphing over snotty teen queens and racial segregation. And she does it all without denting her 'do. RATED PG-13
LOVE, SEX, AND THE IRS
By Billy Van Zandt and Jane Milmore
April 5-14
Back by audience demand! A comedy of mistaken identities and hilariously tangled subplots, LOVE, SEX, AND THE IRS centers on Jon and Leslie, two heterosexual roommates. In an attempt to save money, Jon has filed income tax returns for years listing the pair as married - but men cannot yet legally marry other men. When the IRS comes to investigate, Leslie must pretend to be Jon's wife. Meanwhile, Jon's mother comes to meet her son's fiancée, and the landlord objects to the idea of an unwed couple living in the apartment. LOVE, SEX, AND THE IRS is a guaranteed laugh-fest! RATED PG-13

PHOTO CREDIT: Paul Hayashi

Related Articles View More Palm Springs

Stories

Shows