BWW Review: BIG RIVER Delights at PALM CANYON THEATRE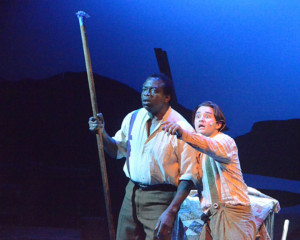 Palm Canyon Theatre is taking an exuberant romp on the Mississippi in their current musical, Big River. The 1985 Broadway hit, with songs by Roger ("King of the Road") Miller, is a stage adaptation of The Adventures of Huckleberry Finn. In the capable hands of director Se Layne, it shows energy, style, and a fair bit of heart.
The show must stand or fall on its Huck Finn, and local Ryan Holmes knocks it out of the ballpark as the lovable rascal. Holmes has been honing his acting and singing skills around the valley for the past couple of years, and he has earned his spotlight center stage. In fact, he is only offstage for one number in the second act, so his youthful energy is put to the test.
The show's powerhouse numbers are delivered with mesmerizing force by Dan Tullis Jr. as Jim, the slave who joins Huck on his river raft. His duet with Huck of "River in the Rain" in Act I is a delight, but the power anthem "Free at Last" with Jim and the slaves towards the end of Act 2 is truly the sort of moment that makes live theatre produce tingles on your arms. It's magnificent! This is Tullis's sixth outing as Jim, and he has sung "Old Man River" in 20 different productions of Show Boat (including at PCT).
Hats off to Mado Nunez as Pap Finn, Huck's conniving father. His take on "Guv'ment" is a hoot. Also, two young thespians are as sure-fire here as they always are: Fabrizio Ibanez, who sings "Hand for the Hog," and Ben Van Dijk, who delivers a confident and delightful "Arkansas." PCT audiences have watched both of these boys grow, both in years and in skills, and it's exciting to see where their talent will lead them.
As their river journey continues, Huck and Jim meet up with two con men, The Duke (Donald Kelley) and The King (Ron Coronado), two of PCT's most bankable character men. With a partially shaved head and facial whiskers, I wouldn't have recognized Coronado either visually or vocally if I had not seen his name in the program. They musically finish the first act and start the second, a pair of scoundrels who are fun to hate.
J. W. Layne has again delivered a set which is both great to look at, and functional. As we enter the theatre, we see the Mighty Mississippi wending its way through mountains in the distance, perhaps working its way onto the stage floor. I say "perhaps" because that floor must serve as the river as well as numerous parlors, caves, and rural settings, and Layne's painting of the floor is a functional combination. A collection of river wharves of various heights is placed upstage, variously serving as homes, a cell, a cave, etc. Director/choreographer Se Layne uses the set pieces to maximum advantage, including having Tom Sawyer and his gang crawling under them at one point.
A particularly fun moment happens early in the show when Ryan Holmes as Huck shares the stage with his actress mother, Laurie Holmes, playing Miss Watson. Over the past few weeks in anticipation of the show, I have heard some folks say, "Laurie's kid is playing Huck," while others said, "Ryan's mom is in the show too." Each of them has made their own impressions in the valley theatre community, but I believe this is the first time they have met center stage!
Although he never speaks, Mark Twain (Frank Catale) starts and finishes the show, looking at the goings-on from the high levels of the wharf, reminding us that all of these activities stem from his writings. Tom Sawyer (Michael Hatsios) and his gang of boys bring youthful energy to their numbers early in the show (including a cartwheel from newcomer Gabriel Alonso), and though the ensemble doesn't have a lot to do in this show, they're certainly strong when we see them.
Michael Reno's musical direction from the piano is solid, joined by David Bronson on drums and Larry Holloway on bass. Reno smartly added John Pagles on guitar which is especially important to Roger Miller's country score.
J. W. Layne's lighting, Derick Shopinski's costumes, and Mado Nunez's wigs are of the high standard we have grown to expect of PCT. Jean Rodriguez seems to have elevated the sound operation. During the past few shows I've seen at PCT, all performers seemed equally audible. Sound is one of those areas where if you do it well, no one realizes anything has been done!
Big River plays for one more weekend, through May 19. It will be followed by Steve Martin's recent Broadway comedy, Meteor Shower, in its valley premiere May 30 - June 2. PCT's summer shows are traditionally more youth oriented. This year's production is Spring Awakening, a musical tale of teen lust and angst, playing July 5 - 14.
Palm Canyon Theatre has announced the shows that will be presented in their 2019-2020 season but hasn't finalized the dates. Season tickets are scheduled for sale on June 1.
Photo by Paul Hayashi