Photos: Kretzer Piano Music Foundation Raises $3,200 During 3rd Annual GREAT GIVE
On Tuesday, May 3, hundreds of local nonprofit organizations raised more than $3-million during the third annual, 24-hour GREAT GIVE, sponsored by the Community Foundation for Palm Beach and Martin Counties and the United Way of Palm Beach County, with the Kretzer Piano Music Foundation (KPMF) receiving $3,200 in donations. Scroll down for photos!
One day earlier, KPMF gave a musical send-off to GREAT GIVE at a free mini-concert in which five talented youngsters (Kretzer Kids) played five painted pianos in the plaza at CityPlace in West Palm Beach. The eye-dazzling pianos were all part of KPMF's popular Keys to the Cities campaign in 2013, in which 18 different pianos were whimsically re-designed by local artists and later donated to local charitable groups.
The extraordinarily talented Kretzer Kids who performed at the mini-concert were Zachary Lee Williams (13) from Bak Middle School of the Arts, and four students from the Dreyfoos School of the Arts: Karen Copeland (15), Giancarlo Llerena (14), Catherine Zeng (18) and Lylybell Zhou (15).
The artists behind the five painted pianos and the nonprofits they represented were for Adopt-A-Family of the Palm Beaches, "Day at the Beach" by Karen "Kaz" Chandler; for Gratitude House, "Charlie" by Frank Navarrete; for Kretzer Piano Music Foundation, "Curioser & Curioser" by Amanda Turner, for Quantum House, "Melodic Liberation" by Silvana Delbo; and for the Salvation Army, "Knockin' on Heaven's Door" by Sharon Koskoff.
"I want to give a special thanks to CityPlace for letting us perform this free 5-piano mini-concert to promote GREAT GIVE 2016," adds Kathi Kretzer-Sayler.
KPMF is a 501(c)(3) non-profit organization that works hard to support music education in our schools and community. We give children the opportunity to gain experience by providing performance opportunities for young musicians. We are passionate about music being a part of every child's life and are dedicated to bringing the gift of music to children and seniors. For more information about KPMF, visit www.kretzerpiano.com/KPMF.
Photo Credit: Jacek Gancarz, Corby Kaye's Studio Palm Beach

Karen Copeland, Catherine Zeng Lylybell Zhou, Giancarlo Llerena, artist Silvano Delbo, Zachary Lee Williams, Dr. Robin Arrigo, Kathi Kretzer-Sayler

Zachary Lee Williams, Catherine Zeng, Lylybell Zhou, Karen Copeland, Giancarlo Llerena

Kretzer Kids Rehearsal before the mini-concert at CityPlace Plaza

Giancarlo Llerena, Karen Copeland, Lylybell Zhou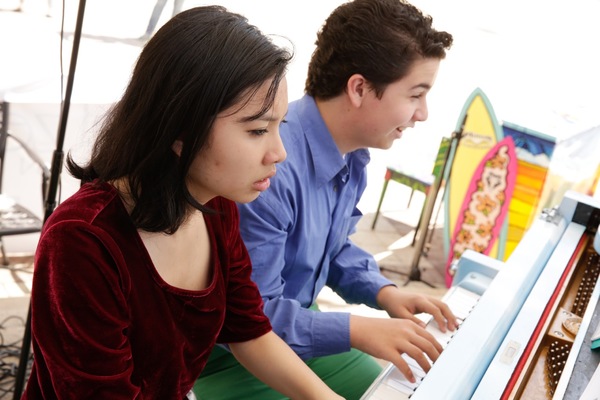 Catherine Zeng, Zachary Lee Williams