Review: HAMILTON Is Here and Meets the Hype at Dr. Phillips Center
You don't need me to tell you whether HAMILTON is worth seeing. It's the most talked-about phenomenon in the history of Broadway. It won 11 Tonys, a Grammy, and the freakin' Pulitzer for creator Lin-Manuel Miranda. Its cast album broke sales records. The New York Times told people to "mortgage their houses and lease their children" if that's what it took to get a seat.
You also don't need me to tell you what HAMILTON is about. Even the most Broadway-disinclined among us are well aware of this modern reimagining of the life and times of Alexander Hamilton, the unsung founding father and star of our ten dollar bill.
You don't need me to tell you to buy a ticket either. There are hardly any left at Dr. Phillips Center, where the national touring production is currently in residency through February 10. Those remaining are priced in the hundreds - or set aside for the daily Dr. Phillips Center lottery, where $10 tickets are sold to 40 lucky winners every day.
And yet, during intermission Wednesday night, I heard someone ask her husband, "So what do you think?"
"Meh." he said. "I mean, it's as cool as a musical can be, I guess."
Excuse you, sir!
Washington did not cross the Delaware and feed his horses to Alexander Hamilton on the battlefield so you could buy one of this city's precious few HAMILTON tickets and call it "meh."
I kid. (Kind of.) ...To each his own and all that. But maybe I do need to take a moment to quickly comment on the utter brilliance that is Lin-Manuel Miranda's HAMILTON, generally speaking, before considering the current cast.
Not since Sondheim's best works have we had a musical so complex in lyrics, so layered in rhetoric, so rich in motif, and so conscious of characters' competing perspectives. It is a concert of overlap, interplay, meta-reference, and occasionally even time travel. (See Steven Johnson's essay on the use of in media res and flashback narrative in songs like "The Schuyler Sisters" and "Satisfied.")
HAMILTON looks back at history through a contemporary lens, somehow both reverent and subversive at the same time - patriotic and revolutionary. In Miranda's words, it is "America then told by America now."
Musically, meanwhile, it's a melting pot. I can't remember ever before hearing a track and thinking, "I hear the influences of Richard Rodgers and Biggie Smalls." In 1774, "The Farmer Refuted" was a political pamphlet; in 2019 it is the mashup of a diss track and a Bach-ian ballad. That's brilliant.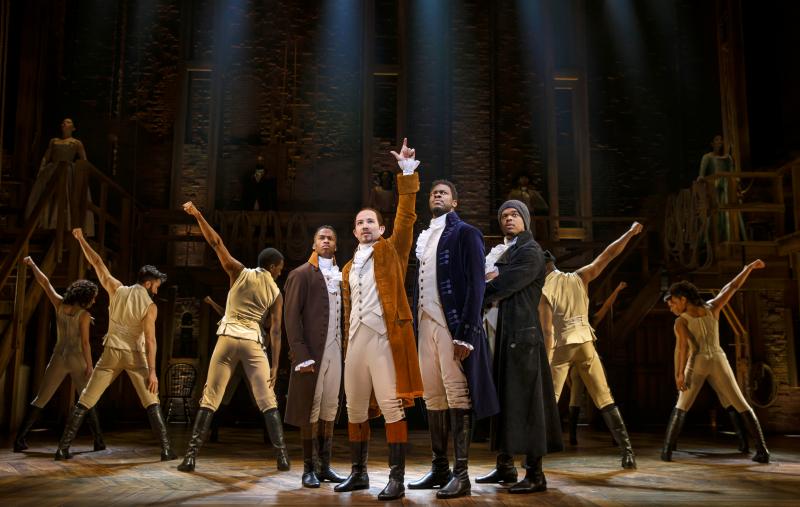 Maybe I'm stanning, but I've increasingly come to see Lin-Manuel Miranda as maybe the voice of my generation in the arts. With HAMILTON, he has single-handedly made something new of the various pop cultural artifacts he found and fell in love with as a kid, and he's used his creation to say something meaningful about the world. Even more impressively, he's done that not with bombast or ire but with class, intellect, and his trademark genial temperament. HAMILTON is hip and passionate and woke, but it isn't vindictive. It never stops to sermonize, letting the art speak for itself while the book stays focused on its characters and their universal struggle with the human condition.
I assume that someday, no student will make it past the sixth grade without having seen HAMILTON as part of a school assignment, and the world will be better for it. For now, though, they'll need one heck of an allowance... or parents who love them enough to hand over their own tickets.
Fortunately, HAMILTON has finally made its way to Orlando, with an outstanding cast who bring their own decisions and interpretations to the stage, distinguishing themselves from the original cast while still giving us the show we've waited years to see.
Joseph Morales brings all the spirit and gusto that the title role demands, evoking Miranda's performance without ever copycatting it. His onstage energy is the stuff of gun powder and canons.
Shoba Narayan and Ta'Rea Campbell deliver the slay-ful vocals and heartbreaking anguish you hope to hear from Eliza and Angelica Schuyler, respectively. Campbell is more reserved than you might expect, her moments of reflection powerfully underscoring Angelica's bittersweet dilemma (a devastating love triangle with Alexander and her sister).
Nyla Sostre, meanwhile, makes the absolute most of her "and Peggy"... until she really gets to shine as Maria Reynolds in Act II. "Say No to This," a soulful old-school duet with Alexander, is my favorite song in the whole show, and it does not disappoint.
Daveed Diggs' unique vocal qualities are a tough act to follow, and you do miss his crisp notes and super-clean phrasing here. Still, Kyle Scatliffe wows with his ability to handle intricate raps and singing. The audience was loving his comedy and showmanship, and so was I.
Speaking of comedy, Jon Patrick Walker's lampooning of King George lives up to Jonathan Groff's. His American counterpoint, George Washington, is fierce and vocally stout in the hands of Marcus Choi. I must also mention Aaron J. Albano, whose Samuel Seabury belts out a beautiful "Farmer Refuted." I was left wishing he could have a solo in the second act.
But in this production of HAMILTON, the performance you walk away talking about is Nik Walker's as Aaron Burr. He understands all of Burr's insecurities, internal conflicts, and contradictions. He emotes them credibly in his face, his posture, his voice, and his stride. At Dr. Phillips Center, at least, this is the Aaron Burr Show as much as it is Hamilton's.
I opened this review by admitting that you don't need me to recommend HAMILTON, but here's where I recommend it anyway. This is a show that anyone and everyone can love (except that too-cool-for-school guy at intermission), put on Orlando's stage with incredibly high production values.
It's just a shame that Dr. Phillips patrons have paid so much for HAMILTON tickets - sometimes more than they would have on Broadway - and still don't have a Playbill to show for it, the Center having opted for its own locally printed programs this season.
Nevertheless, HAMILTON is a must-see if ever there were one, and the Dr. Phillips Center is a lovely place to see it.
Keep an eye on those daily lottery tickets, folks. Alternatively, as this article goes live, I spot a few single seats available for just south of $200. So if you're still stinging from that Mega Millions lotto loss and want a sure thing, snatch them up while you can. HAMILTON runs through February 10. Visit the Dr. Phillips Center website or call (844) 513-2014.
---
What did you think of HAMILTON at Dr. Phillips Center? Let me know on Twitter @AaronWallace.
Photos (Top to Bottom): Joseph Morales & HAMILTON Second National Tour Company; Elijah Malcomb, Joseph Morales, Kyle Scatliffe, Fergie L. Philippe, and Company; Shoba Narayan, Ta'Rea Campbell, and Nyla Sostre; Nik Walker / Credit: Joan Marcus, 2018