BWW Review: THE DROWSY CHAPERONE Shows Off at Nebraska Wesleyan University Theatre!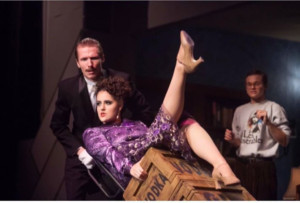 DROWSY CHAPERONE is clever, albeit not a never-done-before mashup. It is a musical within a comedy complete with colorful characters, catchy music, and a cast of toe tapping extras. If you want to be entertained, this is for you. It is one hour and forty minutes of just plain fun!
According to Wikipedia (yes, I know), THE DROWSY CHAPERONE originated as a spoof of old musicals for Bob Martin's bachelor party in 1997 while engaged to Janet Van De Graaff. It was subsequently developed for presentation at the Toronto Fringe Festival. Lisa Lambert and Greg Morrison composed music and lyrics while Bob Martin coauthored the book with Don Keller, and in 2006, the show opened on Broadway. It won Tony Awards for Best Score and Best Book with additional Drama Desk Awards for Outstanding Musical, Music, Lyrics, and Book.
The show begins in a darkened theater. A musical theatre aficionado is listening to a long play recording of his favorite musical, THE DROWSY CHAPERONE. The Man in Chair (Dustin Reckling), dressed in a Les Miserables sweatshirt and orange shoes, addresses the audience, comparing overtures to appetizers. As he talks about the production, which he has never seen, the characters take life on the stage.
It is wedding day for slick Robert Martin (Dalton Polivka) and rising star Janet Van De Graaff (Lauren Laass). Her chaperone (Lisa Lee) is tasked with keeping her away from her bridegroom, while best man George (Jonathan Algeroy) ensures the groom's safety by diverting him away from the dangerous sport of tap dancing and encouraging him to roller skate blindfolded instead. Janet's producer, Mr. Feldzieg (Kaedyn Campbell) is pressured by a pair of gangsters posing as pastry chefs (Garrett Weskamp and Jacob Maki) into stopping the wedding so Feldzieg's Follies would continue uninterrupted and their money flow unimpeded. Feldzieg's giddy assistant Kitty (Paloma Powers) desires to replace Janet in the Follies and is proof that show business is "the only place a stupid person can make a living." Throw in wedding host Ms. Tottendale (Kendall Rhodes) and her servant known only as "Underling" (Seth Kobs), a self proclaimed Latin Lover Adolpho (Rico Santana), and a pilot named Trix (Alex Gender-Kirby), and you have a cast of characters that covers every possible stereotype in musical theatre.
In a comedy of errors, the Chaperone is seduced by Adolpho who thinks he's making love to Janet. Blindfolded Robert Martin kisses a French girl whom he finds surprisingly similar to his Janet. And Kitty tricks Feldzieg into marrying her by "reading his mind," although she has been accused of reading her own. But what wedding is off? What wedding is on?
Nebraska Wesleyan University Theatre continues its string of solid productions. Directed by Julie Heaton, Assistant Professor at NWU, this cast is well chosen and coached.
Reckling is droll with his get-up (those shoes!) and his narration as Man in Chair. He describes the tendency of musical theatre to characterize gangsters with puns, word plays and stylized movements. Calling the casting of a Black man as Feldzeig 'progressive,' he also calls spit takes 'stale.' His interjections are funny and intuitive. When he returns from a bathroom break, he finds "Message From a Nightingale" playing by mistake. He blames his house help for placing the wrong record in the sleeve. As a side note, according to Man in Chair, intermissions ruin the mood of the show with all the crackling wrappers and women looking for the restrooms. So there is no intermission, making the appearance of characters from another musical entirely incongruous and funny in its disruption. By placing the correct disc on his player, the Asians exit and we return to the chaotic wedding plot.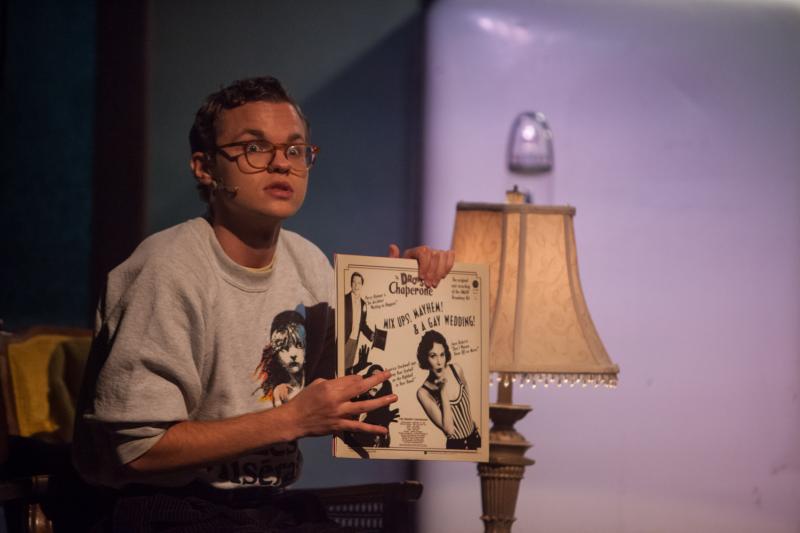 Lee is a commendable Drowsy Chaperone. She balances her weakness for alcohol with a strong set of lungs as she belts out "As We Stumble Along." As the Man in Chair says, the actress playing the Chaperone must include rousing anthems, and in this case, her anthem to alcohol "stupefies rather than arouses." I would add that Lee also impresses with her comedic timing.
Laass, a luminous presence on stage with her brilliant smile, perfects the role of Janet with innocence and humor. "Show Off" will always be my favorite number in the show for its ironic humor with a side of regret. Her voice is sweet and true. Costume changes (Simon Brett, Designer) are cool, switching out a series of glitzy outfits as she transforms from one "talent" to another.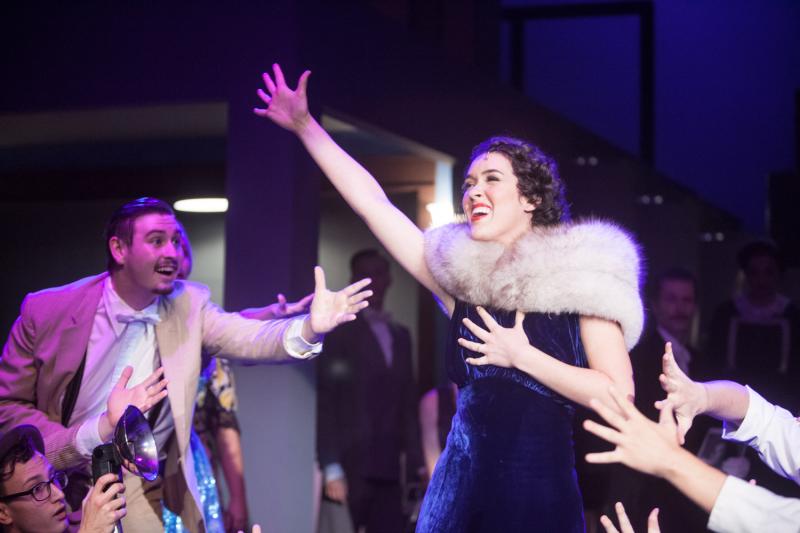 Gerdner-Kirby as the pilot Trix, shows off her powerful vocals in "I Do, I Do In the Sky." Martin is both smooth vocally and quite funny on roller skates. Santana nails the caricature of a Latin lover. "I Am Adolpho," is clearly a crowd favorite. Campbell provides some comical moments, especially when he exits the stage at one point, and is captivating to watch when he dances. Westkamp and Maki are entertaining as they transition from pastry chefs to gangsters to would-be performers. Algeroy tosses out some nice tap moves, and the spit takes may be stale, but they are corny enough to work for Rhodes and Kobs.
So, This show is ridiculous. It is silly. It is funny, and it is clever. What's more, the music is great and the voices terrific. There is much to like about this production and the cast of NWU shows it off well!
Photo Credit: Dan Ludert