Storyteller Theatre to Return to the Stage With ANNE OF GREEN GABLES in February
A world premiere, the play is as relatable and heart-warming as it was when the book was published.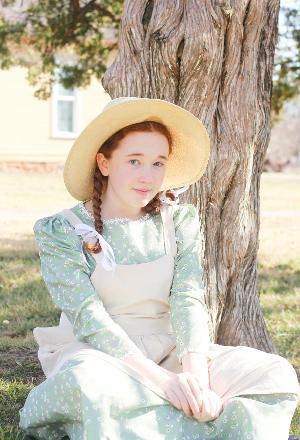 Storyteller Theatre is making a comeback after their COVID closure in 2020 with a new brick-and-mortar location within the former Old Moore High School. Located at 201 N. Broadway Avenue, the organization obtains a studio space located on the top floor of the nearly 100 year old school as well as a four-show season within the building's auditorium. In the early days, the auditorium was often used as a multi-purpose space for basketball practices, dances, concerts, and even banquets! Today, it is still multi-purpose and is mostly used for parties and private events. Storyteller owners, Justice and Brenna Wickstrom, are working with building owner, Charlie Cotton, to update the auditorium's many needs. These updates will continue to provide community events, but also bring live performance art to the Moore community in a fresh and innovative way.
The renovations will happen throughout the year and include new lighting, electrical, sound, and other improvements. Storyteller Theatre's first production on the historic stage will kick off with the beloved classic Anne of Green Gables. Originally written by L.M. Montgomery, the play will stay true to the book, but is adapted for the stage in combination with Storyteller Theatre's mission to bring classic literature alive for families. A world premiere, the play is as relatable and heart-warming as it was when the book was published. Anne of Green Gables details the mishap, mayhem, and mischief that Anne Shirley just can't seem to help but get herself into. Throughout the unexpected, Anne persistently paves her way into the heart of the Avonlea community, and asks us to reflect on how each person that we meet binds themselves to our own stories as much as we do them. Featuring all of your favorite characters, a beautiful score, and a story rich in value, Storyteller Theatre's production of Anne of Green Gables is a timeless story to share with your family.
Anne of Green Gables, written by L.M. Montgomery; adapted by Storyteller Theatre for the stage. Directed by Justice and Brenna Wickstrom.

Rated G: best suited for ages 8 and up.

Starring Jaiden Smith as the title role with Stephanie Henson as Marilla Cuthbert and John Covaleskie as Matthew Cuthbert.

The production includes five different sets of families involved in the show.

Anne of Green Gables performs Thursday, February 23rd at 7:00 PM and runs with both evening performances as well as Saturday and Sunday 2:00 PM matinees through March 5th.

Adult tickets are $33 each, children ages 17 and under are $18 per ticket. Tickets can be purchased online at www.storytellersokc.com/productions.

Group tickets of 8 or more receive special discounts! Call 405-886-6706 for more info.
Storyteller Theatre provides sensational, family-friendly live theatre, arts education enrichment, and special events to the Moore, Oklahoma area and surrounding communities. In addition to Anne of Green Gables, their four-show season will include The Wind in the Willows this May, Treasure Island in July, and end with Mark Twain's The Mysterious Stranger in October. Storyteller's studio space, located in the former upstairs library, offers arts education for homeschool drama and musical theatre, after school drama classes, and Saturday morning production classes. In addition enrichment, special events such as story times, storybook parties, and family-friendly gatherings are offered throughout the year and vary. Pre-COVID, Storyteller Theatre was voted Most Loved Family Favorite by HulaFrog and held partnerships with local favorites such as the Metropolitan Library, The Myriad Gardens, Primrose and Goddard Schools, and more!