Dates

2/23/2021

Theatre


511 West 54th Street
New York,NY 10019
Twitter Facebook Instagram

Tickets Info

Tix $10, or subscribe to Ars Nova Supra for $15/mo




Join us for an evening of beloved pop, musical theater, and folk songs reinvented through the lens of the Middle Eastern, North African and South Asian (MENASA) musical soundscape, featuring Broadway and NYC's most exciting MENASA performers and musicians.

News About MENASAfied at Ars Nova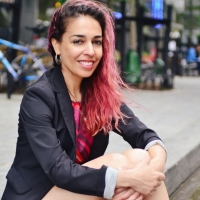 Ars Nova Announces New Events and Vision Resident Rona Siddiqui
January 26, 2021
Ars Nova, has announced its second slate of 2021 programming including six new events curated by composer Rona Siddiqui as part of the new Ars Nova Vision Residency program. All events will take place on Ars Nova Supra, a new streaming platform from Ars Nova that showcases some of New York City's most promising emerging artists.