Theater For the New City Presents MIDAS This Month
Performances run February 9 - February 26, 2023.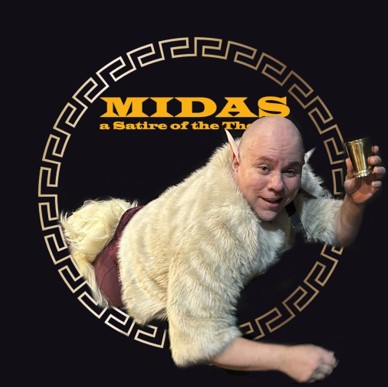 In mythology, Midas is a character who turns everything he touches into gold. It's at once his blessing and his curse, a talent and, when the wrong things turn to gold, a source of tragedy.
But in Midas, playing at Theater for the New City, we get a kind of play within a play, a story of theater itself. And in that story, we see how easy it is to take gold and, if you're not careful, end up with fool's gold.
"The play is a capsule of my experience of what you go through to have a career in the theater and the 'special interest' people you cannot avoid if you're going to have that career," said David Elyha who wrote and co-directed the play with Danielle Aziza. "But if you go through it all centered in your integrity you'll discover much about yourself."
Theater for the New City Executive Director Crystal Field is presenting Midas, Feb. 9-26, in the Community Space. It tells a story of how stars can easily matter more than scripts and subject matter and how easily a play can be subjugated to the search for fame.
David Elyha (AEA) appears as Old Midas/Daddy and Stage Manager, while Bellamy Woodside Ridinger plays Young Midas; John Burgos portrays Silenus and Samuel Cini is Dionysus.Griffin Ostrowski is the Guard/Barker/Vendor; Alex Gisondi plays the Actor; Jake Goris plays the Playwright and Representative from Athens and Tess Chadwick plays Mother.
"A storyteller associate, in collaboration with an internationally renowned anthropologist, had created a performance piece on a Sumerian goddess which she performed with great success," Elyha said. "When she presented the piece to interested London producers for a presentation run in a London theater, their response was: 'Who will we get to play the part?'"
In other words, producers leapfrogged past a talented performer to find one with box office appeal, a force real in theater, where movie and TV stars often dominate the stage.
Midas is a comic blending of mythology and comedy, a mixture of the Midas myth and the fountain of youth and a look at how sometimes in the desire to please, we sell our soul and not only our skills. It is a modern myth that  tells the story of the conflict between commercial and artistic success, the tug of war between sincerity and heart and the Midas-like desire to make everything we touch into gold, even if .means letting go of who we really are
"This incident may not have sparked my desire to write this play, but it certainly informed the underlying idea," Elyha continued regarding the story of the Sumerian goddess. "Replace the living god for whom the piece is about with a fresh new face that will sell tickets."
The play, a kind of Zeus Superstar, started as a one act and was expanded into a full-length with larger than life Gods, the true stars of the universe.
As Elyha tells it, King Midas, "old, tired, and worn out," craves a change of life. He encounters a young Dionysus the god of the vine, and drinking a cup of elixir "a spontaneous dance and rousing song transforms him into a darling young sexy stud."
Soon we see the play within the play as a theatrical producer prompts Midas to run to Athens to be the poster boy for a new play where he discovers the producers only want to "exploit his natural sexual attribute."
It is the age-old story of selling one's skills or selling one's soul, artistic integrity and being true to oneself or achieving commercial success.
"It is possible to go back to what he was, but having been old tired and worn he doesn't want it again," Elyha said. "His desire for the new life overcomes doubt and anxiety."
Actors in some ways have become gods in society, projected on gigantic movie screens with their images splashed across millions of smaller screens in homes. And yet in one form of American amnesia, succeeding generations forget the gods of their ancestors.
"Young actors today have no knowledge of the past, of theater history," Elyha said. "When I mentioned Geraldine Page they had no idea who she was."
Each generation anoints its own gods. Page appeared on stage and then in film in Sweet Bird of Youth, earning Academy Award nominations for her roles in Summer and Smoke, You're a Big Boy Now and Pete 'n' Tillie. She then won Tony nominations for Absurd Person Singular and appeared in many plays and movies.
"Someday one of the actors might wake up and say, 'My god, what did I do with my life?' Elyha said.
Why did Elhya write, co-direct and appear in this play? Is he trying to both do theater and comment on it at the same time?
"What was my real reason for putting it on? I'm 86. Do I need it?" he asked. "The real reason for my doing this was to make something possible for other people, to give them a chance to be really great, if they have that capacity."
Midas, Community Space, Theater for the New City, 155 First Ave., between 9th and 10th Sts., February 9 - February 26, 2023; Thursday, Friday and Saturday at 8 p.m. and Sunday at 3 p.m. Running Time: 1 hour 10 minutes Tickets $18. www.theaterforthenewcity.net. (212) 254-1109