Roger Guenveur Smith's Solo Performance OTTO FRANK Announced At The Public Theater
OTTO FRANK is inspired by the father of diarist Anne Frank, the latest in Smith's prolific body of historically-driven work.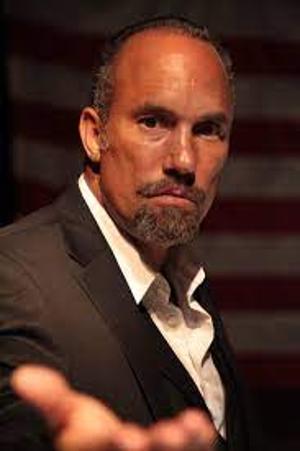 Roger Guenveur Smith will premiere his new solo performance Otto Frank at The Public Theater's Under the Radar Festival now through January 22.
Otto Frank is inspired by the father of diarist Anne Frank, the latest in Smith's prolific body of historically-driven work.
He adapted his Obie Award-winning A HUEY P. NEWTON STORY into a Peabody Award- winning telefilm which is currently streaming on Hulu. His adaptation of his Bessie Award-winning RODNEY KING is on Netflix. Both NEWTON and KING were directed for the screen by Smith's longtime colleague, Spike Lee, and scored by Marc Anthony Thompson, who performs a live sound design for Otto Frank.
Smith and Thompson's collaborations at the Public have also included FREDERICK DOUGLASS NOW, CHRISTOPHER COLUMBUS 1992, JUAN AND JOHN, ICELAND, and THE HENDRIX PROJECT.
They have also devised studies of Bob Marley, Jean-Michel Basquiat, Simon Rodia, and Charles White, and staged investigations of Philadelphia's 1793 Yellow Fever Epidemic and 1985 MOVE bombing (TWO FIRES), the building of the Panama Canal (500 LIVES PER MILE), and San Francisco's Tenderloin District (CASA DE SPIRITS).
With New Orleanian Mark Broyard, Smith created and continues to perform INSIDE THE CREOLE MAFIA, a "not-too-dark comedy." He stars on screen this season in Chinonye Chukwu's acclaimed feature film TILL as unsung Mississippi radical Dr. TRM Howard, and provides the voice of Willie Mays in Nelson George's equally lauded HBO documentary SAY HEY, Willie Mays!
Roger studied at Yale University and Occidental College, and has taught extensively, directing his Performing History Workshop.
Roger Guenveur Smith commented: "Otto Frank is our latest negotiation of the past through the present moment, as Otto speaks to his murdered daughter from beyond her time and his own, addressing the darkness of an extinguished century while illuminating our current abyss. His narrative is driven by the violent cacophony and poetry of silence, as well as his daughter's enduring faith in the human experiment, rendered indelibly in a modest diary gifted to her by her father."