Lyle Kessler's One-Acts Join Chain Theatre's Winter One-Act Festival
The festival runs January 27 - February 26, 2023.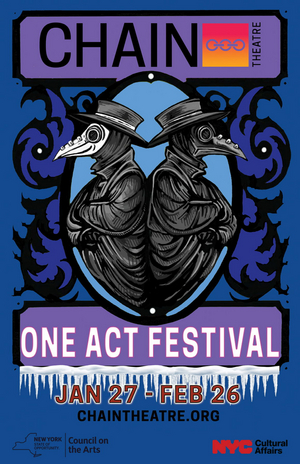 Following their critically-acclaimed 2022 Season (including NY Times Critic's Pick macbitches) Chain Theatre is pleased to announce the 2023 Winter One Act Festival with a special selection of one acts by stage and screen legend: Lyle Kessler (Orphans, The Watering Place, Perp).
The festival takes place January 27 - February 26, 2023 with over 40 plays at Chain Theatre (312 W. 36th Street, 3rd and 4th Floor, New York, NY 10018) a schedule is enclosed below. All productions are carefully curated and designed to create 90-minute 'mix-tapes' of LIVE THEATRE. Tickets are $22 in advance at www.chaintheatre.org and $25 at the door. Select performances will be available online for Live-Streaming.
Festival highlights include:
New Year by Award winning playwright Matt McLachlan starring Jake Cannavale (Mandalorian, The Offer, Fish in the Dark).
Deadly Sins and Other Tales: Six One Acts by Lyle Kessler starring Dan Lauria* (The Wonder Years, Lombardi on Broadway), Margaret Ladd* (Falcon Quest) and Lyle Kessler* in his first role since playing Lee Strasberg in Mark Rydell's film James Dean with James Franco.
"I am so excited to share these World Premiere One Acts at the Chain Theatre. We have an incredible team assembled for this project and it is a blast working with the Chain." - Lyle Kessler
Queen of Jacks starring Joseph Russo (The Irishman, The Offer, Jersey Boys) written by Alba Albanese.
Tickets begin at $22 and are now available online at www.ChainTheatre.org. $25 tickets may also be purchased in-person at the theater a half hour prior to the performance.
Running Time: 70-120 minutes depending on the program. Check www.ChainTheatre.org for full schedules and running time. No late seating.
Website: www.ChainTheatre.org