IN THE BEGINNING Will Play 2023 FRIGID Fringe Festival in February
Performances run February 19 - March 5.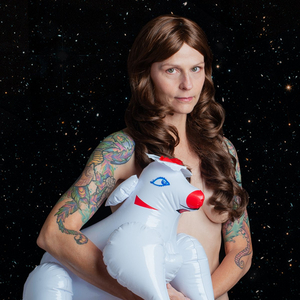 Grackle Jack Productions will present In The Beginning created and performed by CB Goodman, co-directed by Sonnet Blanton. The production will be presented as part of the 2023 FRIGID Fringe Festival at UNDER St. Marks (94 St Marks Pl, New York, NY 10009) with performances on Sun, Feb 19 @ 2pm, Mon, Feb 20 @ 8:10pm, Sat, Feb 25 @ 5:20pm, Thu, March 2 @ 9:50pm & Sun, March 5 @ 12:20pm. Tickets ($25) are available for advance purchase at www.frigid.nyc. The performance will run approximately 60 minutes.
In this Garden, we're starting over. Inflatable friends. Ballet. Apocalyptic disco. A wild woman dum dum show where Adam floats by, The Fruit isn't what you think, and a sheep proves labels create limits. Using comedy, satire, non-traditional storytelling structures, puppets, and a pool party aesthetic, In The Beginning invites the audience to imagine the possibilities of their own genesis and to reclaim their beginnings alongside each other.
The show will be performed by CB Goodman with Tour Lighting Design Consultant - Natalie George, Sound Consultant - Lowell Bartholomee, Banjo Dance Choreography Consultant - Kelsey Oliver, Ballet Consultant - Alexa Capareda, Lip Sync Consultant - Andie Flores, Merkin and Scroll Lettering - Aaron Flynn, Scroll Fabric Construction - Kelli Bland, Tufted Rug - Odalys Vargas, Scenic and Props Design - CB Goodman.