Click Here for More Articles on Stream Now
Experimental Bitch Hosts MAKIN WAVES Benefit for Arts Business Collaborative and EBP's 2020 Season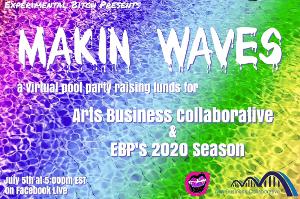 EBP will host MAKIN WAVES in partnership with Arts Business Collaborative, a technical assistance and research organization committed to improving the quality of life of people of color through the arts and STEAM.
The one-night-only livestream "virtual pool party" will be hosted by comedian Hannah Aliza Goldman (The Straight Man, The PIT) with performances by Non Kuramoto, Mima Good , Ondina, Bleu Zephra Santiago and more.
The event is free with a $10 suggested donation. All funds raised from July 2nd through the event on July 5th will be matched. Twenty-five percent of the funds raised will go toward Arts Business Collaborative, a 501(c)3 which sponsors projects like For the Gworls Medical Fund, Black Trans Femmes in the Arts and The Okra Project.
MAKIN WAVES will take place on Sunday, July 5th at 5:00PM ET.
For a link to the virtual performance please go to:
https://experimentalbitchpresents.com/
To watch the Facebook Live Stream go to:
https://www.facebook.com/experimentalbpresents/
To support MAKIN WAVES please CLICK HERE.