Review: Drifting in the Somber Magic of THE BLUE ROOM
The allure of a dark room, away from the crowds or the familiar eyes not meant to know what is happening. A young man and woman, an actress, politician, model, playwright or anyone at all, find themselves in the arms of one another, hardly knowing who is penetrating their beings - wrapping their arms around each other in an intimate embrace. What do you call the yearning for the erotic touch of another person? What makes us retreat from the world we know - from spouses to the people we thought we were keeping true to - to revel in the excitement of the moment? That moment, which consumes us for what seems like forever, isn't love - but does that make it any less true? The rawness of happenings not known or planned is met with the sensuality and release of first meetings in David Hare's intriguing and masterful play, The Blue Room.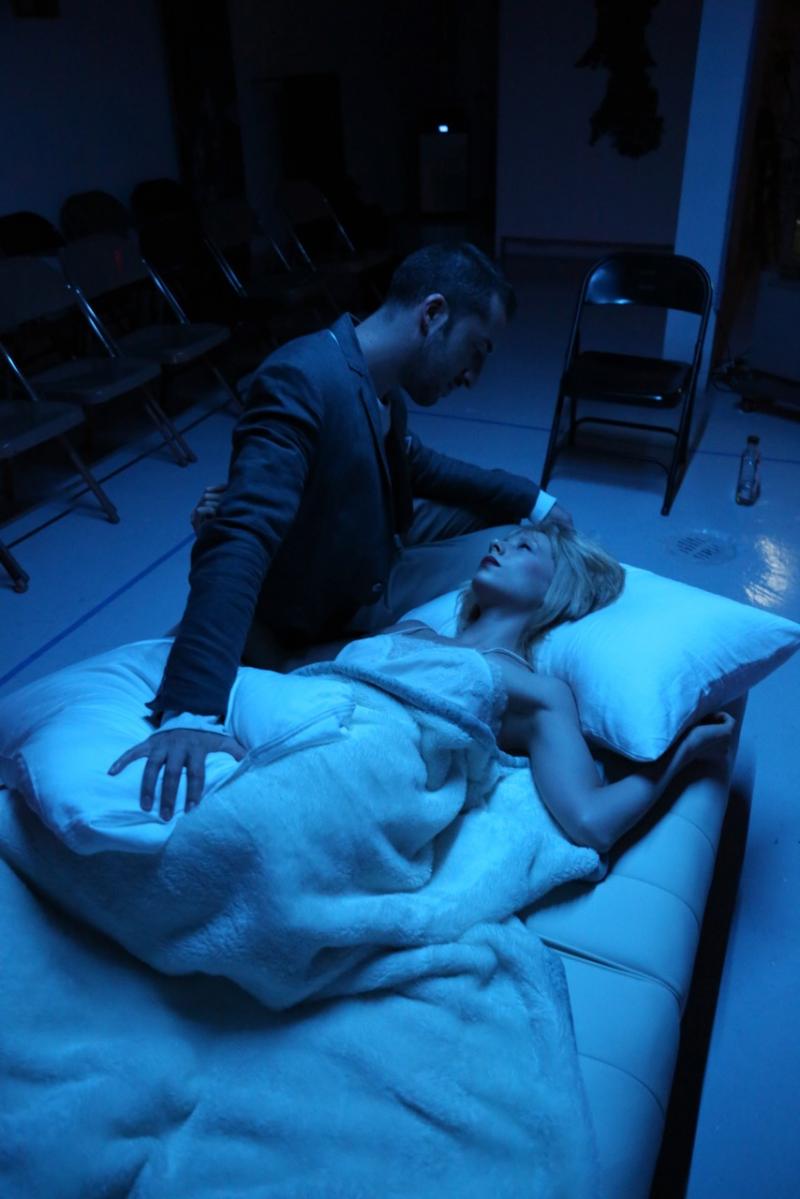 Currently in performances at the WhiteBox Art Space and under the direction of Max Hunter, the Bridge Production group presents The Blue Room in all its beauty. Last seen on Broadway a decade ago starring Nicole Kidman, Hare's play is an adaptation of La Ronde: a series of vignettes that penetrate the audience's collective soul by digging into the secrets of what makes humans crave that carnal sexuality of others - sometimes complete strangers. This play is such a wonderful study of people and their desires, spanning across different occupations, interests and types. It is how people find each other, lose themselves in each other in the circumstances of the moment - ironic, as moments which feel like forever are timed, made limited. A narrative that begins with a newly initiated prostitute and a cab driver transforms into different scenarios, brought to life by two actors who understand the depth of our carnal humanity so, so well.
The Blue Room begins with the young prostitute (Irene) seducing a cab driver who is not meant to be there, but can't tear himself away from her innocent pleading. He leaves without paying her, setting a rather somber tone to the scenarios that follow, and rather to the entire experience. The theater is dark, but the undertone is one of raw desire that the audience knows will only last so long; this is reinforced by a projection which times how long each "deed" takes. With each vignette, which takes characters such as the playwright, the model, the actress and the politician through different yet connected moments of pleasure, actors Max Hunter and Christina Toth show a man and a woman as simple yet complicated creatures - as individuals drawn to each other by desire, but also torn by what reason tells them they need to do and who to be. They beautifully work their way through to the end, when a year has passed and Irene confronts yet another man, whom she tells of the cab driver's desire to marry her. A desire, it seems, that doesn't seem likely to continue once the passion has worn out.
I thought everything about this production was brilliant, from the acting to the immersive experience; even walking into the bathroom becomes part of the show, as costumes are strung about as though the audience has walked into an escapade already in progress. When the show begins, Toth and Hunter make quite a few people squirm in their seats, bringing forth that excitement within us that we, on some level, can share with the characters on stage; they are also limitless in their abilities to invoke all the raw emotions they experience with each other. Toth and Hunter are also so close to the audience, we are like voyeurs watching something so in our face - desire made so tangible and raw, we are intrigued and made bashful all at once. Moments that are purely for the thrill of intercourse - two strangers meeting for the first time to experience the joys of each other's body - give the audience glimpses of the darkness and release many of us may be unfamiliar with.
Two strangers, but is their attraction any less real than people who perform the same actions on the basis of love? Relationships that start in a dark basement, a married woman's bed, or perhaps a hotel room - they are visceral and very real, a series of moments that make this play so amazing to not only watch, but to digest. I loved the emotion, the angst and watching people try to figure out the basis of their desire.
In addition to Toth and Hunter, who really are made for each other when it comes to this production, kudos must also go to Lighting and Projections designer Cheyenne Sykes and Costume Designer Nicole Allen.
In short, The Blue Room is definitely an experience that every adult should have. It will make you feel things you yearn for, or perhaps things you have forgotten from long ago. It is definitely a range of emotions ensconced in the eroticism of a moment - a moment that has the potential to become something more. A moment that people need to now take the time out to experience - even if only vicariously.
The Blue Room began performances at the WhiteBox Art Space (located at 329 Broome Street) and will continue thru July 29th. Performances will run Wednesdays and Thursdays at 7 pm, Fridays and Saturdays at 8pm and Sunday at 2 pm; there will also be special performances on July 21st and 28th at 2 pm. Tickets are $30 and can be purchased by visiting www.bridgeproductiongroup.com. The performance runs 90 minutes without an intermission.
Enjoy the show!
Photo Credit: Callum Adams