Review: A Shakespearean Run with Food and Fun: A MIDSUMMER NIGHT'S DREAM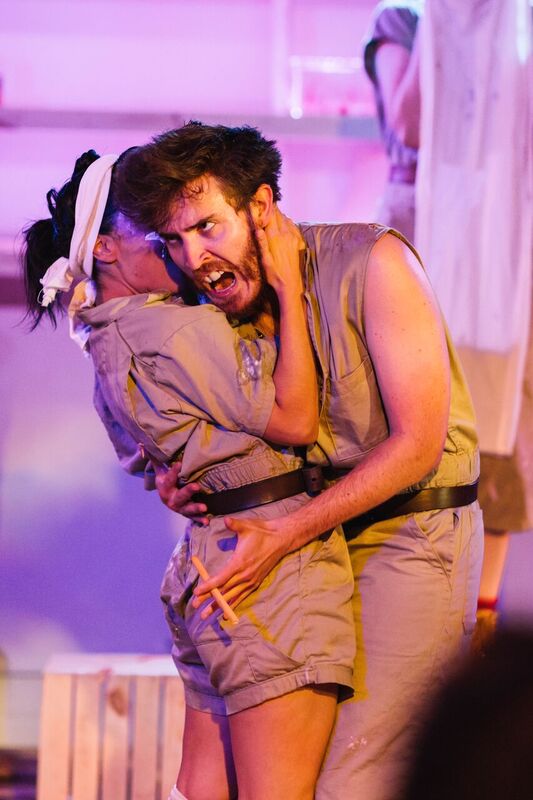 There are certain truths in life that, whether we dream or be awake, still hold true; the subject of love, in all its splendor and glory, is no different. As Shakespeare wrote so well, "The course of true love never did run smooth." Now, this is the premise for both comedy and tragedy alike, telling the story of two people so enamored with the other that something dramatic is bound to happen. In A Midsummer Night's Dream, to say that things to do not smoothly is a bit of a comical understatement.
In a world of fairies and actors, lovers and the not-so-loved, with magic flowers that can bend the will of any who slumber on, love is both true and a playful farce all at once. The irony of magic in Shakespeare's masterpiece is that it is much less romantic than you would think; love is treated more as a game, disguised as a less-than-pleasant dream from which everyone awakens happy. Shakespeare in the Square's production of A Midsummer Night's Dream is, simply put, a theatrical dream come true - one that we don't need to wake up from to enjoy our happy ending. Oh...did I mention there was food?
Directed by Dan Hasse and in association with the Access Theater, which has given rise to youthful, unique productions for the last twenty-six years, A Midsummer Night's Dream is the most fun you will have at any Shakespearean production for an endless number of reasons. Not only does this unbelievable and versatile cast of six bring out the wackiness of this work, they are able to harbor the more emotional side of it through the unique means of food and song; they complement tradition with modern creativity, and it is truly as magical as I would imagine Shakespeare intended his play to be. I unfortunately can't call myself a fan of Shakespeare, but after seeing this production, I now have a model whose example all other future productions could follow. I always say that some of the best theater does not have to be on Broadway, and this is a true example of exactly what that means.
As the audience walks onto the stage to take their seats, they are welcomed into an intimate space with creaking floorboards - a place where creativity is about to take place. The cast soon takes its place on stage, and with guitar, broom or shaker in hand, starts to play songs that, in hindsight, reflect the different emotional aspects of this show; my favorite had to be their rendition of "Linger" by the Cranberries. Once the music stops and the lights dim, the magic of Shakespeare's plot happens.
To sum it all up, Hermia is in love with Lysander, whom her father does not particularly like; instead, he wishes her to marry Demetrius. Helena loves Demetrius, who wishes she would just go away. The fairy king Oberon wishes for his wife Titania's attention after a young Indian boy has diverted it from him. A group of actors must bring the tragic tale of Pyramus and Thisbe to life for Theseus' planned wedding celebration. So much jealousy and manipulation, confusion and angst for a love that won't naturally occur; this is given such emotional height with the presence of food. From biting into an onion to angrily tearing the skin off an orange, to using whipped cream to write with and wafers to build a wall, the creativity of this show is amazing. There are also moments where you wonder if the actor standing right next to you is going to get that green stringy thing stuck in your hair.
This production is so well rounded as a whole, to say the very least. From the brilliant use of food (for both emotional efficiency and humor) to how each actor brings such versatility to the stage and such nuance to their characters, the hard work of this entire process is seen from beginning to end. There were so many memorable moments throughout the show, such as when Bottom turns into an ass. The transformation is so crazy and perfect; this is what it means to perfect the art of acting to the point where the crazy becomes comfortable - where it looks effortless and uninhibited. Other great moments can be seen in the unique way the direction and acting come together to create this special production. Actors transition from different characters to inanimate objects, from actors to musicians as quickly as the guitar is handed over, and throw food like children while reciting Shakespearean lines with as much conviction as I ever need to see. Such versatility and talent needs to be commended, and I really admire the effort put into this production from all those involved.
Credit goes to all those in the cast: Felix Birdie, Kimberly Chatterjee, Estefania Giraldo, Beth Ann Hopkins, Constantine Malahias and Rebeca Miller are, simply put, awesome! Kudos as well to Assistant Director Samantha Hosi, Musical Director Jorge Morales, Scenic/Prop Designer Angelina Margolis, Lighting Designer Timothy Meola, Costume Designer Richard Aaron Reynoso, Choreographer Chloe Troast, Stage Manager Julianne Graffeo, Assistant Stage Manager Lindsay Kipnis, and all other involved behind the scenes.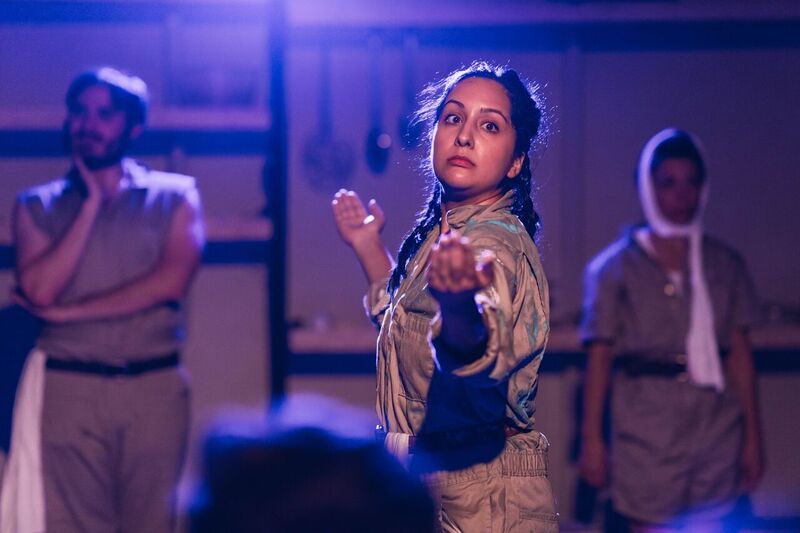 So even if the course of love does not run smooth, as Shakespeare wrote, it will be easy enough to fall in love with this production.
A Midsummer Night's Dream, presented by Shakespeare in the Square at the Access Theater Gallery Space), will run August 7th to August 19th; the theater is located at 380 Broadway. The performance schedule is Tuesdays, Thursdays, Fridays, Saturdays and Sundays at 8pm. Tickets are $45, $30 for patrons under 30 (with a valid ID) and $20 for students (with a valid ID). Tickets are available for purchase at www.shakespeareinthesquare.com.
Enjoy the show!
Photo Credit: Emilio Madrid-Kuser