Review: A Masterful BEFORE THE SUN AND MOON
It's amazing how effective simple and honest storytelling can be when your material is brilliant. Brilliant certainly applies to Ralph Lee's latest production BEFORE THE SUN AND MOON. Written and adapted by Kristine Haruna Lee with music by Neal Kirkwood, and lovingly brought to life by Ralph Lee's Mettawee River Theatre Company in the Outdoor Garden of St. John the Divine, this charming folk tale focuses on falling in love, becoming responsible, and learning how to fly. Told through fantastic music, a clever use of masks, and puppetry, SUN AND MOON casts a spell of enchantment across the entire audience.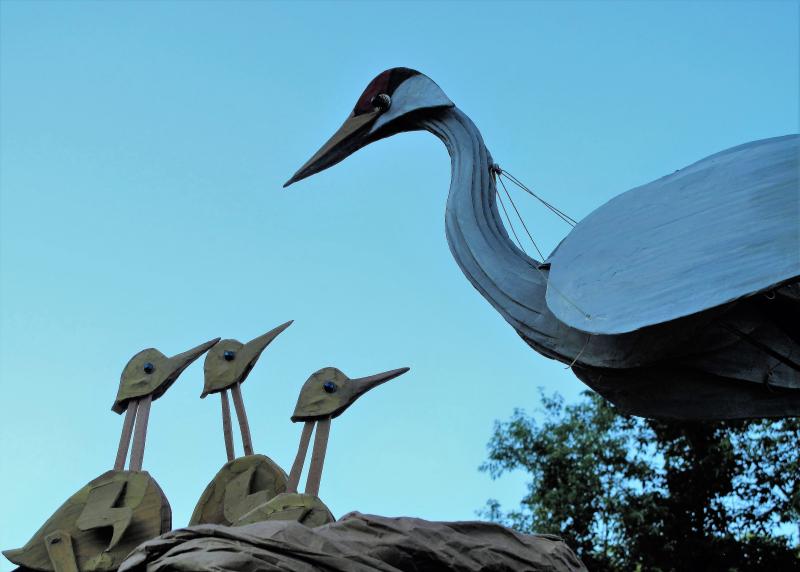 The story concerns Kungsan, a poor scholar who loses his gorgeous wife Myeoung in a ridiculous bet with the wealthy scoundrel Paedong. After being abandoned on an island, Kungsan finds redemption by caring for the children of a crane. As a sign of gratitude, the crane rescues him and teaches him how to fly. This hard won commonsense and ability to fly allows him to reclaim his wife, with whom he one day rises to the heavens as the titular celestial bodies.
As Myeoung, Tanya Dougherty brought a beautifully clear singing voice and take-no-prisoners sense of comedy to her role as a loving wife saddled with a thoughtless and lazy husband. What could have come across as sing-song shrillness, in Dougherty's rendering became a nurturing portrait of a woman who can't help loving the poor fool set before her. As that fool, Andrew Butler was earnest and adorable. He easily conveys the sort of simplicity that marks a sucker, but with a sincerely affable sweetness that makes one smile at him all the same. Watching a character make disastrous decisions should be annoying, but as Kungsan the audience couldn't help rooting for Butler or celebrating when he finally made his way home.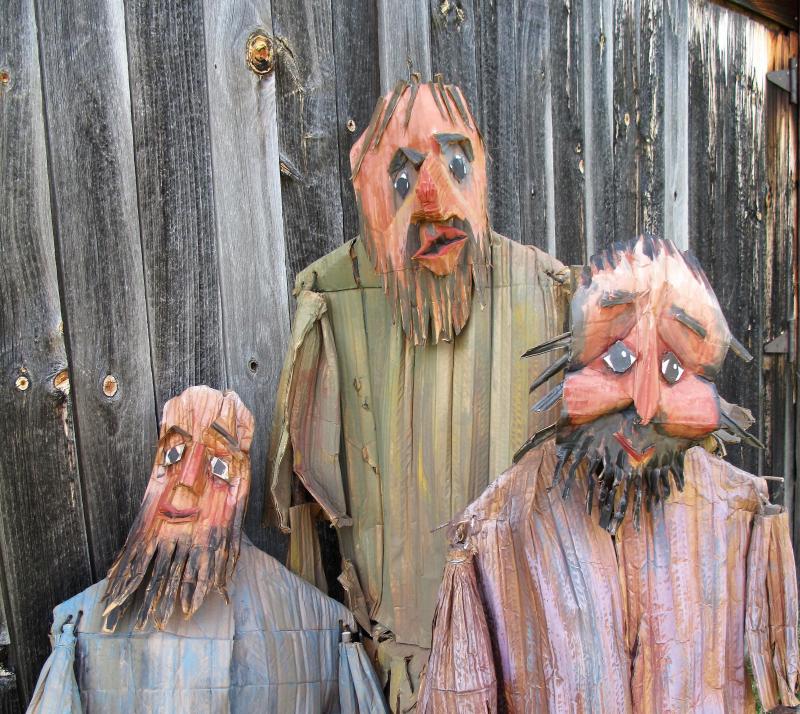 A wonderfully touching moment comes after the birth of the 3 baby cranes; upon meeting their mother, they proclaim Kungsan their "Daddy". Equally warming was the moment before "Daddy's" return home; he assuages the anxious chicks that he will be there when they come looking for him and that they will recognize him because he will always wear a red hat, just like them. The wonderful crane puppets were as animated as any human I've ever seen, especially in the hands of Dougherty, Rob McFadyen, Jan-Peter Pedross, and Claire Moodey. Pedross and Moodey played double duty as narrators and hilarious servants, ensuring that the pace of the performance never dropped. McFadyen was also a hoot as the arrogant swindler Paedong. Rather than striking villainous poses, he exuded a selfish personality that took legitimate delight in taking advantage of and one-upping others. This need to be the best ended up launching him out of this world - literally - hilariously resolving the problem of how Kungsan would reclaim Myeoung. Greg Manley rounded out the cast as one of the band of beggars who flips across the stage during a banquet for the poor. All of these performers and their one man band Ed RosenBerg - who masterfully played 5 instruments, sometimes 2 at a time, while effortlessly accompanying the action - are to be commended. Additional plaudits go to the irresistibly hummable score of folk songs by Kristine Haruna Lee, and incredible puppets by Ralph Lee.
One of the nicest things about this production is that its lessons are not heavy handed; they flow out of each scenario with gentle humour and are there for the audience to embrace or to simply enjoy as entertainment. This entire production probably cost only $1500 to put together. I recently reviewed an Off-Broadway musical that cost at least $3 million to mount. Hands down, BEFORE THE SUN AND MOON is the better production on every level. In fact, it is one of the best shows I have seen all year.
Ralph Lee's Mettawee River Theatre Company closed its summer season with BEFORE THE SUN AND MOON September 8th - 10th, 2017 at Cathedral of St. John the Divine Bishop's Green.
For more information about the company, visit: mettawee.org