BWW Detroit Award Winner Brings I KILLED THE COW to New York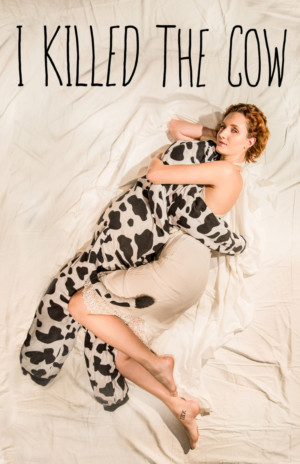 Broadway World Detroit Award Winner, Larissa Marten is thrilled to be bringing her one-woman show, I KILLED THE COW, to New York. After the world premier performance in Ann Arbor last April and a sold out show at Theatre Row, the show is being performed again at Theatre Row on October 20th.
I KILLED THE COW centers around the journey of one woman, as she unearths the moments in her life that have shaped her into the sexual being that she is. Steering through the moments she wishes she could go back to, she revisits awkward first encounters and regretful next mornings. She discovers her squandered relationship with her mother. She recounts her lovers and realizes their teachings. She remembers what her father told her, but neglected to tell her brother. When larger forces come into play, she discovers her community.
During a summer working at the Renaissance Theatre in Berlin, Larissa realized that many Berlin-based performers were dedicating time and detailed attention to creating their own original work. Upon her return to Michigan she met with her mentor, Gillian Eaton, to discuss the shape of the piece she was interesting in creating. After months of writing and editing on her own, director Leia Squillace joined Larissa to further the show's development. Over the course of a year the pair continued to edit and workshop the piece, ultimately performing I KILLED THE COW to a sold out audience in Ann Arbor.
This devised, multimedia theatre piece hopes to promote more dialogue around female sexuality. Director Leia Squillace, spent time working with the University of Michigan's Sexual Assault Prevention and Awareness Center and her Peer Facilitation and Performance skills guide was presented at the 2017 NASPA Sexual Violence Prevention and Response Conference. "I've always found theatre to be an incredible tool for encouraging empathy and conversation. Working on I Killed the Cow has allowed me to apply that tool to an issue of great importance."
I KILLED THE COW will be performed as part of the United Solo Theatre Festival, Friday, October 20 at 9:00PM. Tickets are 35 (plus $2.25 Theatre Restoration charge) and can be purchased through Telecharge online or by phone 212-239-6200. For more information on the festival please visit their website http://unitedsolo.org/us/.