Click Here for More Articles on NEW YORK CITY
Adelheid Roosen and Nazmiye Oral's NO LONGER WITHOUT YOU Set for FIAF's Crossing the Line Festival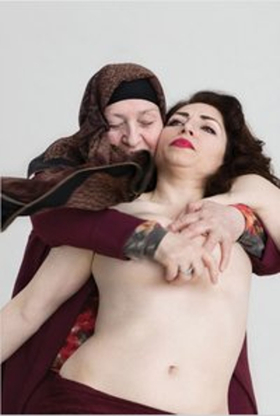 The French Institute Alliance Française (FIAF), New York's premiere French cultural center, will conclude the 2017 edition of its celebrated Crossing the Line Festival with the US Premiere of No Longer Without You, from Dutch theater-maker Adelheid Roosen and journalist and performer Nazmiye Oral, Thursday, October 12 through Sunday, October 15, in FIAF's Le Skyroom.
This searing, outrageous, often hilarious, and deeply personal live performance takes the form of a public debate between a Muslim immigrant and her westernized daughter on faith, sexuality, and values-and marks the first New York presentation in a decade of Roosen's singular work and the first English-language performances of No Longer Without You.
As a complement to No Longer Without You, also in Le Skyroom, FIAF will exhibit photographs Çig?dem Yüksel took of Muslims in confrontations with their family members while Roosen and Oral were developing their work.
In No Longer Without You, in the intimate setting of a staged living room, Nazmiye Oral, a modern Dutch woman, argues with her mother, Havva Oral, a traditional Muslim immigrant living in the Netherlands, about things never discussed in the family home. Since its creation, the work has toured extensively worldwide, winning the Public Award at the Holland Festival in 2015. Last year, they took No Longer Without You on a "Community Tour," presenting it in a range of Dutch and Muslim community centers. Locals who recognized themselves in the narrative were invited to share their stories in the performance and take part in the public conversation between Nazmiye and her mother.
Adelheid Roosen, a filmmaker, actress, and director, has been making theater about "unspeakable" subjects since 1989: honor killings, domestic violence, sexuality in the Islamic world, and her mother's Alzheimer's disease, among others. She uses live performance to lay bare some of our most sensitive social issues, deepen public discussion, and shift perspectives on what we see as "other" and whom we call strangers. She did this to acclaim in The Veiled Monologues, a vital and poetic portrait of love and sexuality under Islam, and Is.Man, about the tradition of honor killings, presented in repertory by St. Ann's Warehouse in 2007.
Directed by Adelheid Roosen, No Longer Without You features music by Seval Okyay, lighting by Jantje Geldof (lighting designer), and dramaturgyby Lauren Rissik and Céline Buren.
Photographer Çig?dem Yüksel's portraits, depicting 20 members of the Muslim community in the Netherlands, were displayed at 50 Amsterdam tram stops, where they generated a strong reaction, including the vandalism of one image in a Muslim neighborhood. For Yüksel, this is where the mission of the work became clear. She hung her portraits in the living rooms and homes of people who lived in the cities where the performances were staged, inviting families into the conversations that No Longer Without You opens up.
No Longer Without You is supported as part of the Dutch Culture USA program by the Consulate General of the Netherlands in New York. Supported by the Performing Arts Fund NL.
IF YOU GO:
US Premiere: Adelheid Roosen & Nazmiye Oral: No Longer Without You
When: Thursday, October 12 & Friday, October 13 at 7:30pm;
Saturday, October 14 at 3 & 7:30pm; Sunday, October 15 at 3pm
Critics are welcome as of the first performance, which also serves as the production's official opening.
Where: FIAF, Le Skyroom, 22 East 60th Street (between Madison & Park Avenue)
Admission: FIAF Members: $20; Non-Members: $25
Tickets: crossingtheline.org | 800 982 2787
Information: crossingtheline.org | 212 355 6160
Transportation: Subway: 2, 3 to Eastern Parkway
ABOUT THE ARTISTS:
Dutch theater-maker Adelheid Roosen (director) has been creating film and live performances since 1989. What started with a theater trilogy about Muslim immigrants-Five on your Eyes (1989), The Veiled Monologues (2003), and Is.Man (2006)-grew into a profound encounter of artists and audiences with neighborhoods and their residents. For The Veiled Monologues, she interviewed dozens of Muslim women living in Holland, creating a strong portrayal of women's issues and sexuality in the Islamic community. It has since travelled the world, receiving critical acclaim for Roosen's intimate and open approach to the subject.
From 2010 Roosen developed her adoption methodology, in which theater-makers are taken in by local residents in order to deepen their connection with the "other," and to collect their stories, which have become the mainstay of her live performances. Audiences have immersed themselves in these stories through Zina neemt de Wijk (2010), Moes (2011), WijkSafari Slotermeer (2012), WijkSafari Utrecht (2013), WijkSafari Bijlmer (2015|2016), and Safari en Tepito (2013|2015).
In 2014, she took the opposite road, instead bringing the neighborhood to the City Center. She entered the National Theatres with 100 local residents, who had never been in a theater before, and walked with them through Toneelgroep Amsterdam's performance of Danton's Death. Afterwards she spent the night with these residents on the stage of the theatre. For three months she wandered through Holland with her herd to unlock theatre buildings for every citizen. The ongoing project, You I call the Other, aiming to redefine the "other" in society, was launched in 2010 in Damascus with artists from Syria, and continues in the Netherlands.
Her film Brozer, the sequel to her acclaimed Broos (1997), premiered in 2014. In it, terminally ill actress Leonoor Pauw portrays a dying woman in a story that follows four sisters as one of them faces impending death.. Roosen's documentary Mum (2009), in which she portrays her mother, an Alzheimer's sufferer, was nominated for the IDFA Award for Short Documentary.
In 2009, Roosen received the Amsterdam Prize for her cross-disciplinary contribution to the arts in Amsterdam and received the 2012 Prosceniumprize for her oeuvre. In 2010 and 2011, she was selected as an ambassador by the Dutch Shelter Federation in the campaign against domestic violence. In 2015, she won the "Van Praagprijs" award from the Humanist Society, which called her "an indefatigable advocate of a world where compassion towards humanity gets a second chance." And in 2016 she was asked to join the Academy of Arts, based on her artistic work and acclaim in the Dutch theater landscape.
Dutch writer and actress Nazmiye Oral (writer, performer) has had an extensive career in theater, both in the Netherlands and abroad. She is a co-founder, with Adelheid Roosen, of Zinaplatform, a theater company that travels to different neighborhoods throughout the Netherlands and stages performances based on the lives of locals in the community. Her collaborations with Roosen on the plays The Veiled Monologues and No Longer Without You have met with great success. Oral won the Public Award for her performance during the prestigious Holland Festival in 2015, and in 2016 won a Golden Calf Award for her role in the film In Vrijheid (In Freedom).
Havva Oral (performer) was born in Turkey in 1948. She currently lives in The Netherlands. As a mother of four children, Havva Oral has been a homemaker for many years. She worked as a volunteer at the local mosque, washing the dead, teaching children the Quran, and performing faith healing to the sick. Havva's hobbies include working in her home garden, having breakfast with friends at Ikea, and sewing wedding dresses.
Born in Holland as a daughter in a Turkish home, Seval Okyay (composer, musician) wasn't allowed to play any instrument as a child. Rebellious as she was, she taught herself to play the saz (Turkish string instrument) at the age of 17. As a musician she became part of The Veiled Monologues in 2003, beginning a long-term collaboration with Adelheid Roosen. It led to her work on No Longer Without You.
Crossing the Line is an international arts festival for New York City produced by the French Institute Alliance Française (FIAF) in partnership with leading cultural institutions. The festivalis co-curated by Lili Chopra, FIAF's Executive Vice President and Artistic Director; Simon Dove, Executive and Artistic Director of Dancing in the Streets; and Gideon Lester, Artistic Director for Theater and Dance at the Richard B. Fisher Center for the Performing Arts at Bard College.
France has a long history of supporting national and international cultural practices, welcoming and nurturing new ideas and influential perspectives from around the world. FIAF, as the leading French cultural institution in the US, critically maintains that practice through the Crossing the Line Festival, presenting leading-edge artists from France and the US alongside their peers from around the world.
Since its inauguration in 2007, the Crossing the Line Festival has cultivated an increasingly large and diverse following, and received numerous accolades in the press including "Best of" in The New York Times, Wall Street Journal, The New Yorker, Time Out New York, Artforum, and Frieze. Festival performances have earned multiple Obie and Bessie awards. crossingtheline.org
The French Institute Alliance Française (FIAF) is New York's premiere French cultural and language center. FIAF's mission is to create and offer New Yorkers innovative and unique programs in education and the arts that explore the evolving diversity and richness of French cultures. FIAF seeks to generate new ideas and promote cross cultural dialogue through partnerships and new platforms of expression. www.fiaf.org
Related Articles
More Hot Stories For You