Theater For The New City Presents PIE LESSONS, A Patriotic & Pavlovian Tale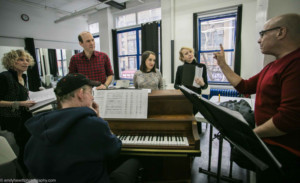 Theater for the New City and Executive Artistic Director Crystal Field will present a reading of Pie Lessons by Carrie Robbins, on Monday, March 11, 2019, 7:00 PM in the Community Space Theater at Theater for the New City. Pie Lessons will be presented as part of TNC's Scratch Night performance program, which offers the opportunity for artists to present work in progress to an audience for one night. HOMEMADE PIE WILL BE SERVED TO ALL COMERS!
Eight-year old Gloria Levski just wants a piece of pie. Not the little bitty sliver of pie that her dad usually gives her after supper. A generous, glorious, plate-filling PIECE OF PIE. But Mr. Levski is concerned that Gloria has a tendency toward chubbiness (she takes after her mom, don't you know), and Mr. Levski also knows that if Gloria gets her piece of pie, she may not be motivated to focus on the evening's lesson. Mr. Levski, you see, is a teacher of political science and history, and a proud immigrant. He knows that those who don't learn from the past are doomed to repeat it, a good lesson from the Old Country. So, Mr. Levski is stingy with the pie. But what he doesn't know is that Gloria has an ally in Mrs. Levski, who right this minute is whipping up yet another tasty confection...
Pie-deprived Gloria Levski is played by Remy Zaken*; Kyle Minshew* takes the role of pie task-master Mr. Levski; the perpetually pie-baking Mrs. Levski is played by Jenne Vath*; and Pie Lessons is narrated by Robert Meksin*.
Pie Lessons is written by Carrie Robbins who has spent most of her work life designing costumes on Broadway and Off-, both in the US and abroad. In 2012 she received the TDF/Irene Sharaff Lifetime Achievement Award for her body of work. Awards include two Tony nominations; four Drama Desk Awards and two nominations. Other notable honors include Maharam and Henry Hewes Design Awards and nominations, Backstage West/Drama-Logue Award, Audelco and three Prague Quadrennial awards. Her costumes for Irving Berlin's White Christmas and the Cincinnati Ballet's New Nutcracker can be seen every holiday season. In 2011 she became the second costume designer only to be honored with a monograph on her designs (Amazon and Drama Bookshop/NYC). Ms. Robbins' sketches are particularly sought by collectors, and her work can be seen in Time Life's The Encyclopedia of Collectibles (she's proud to have one of her sketches between "Telephones" and "Trivets').
Ms. Robbins is known for the strength and skill of her character drawing which may have presaged her interest in character writing. Her scripts have appeared in numerous New York festivals. Many have been awarded semi-finalist and finalist positions, including Sawbones and The Diamond Eater, which received six NYITAward nominations, more than any other production in 2014, and were semi-finalists in the 14th Street Y's 2018/19 season's juried competition themed WAR + PEACE. Her script The Dragon Griswynd, with Charles Turner in the title role, appeared in Theater for the New City's Dream Up Festival. Pie Lessons is her 16th of 17 plays.
Director/Choreographer Jonathan Cerullo* directs Pie Lessons. Mr. Cerullo has maintained a career in professional entertainment which spans 35 years to include Broadway, Off-Broadway, Off-Off-Broadway, national and international tours, symphony concerts and cabaret, film / television, and the circus arts. He directed and choreographed the critically acclaimed all-male version of The Boys from Syracuse at Off-Broadway's Lion Theatre in NYC. In 2017, he produced and directed the 30th Anniversary Concert of Legs Diamond at Feinstein's / 54 Below. He created, wrote, and directed The Flip Side, The Unknown Gems of Ahrens and Flaherty, and No Foolin' at Amas Music Theatre.
Mr. Cerullo directed and choreographed Chance for the Fresh Fruit Festival and won Best Director for Fictitious by Paul Cozby and Tom Hyndman at SOUNDBITES sponsored by Disney Theatricals and Music Theater International for Theatre Now New York. For the N.Y. Musical Festival, he directed Windywoo and Her Naughty Naughty Pets, choreographed Lisa and Leonardo, and Under Fire, which won the NYMF 2009 Best of Fest. Off-Broadway, he directed Harold Rome's Pins and Needles at La Mama ETC | HOWL Festival. Mr. Cerullo directed Uta Hagen's 50-Year Tribute hosted by Matthew Broderick and Celeste Holm. He is currently developing an independent bio-pic Willie and Me, The Emmett Kelly Story. His next theatrical project is writing and directing the Amas Music Theatre 50-year Golden Jubilee Gala starring Lillias White, Leslie Uggams, Len Cariou, and Hamilton's Christopher Jackson.
Mr. Cerullo is a member of the Stage Director and Choreographers Society, Actors Equity Association, The Dramatist Guild, and the Drama League. He served as Vice-Chair on the SDC Foundation Callaway Award Committee as well as a nominator for the prestigious Lucille Lortel Awards. He owns JSC Theatricals LLC, which produces galas and award shows, sits on the Associate Board for N.Y. Music Theatre Festival, is an Artistic Advisor for the Music Theatre Factory, and volunteers his time to BC|EFA. Visit his website at www.jsctheatricals.com.
Shelly Gartner arranged Aaron Lebedeff's Rumania, Romania for the reading of Pie Lessons and accompanies the cast in the performance. He is the composer of Adding Machine the Musical (selected for the 6th Annual TRU New Musicals Reading Series which garnered him a Moondance Film Festival Award) and Beat, a musical about Jack Kerouac. Currently he is composing a new musical Beyond the Dressing Room with Austin Pendleton, and accompanies Ron Gartner (no relation) in Ron Gartner: The Music of Bobby Darin. Mr. Gartner has written many songs for showcases and cabarets, and serves as pianist/keyboardist for vocalists across the New York/Tri-state area.
Pie Lessons is Stage Managed by Liza Penney.
Pie Lessons will be presented for one reading only on Monday, March 11, 2019 at 7:00 PM. Pie will be served! Guests who RSVP through Eventbrite are invited to arrive at 6:30 PM to sample Master Baker Christopher Stratis' low-carb, Keto-friendly dessert confections.
Theater for the New City's Community Space Theater is located at 155 1st Avenue (9th/10th Streets), New York City.
Reservations are free and can be made through eventbrite
https://www.eventbrite.com/e/a-reading-of-pie-lessons-by-carrie-robbins-tickets-55833747241?aff=ebdssbdestsearch
Pie Lessons is presented in accordance with Actors Equity Association's Staged Reading Guidelines.
* Equity Members appear with permission of Actors' Equity Association.
Pie Lessons is presented in association with Days of the Giants, LLC www.daysofthegiants.com