THE COVER OF LIFE Opens March 8 Off-Broadway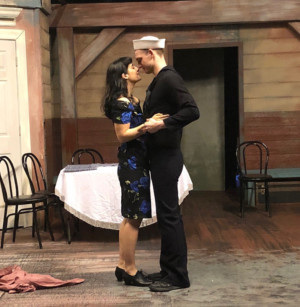 Tood, Weetsie, and Sybil are brides in rural Louisiana in 1943. Each married a Cliffert brother. The men are off to war and a local news story about these young wives keeping the home fires burning intrigues Henry Luce. He decides that they belong on the cover of Life Magazine and assigns Kate Miller to the story. She has been covering the war in Europe and, though she views doing a "women's piece" as a career set-back, she accepts because it will be her first cover story. Kate spends a week with the Cliffert women and her haughty urban attitude gives way to sympathy as she begins to understand them while coming face-to-face with her own powerlessness in a man's world. Filled with charm and fun, The Cover of Life is a deeply affecting story about the struggle for self-worth.
The Cover of Life explores a story during world war II, in which a New York Life Magazine reporter who has spent the past several years going between Europe and the United States, photographing and getting the real story during the time of war. The role of Kate Miller (Jill Cook) - Life Magazine reporter is informed by her boss, Harry Luce - mogul and one of the world's most well-known magazine superstars, creating many magazine empires including Life Magazine. Harry informs Kate (Cook) that she is going to be doing a story in Norther Louisiana in which she is to spend time with the wives of war time in their home and get the real story behind the women and their lives while the husbands are overseas. We meet Tood (Jessica Carillo), Weetsie (Abigail Milnor-Sweetser) and Sybil (Molly Callahan) - The wives of the men who explain the story to Kate and express the realization that there is more to life than just being a wife, raising children and hiding from the truth. Kate's arrival into Louisiana brings a whole new world to the eyes of Kate when she realizes that she is not who she thought she was. Kate is faced with the realization of just how powerless she is in the man's world. The connection between Tood and Kate brings such an amazing life changing experience that must be seen to believe. Along the way, we meet the mother-in-law of the girls - Aunt Ola (Amy Losi) and local crack reporter Addie Mae (Maia Nero), who was the reason that the story made it to New York and to Harry's desk. This show is full of great comedy, perfect comedic timing, and also a life changing dramatic expression of self-worth and realization that life is ever changing. With a new found understanding that new things are on the way in. The only male that is seen is Tommy Cliffert (Thomas Kalanas), husband of Tood (Carillo) which is done through a dream like sequence through letter writing between home in Louisiana and the south seas, until Tommy comes home and major questions are asked that could change everything that everyone has known to be the real story.
The show is directed by multi-talented Stephen S Miller. The show is written by R. T. Robinson. The show was originally produced in New York City in 1994 at the American Place Theater and this is the first official revival since then and is being done in loving memory of R. T. Robinson, a master of writing, and performance.
Opening March 8, 8pm
Regular run -
Wed-Saturday, 8pm
Saturday, 2pm
Sunday, 3pm
Tickets:
Tickets are also available through Today Tix and Goldstar.
Runtime: 105 minutes
Location: Gene Frankel Theater, 24 Bond Street, New York, NY.
All members of the press are welcome to all performances.
This show is not appropriate for children under the age of 14, due to adult situations and language.