Review Roundup: JACQUELINE NOVAK: GET ON YOUR KNEES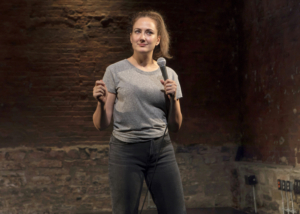 Jacqueline Novak: Get On Your Knees, a new comedy written by and starring Jacqueline Novak, just opened at The Cherry Lane Theatre, (38 Commerce Street) last night, July 22. Jacqueline Novak: Get On Your Knees is presented byNatasha Lyonne, and executive produced by Mike Birbiglia. Mike Lavoie and Carlee Briglia are producers.
Jacqueline Novak: Get On Your Knees is the most high-brow show about blowjobs you'll ever see. Novak spins her material on the femininity of the penis and the stoicism of the vulva into an unexpectedly philosophical show that's part feminist outcry, part coming-of-age tale of triumph. Ira Glass calls it a "nearly Talmudic dissection of a subject. Really funny and just really like nothing else."
Let's see what the critics had to say...
New York Times Alexis Soloski: Take away the hormones, the pheromones, the heat and the dark and the drink (or three). Turn off the flesh and turn on the analytics: Oral sex, at least in the abstract, seems like a pretty weird thing for a couple of bodies to do. Most of us don't spend a ton of time contemplating the practice theoretically, divorced from desire, but Jacqueline Novak devotes nearly an hour and a half to it. In "Get on Your Knees," at the Cherry Lane Theater, a stand-up set that inclines toward theater, Ms. Novak provides a personal and intellectual history of fellatio. Shrewd, explicit, though not exactly raunchy, this is the funniest show about Cartesian dualism you will see all year.
Frank Scheck, Hollywood Reporter: Delivering her provocative and superbly articulated material with a disarming casualness that makes it seem like every thought she's expressing has just come to her, Novak leaves no sexual stone unturned. Naturally, the topic of genitalia figures prominently in the proceedings. But while she spends some time discussing female anatomy, likening the vulva to both a "tattered flag" and "a cheeseburger wrapped in foiled paper," it's the penis - a name she decries by the way, although she's not crazy about any of the alternatives, either - that inevitably receives the lion's share of her attention. She laments being a heterosexual, or, as she more piquantly puts it, a woman "that lusts after the common shaft."
Helen Shaw, Time Out NY: The show's most effective section is her systematic dismantling of the male-determined phallic lexicon. "Rock hard"? She rolls her eyes, then does a very good imitation of a penis flopping daintily over "the fainting couch that is the inner thigh." This is but one example of how Novak can be absurd, real, hilarious and-though I hate to sound uncool-useful. While the show is sex-positive as hell, it's crucially aggression-negative. The next time a guy on the street catcalls you and points to his johnson, it'll help to remember that he's really talking about a histrionic little diva, one tantrum away from a swoon.
Jeremy Gerard, Theater News Online: Well, you had to be there, as I realize while reading the script just a few hours after seeing the 90-minute show. I don't mean this as a criticism, or at least not as a conclusive criticism. Stand-up comedy, after all, relies equally on delivery and content, and it's no surprise that Novak's fans include her bold-faced producers Natasha Lyon (Orange Is the New Black) and Mike Birbiglia (The New One). Some observations in Get on Your Knees land as less original than others, but for delivery, Novak scores a near-perfect 9.5. Fellow comedian John Early is the director, and they have chops.
Photo Credit: Monique Carboni