Peter Bartlett, Reed Birney, Lisa O'Hare, Tony Roach, Don Stephenson, Lenny Wolpe And More Will Star In Project Shaw's THE DOCTOR'S DILEMMA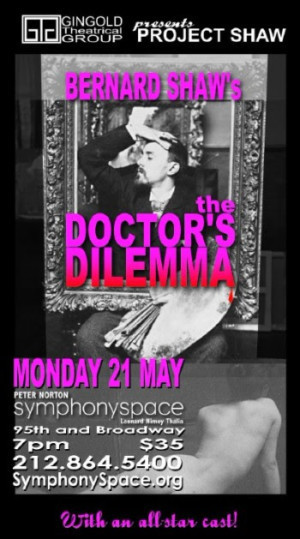 Gingold Theatrical Group (David Staller, Artistic Director) is proud to announce the next presentation of the 13th Season of Project Shaw, a special series of evenings offering some of Shaw's greatest works and those of his contemporaries, presented monthly at Symphony Space's Leonard Nimoy Thalia Theatre (2537 Broadway at 95th Street).
The season continues on May 21st with The Doctor's Dilemma, one of Shaw's most beloved plays. The Doctor's Dilemma provided Shaw the opportunity to accept his own personal challenge to write of Art versus Science. In this highly entertaining play from 1906, the enchanting Jennifer Dubedat idolizes her artist husband, Louis, but refuses to accept that his illness must be fatal. She goes to the renowned doctor, Sir Colenso, who has just invented a revolutionary cure in the hopes of convincing him that Louis' artistic talents make him worthy of saving. The doctor only has enough serum to treat one more patient and must choose between a doctor who has devoted himself to the underserved or the artist (who turns out to be a roguish scoundrel). In addition, Sir Colenso may have fallen in love with Jennifer. So, kill or cure? Shaw takes on the medical profession with his usual razor-sharp and uncompromising wit. Artistic Director
David Staller
directs a cast that features
T
im Jerome (Phantom of the Opera, Me and My Girl, Man of La Mancha),
Reed Birney
(Tony Award, Drama Desk Award - The Humans; Tony Award nomination, Drama Desk Award - Casa Valentina; 2011 Drama Desk Special Award; Drama Desk Award - Circle Mirror Transformation),
Warren Kelley
("Boardwalk Empire," A Christmas Carol, The Voysey Inheritance, Engaging Shaw),
Kevin Ligon
(currently in Hello Dolly! with
Bernadette Peters
),
Lisa O'Hare
(A Gentleman's Guide to Love and Murder -Broadway, My Fair Lady, Mary Poppins - West End),
Kristin Parker
(A
Thornton Wilder
Christmas, The Velveteen Rabbit),
Patti Perkins
(Billy Elliott, The Full Monty - Broadway),
Tony Roach
(Bright Star, currently - My Fair Lady),
Don Stephenson
(A Gentleman's Guide to Love and Murder,
Leo Bloom
in The Producers, Leo Frank in Parade -Broadway),
Lenny Wolpe
(Wicked, Bullets Over Broadway, The Drowsy Chaperone, The Sound of Music, Mayor The Musical) and
Evan Zes
(Murder on the Orient Express, Incident at Vichy). "This is one of Shaw's mystery plays," says Staller, "with as many questions left unanswered as answered, and Shaw breezes us though so many potent topics we can hardly keep track. One of the most powerful themes remains as relevant today as then: are treatments to be so scarce or costly that only the wealthy can afford them; and who gets to decide? But the play is populated with some the most extravagantly comedic characters ever created for the stage and, with this cast, we can't wait to share it with our audience." The 13th season will continue with a special cabaret concert at
The Players Club
devised by
Marcia Milgrom Dodge
with some of Shaw's favorite popular songs (coming April 30), then back at
Symphony Space
for The Doctor's Dilemma (May 21st), Buoyant Billions (June 18th), Back to Methuselah (Part 1 - October 22nd, Part 2 - November 19th), and from Shaw's contemporaries: Chicago by
Maurine Dallas Watkins
(the basis of the long running musical, on July 23rd), The New Word by J. M. Barrie & O'Flaherty along with Shaw's V.C. (September 24th), and The Enchanted Cottage by
Arthur Wing Pinero
(December 17th). All the plays in this series will be presented in a concert-reading format at the
Leonard Nimoy
Thalia Theater at
Symphony Space
,
2537 Broadway
at 95th Street. Tickets are $35 and are available by calling (212) 864-5400 or online at
www.symphonyspace.org
. Special reserved VIP seating available for $50 by contacting the Gingold office 212-355-7823 or
info@gingoldgroup.org
.
Symphony Space
's
Leonard Nimoy
Thalia Theatre space is completely accessible. Tickets for the Shaw Concert on April 30th may be purchased at OvationTix. Now celebrating its 13th year, Gingold Theatrical Group's Project Shaw made history in December 2009 as the first company ever to present performances of every one of Shaw's 65 plays (including full-length works, one-acts and sketches). They are now also including plays by writers who most inspired Shaw to begin his playwriting career, including work by Chekhov, Ibsen, Wilde, Barrie, and
Harley Granville-Barker
-- while continuing its new play development and educational programs. For those interested in lively off-site discourses, each Project Shaw event is followed by a talk-back with cast members. GTG's
David Staller
and
Stephen Brown
-Fried are also hosting a monthly Shaw Club discussion group. Always lively, they meet the Monday evening after every Project Shaw event at
520 8th Avenue
. For reservations, which are required, call 212-355-7823 or email
info@gingoldgroup.org
. GTG's full off-Broadway production of Shaw's masterpiece, Heartbreak House, will play at the Lion Theatre on Theatre Row in August and September of this year. Details to follow. For more information about Project Shaw and Gingold Theatrical Group contact 212-355-7823 or
info@gingoldgroup.org
, or visit online at
www.gingoldgroup.org
.
More Hot Stories For You