P73 Names Majkin Holmquist 2023 Playwriting Fellow; Interstate 73 Playwrights Announced
Holmquist will receive an unrestricted award of $10,000 and a development budget, managed by Page 73 and the Fellow over the course of the Fellowship year, up to $10,000.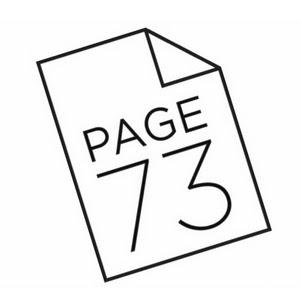 Page 73, the acclaimed organization that develops and produces the work of early-career playwrights who have yet to receive a professional production in New York City, has named its 2023 Playwriting Fellow and announced its 2023 Interstate 73 Writing Group. Majkin Holmquist is the 20th playwright honored with the Playwriting Fellowship, the organization's most prestigious award. She will be working with Page 73 throughout its 25th anniversary year as they offer artistic and financial resources to develop one or more new plays of her choosing. The 2023 Interstate 73 Writers Group includes Lucas Baisch, Majkin Holmquist, Mary Lyon Kamitaki, Shayan Lotfi, Naomi Lorrain, Charlie Oh, Audley Puglisi, and Nia Akilah Robinson.
Majkin Holmquist will receive an unrestricted award of $10,000 and a development budget, managed by Page 73 and the Fellow over the course of the Fellowship year, up to $10,000. This additional budget can be personalized to support the Fellow's proposed project and can include such expenses as research, workshop and reading presentations, and fees for collaborating artists. Holmquist will work with Page 73 on at least one public presentation of her new play, bringing in artistic collaborators such as directors, designers, and actors.
The fellowship annually supporting a playwright who has yet to have a professional premiere in New York City in 2022 went to Marvin González De León. Previous Fellows include Bleu Beckford-Burrell (2021), Emma Goidel (2020), Sanaz Toossi (2019), C.A. Johnson (2018), John J. Caswell, Jr. (2017), Hansol Jung (2016), Nick Gandiello (2015), Clare Barron (2014), Caroline V. McGraw (2013), Max Posner (2012), Janine Nabers (2011), Eliza Clark (2010), Heidi Schreck (2009), Tommy Smith (2008), Krista Knight (2007), Jason Grote (2006), Quiara Alegría Hudes (2005), and Kirsten Greenidge (2004).
Page 73 Artistic Director Michael Walkup says, "Majkin writes plays that are at once expansive and intimate, propelled by a deep compassion for character and an indelible sense of place. Frequently set in her native rural Kansas, her plays capture the possibility of mystery, or even mysticism, pressing in from dark edges just out of sight, acting upon her characters as they search, mourn, pray, and grow. We're excited to support Majkin and name her our 20th Playwriting Fellow and also to work with her as a member of Interstate 73."
Interstate 73 members meet twice a month at the Page 73 office to share their newest pages and discuss their work with their peers and Page 73's Artistic Director and Associate Producer. I73 playwrights frequently participate in other Page 73 programs including residencies, retreats, readings and workshops. Every member receives a stipend.
At the end of 2022, Page 73 and Working Theater presented the world premiere production of 2021 Page 73 Playwriting Fellow Bleu Beckford-Burrell's La Race (November 22-December 23), characteristic of the organization's long-term commitment to writers and multifaceted approach to supporting their work. (La Race followed Page 73's Spring 2022 production of 2017 Playwriting Fellow John J. Caswell, Jr.'s Man Cave, which was Page 73's first production since the 2020 shutdown). Page 73's upcoming co-production with Playwrights Horizons, The Trees, is by Agnes Borinsky, a participant in Page 73's 2014 Summer Residency. The Trees, directed by Tina Satter, runs February 12 through March 19 in Playwrights Horizons' Mainstage Theater.
About the 2023 Playwriting Fellow
Majkin Holmquist is a playwright originally from the Smoky Valley region in central Kansas where she was co-founder of The Next Stage Theatre Company. In January of 2023, her play Tent Revival will be produced by Paula Vogel's Bard at the Gate series in partnership with the McCarter Theatre Center. Other plays include Stargazers, Every Anne Frank, Quickmatch, The Dog Pack Play, and Skinflint. Credits include The Quonsets (co-written with Alex Lubischer, Yale Cabaret), Broken Melodies (WVIT Women in Theatre Festival), and Styx Songs (contributing writer, Yale Cabaret). Her work has been developed at New York Stage and Film, Woodshed Collective, Bay Street Theatre, Page 73, Ucross, and Roundabout Theatre Company. She has been a finalist for Colt Coeur, the Pacific Playwright's Festival, and PlayPenn. She is currently a member of Midnight Oil Collective and Page 73's Interstate 73 Writers Group, and is a Lecturer in Playwriting at the David Geffen School of Drama at Yale. She holds a BA in Secondary English Education from Bethany College and an MFA in Playwriting from the Yale School of Drama.
About the Interstate 73 Writers
Lucas Baisch is from San Francisco. Select plays include REFRIGERATOR (First Floor Theatre), On the Y-Axis (The Bushwick Starr Reading Series), Dry Swallow (Brown University), import speech_memory (Cutting Ball's Variety Pack Festival), and 404 Not Found (2022 O'Neill NPC Finalist). Lucas is a recipient of a Steinberg Playwright Award, the Princess Grace Award, The Kennedy Center's KCACTF Latinx Playwriting Award, and a Jerome Fellowship. His plays have been published through Methuen/Bloomsbury and Yale's Theater Magazine. His artwork has been presented at Elsewhere Museum, the Electronic Literature Organization, gallery no one, and the RISD Museum. MFA: Brown University.
Mary Lyon Kamitaki is a New York-based playwright from the Big Island of Hawaii. Her plays have been produced by Playwrights' Arena in Los Angeles and developed at the Alliance Theatre, A Noise Within, Open Fist Theatre Company, Pasadena Playhouse, Skylight Theatre, Ensemble Studio Theatre/LA, UCLA, and USC. Mary's work explores questions of identity and self-determination facing young people today, particularly mixed, queer girls who reinvent themselves to survive in transforming worlds.
Shayan Lotfi has written some plays and thankfully still wants to write. He's been fortunate enough that some wonderful institutions have supported and developed his work, including MacDowell, The Working Farm at SPACE on Ryder Farm, Atlantic Theater, Roundabout Theatre, South Coast Repertory, The Lark, Marble House, Millay, and Boston Court. Maybe one day his biography will end with the fact that he, his partner, their six children, and pug split their time between Fort Greene, the Sicilian coast, and Kyoto, but currently that isn't true.
Naomi Lorrain is a Harlem based actor/playwright. She is an AUDELCO Awards nominee and a NY Innovative Theatre Awards nominee for Best Lead Actress for Behind the Sheet and Entangled, respectively. She is a writer for the 2022 Disney Television Discovers: Talent Showcase. Her one-act comedy, THERESA, was selected for the 2022 Black Motherhood & Parenting Festival. Her play, how to roll a blunt, was a 2021 Finalist for the National Playwrights Conference at the Eugene O'Neill Theater Center. Her screenplay, My Better Half was a 2021 2nd Rounder for Comedy Feature Screenplay at the Austin Film Festival as well as a quarterfinalist for the WeScreenplay: Diverse Voices Screenwriting Lab. Theater: La Race (Page 73), Mark it Down, Song for a Future Generation (Williamstown Theatre Festival), Behind the Sheet (Ensemble Studio Theatre), What To Send Up When It Goes Down (The Movement Theatre Company). TV: "Orange is the New Black" (Netflix), "Elementary" (CBS), "The Good Fight" (CBS All Access), "Madam Secretary'' (CBS). Lorrain also moonlights as a Research Assistant at the Schomburg Center for Research in Black Culture. NYU: MFA; Yale: B.A.
Charlie Oh's plays have been developed at Manhattan Theatre Club, South Coast Rep, The Lark, Second Stage, The Goodman, and others. His play LONG won the Kennedy Center's Paula Vogel Award and was an honorable mention for the Relentless Award. His play Coleman 72 won the Paul Stephen Lim Playwriting Award and will premiere at South Coast Rep Spring 2023. Commissioned by MTC / Sloan and developing projects with Amazon and Universal. Northwestern University and The Juilliard School.
Audley Puglisi is a playwright and poet. Audley has received fellowships from VONA/Voices, Lambda Literary, The Playwrights Realm, Blue Mountain Center and has worked with St. Paul's Penumbra Theatre. Writings have been published in ColorBloq and Garage Magazine. Plays include the salt women, Two Sisters (Sip Fest @ The Wild Project); blues for miss lucille (Lorraine Hansberry Award, finalist), Home on High; and The Misplaced Saints. Audley is a recent M.F.A. graduate from the Yale School of Drama.
Nia Akilah Robinson (she. her) is a playwright and actor who reps Harlem with all her might. Nia will be mentored by Mitzi Miller (Vice President at Warner Bros. Entertainment and HBO Drama) through YoungArts' Emerging Professional Artists program. Her work has been seen and developed with The Ground Floor: Berkeley Repertory Theatre, National Black Theater: Soul Series (2023), Great Plains Theater Conference, SPACE on Ryder Farm, Ensemble Studio Theater, Waterwell, Classical Theater of Harlem, Urbanite, New Georges, The Dramatist Guild in partnership with The 24 Hour Plays, and Nuyorican. She has been a MacDowell Fellow, YoungArts Artist Fellow supported by Rockefeller Brothers Fund (Alumni Award), Travis Bogard Artist-in-Residence at the Eugene O'Neill Foundation, a commissioned writer for Pen America & EST/Alfred P. Sloan Foundation (short play), in residence at Prospect Street Writer's House, and The Caribbean Cultural Center African Diaspora Institute's DEAR fellow. Finalist: O'Neill National Playwrights Conference, Blue Ink Playwriting Award, New York Theater Workshop 2050 Artistic Fellowship, and a Semi-Finalist for The Blank Theater's "Future of Playwriting Award." Member/ Alum: EST's Youngblood, The Orchard Project NYC Greenhouse, The Wish Collective, and TheBlackHERthePen. She was a Consultant for (CLASSIX), Archival Researcher for CLASSIX in collaboration with Princeton University, Co-Program Manager & Co-Facilitator of Inaugural National Fellowship dedicated to Black Femme Artist-Activists at The 2021 Tony Award Winning Broadway Advocacy Coalition, Co-Program Manager & Co-Facilitator of a Monologue Writing Program in partnership with Exodus Transitional Community & BOLD, Facilitator at Columbia Law School (Theater of Change), and was presented a certificate for her "Commitment to Black Stories" by BAC. She is a faculty member at a middle school (teaching acting) and is 2022-2023 Lila Acheson Wallace Playwriting Fellow at Juilliard.
About Page 73
Since its founding in 1997, Page 73 has unwaveringly focused on nurturing early-career playwrights and expanding the theatrical canon. The organization has consistently sought to open new pathways to recognition for fresh, urgent, and daring voices, in part by mounting works solely by writers who have not yet had a New York City premiere Off-Broadway. In 2020, the organization was honored with an institutional Obie Award "for providing extraordinary support for early career playwrights."
Page 73 has become renowned for introducing playwrights with a distinct approach to theatricality and language into the larger theatrical ecosystem. Page 73 offers writers career guidance, financial assistance, and development opportunities through programs including the Page 73 Playwriting Fellowship, the Interstate 73 Writers Group, and writing retreats and residencies. The organization helps playwrights move their work toward premiere, in Page 73's own presentations or co-presentations with partner institutions, or by connecting writers to available opportunities at colleague theaters. Playwrights leave Page 73's programs having meticulously honed their crafts, formed kinetic new collaborative relationships, and been equipped to flourish as empowered, self-assured artists.
Page 73 developed and, with Playwrights Horizons, produced the world premiere of Michael R. Jackson's A Strange Loop, which won dozens of prestigious awards including the 2020 Pulitzer Prize for Drama. Among Page 73's many other celebrated world and New York premieres are Zora Howard's STEW, which was named a Finalist for the 2021 Pulitzer Prize for Drama; Mia Chung's Catch as Catch Can, Leah Nanako Winkler's Kentucky, Max Posner's Judy, Clare Barron's You Got Older, George Brant's Grounded, and John J. Caswell, Jr.'s Man Cave. Diversifying the American theater and making space for voices theater audiences have not yet heard is at the core of Page 73's ethos. Page 73 has co-produced with eminent new play theaters including Soho Rep., Rattlestick Playwrights Theater, and Ensemble Studio Theatre. The organization produced the professional New York City debuts of Samuel D. Hunter (2015 MacArthur Fellow), Quiara Alegría Hudes (2012 Pulitzer Prize winner), Dan LeFranc (2010 New York Times Outstanding Playwright Award recipient), Heidi Schreck (2019 Pulitzer Prize finalist, Tony Award nominee), and Clare Barron (2019 Pulitzer Prize finalist). Close to two-thirds of the over 140 playwrights supported by the organization have subsequently received New York or regional theater productions, and the number grows each season.