La MaMa Celebrates Groundbreaking Event At Flagship Venue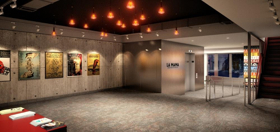 One of the oldest theaters in NYC - 74 E. 4 St., home to the 2018 Tony Award-winning La MaMa in the East Village - will mark the start of its first-ever restoration and renovation since the building was constructed in 1873 with a GROUNDBREAKING EVENT attended by Tony winning composer and longtime La MaMa company member Scott Wittman (Hairspray, the upcoming remake of Mary Poppins), NYC Deputy Mayor ALICIA GLEN, Tom Finkelpearl (Commissioner of the NYC Department of Cultural Affairs), Brad Hoylman (NY State Senator), NYC Council Member CARLINA RIVERA, the world-renowned National Medal of Arts recipient Ping Chong, La MaMa Artistic Direct Mia Yoo and Board President Frank Carucci, along with performers from the SPIDERWOMAN THEATRE and THE SILVER CLOUD SINGERS.
This historic restoration is the first phase of a three-part $50 million Master Capital Plan set to renovate all four of La MaMa's East Village properties.
Built in 1873, 74 E 4 St. was purchased by La MaMa's late, legendary founder Ellen Stewart, a seamstress from the South who moved to NYC and purchased the building in the 1967, which has since become known as the birthplace of the Off-Off-Broadway scene.
Now in its 57th season of presenting award-winning experimental theater, La MaMa had the great distinction this spring when it received the 2018 Regional Theater Tony Award.
The renovation of 74 East 4 Street is made possible with private support from Booth Ferris Foundation, the Ford Foundation, Dr. Gerald J. and Dorothy R. Friedman Foundation, the Howard Gilman Foundation, the Midler Family Foundation, and La MaMa's Board of Directors, in partnership with New York City's Department of Cultural Affairs (DCLA), the New York City Council, The Manhattan Borough President's Office, The New York Landmarks Conservancy, and the New York State Legislature.
Oscar-winning actress Olympia Dukakis chairs La MaMa's Capital Campaign Committee, whose members include Ping Chong, André De Shields, Diane Lane, Meredith Monk, Amy and David Sedaris, and Tony-winning composer Scott Wittman.
NY State Senator Brad Hoylman, expressed, "For generations, La Mama has given underrepresented artists a platform to be seen and heard. Today, that legacy continues. In making the building ADA accessible, La Mama's Board of Directors, their philanthropic partners, and my colleagues in government have made the La MaMa theatre a more viable and open resource for the community. It's a boon for creators and theatergoers alike."
"For decades, La MaMa's original theatre has been at the heart of the East Village's performance scene and a launch pad for the careers of countless new artists," said Manhattan Borough President Gale A. Brewer. "Renovating this community asset to add workshop space, redesign the main performance space, and boost accessibility will make it possible for even more New Yorkers to experience La MaMa's ambitious and provocative programming."
The award-winning architectural firm of Beyer, Blinder & Belle is working with theatre consultants Jean-Guy Lecat (designer for the renowned director Peter Brooks) and Charcoalblue to reimagine and reinvigorate the existing building, reconfigure the main performance space, add a New Theatre Workshop and event space, and improve patron and performer support areas.
The work will also include the restoration of the historic facade and the reintroduction of glazing at the main entrance to enhance the visual connection to the street. The plans activate and open La MaMa's spaces to its community in new ways. A building-wide data network will allow artists and audiences from all over the world to participate in La MaMa's artistic and educational programming.
Artistic Director Mia Yoo explained the critical need for this capital project: "This building has been home to generations of creators and performers. It is where unknown and underrepresented artists tell their stories in unexpected and surprising ways. Our building must be made ADA accessible and undergo urgently needed renovations if it is to be a viable resource for the next generations of artists and audiences."
Called "a pillar of Off Off Broadway" by The New York Times, La MaMa has anchored the East Village performance scene since 1961, supporting thousands of artists, many of whom have gone on to define American theatre, including Julie Taymor (Lion King), Marc Shaiman and Scott Wittman (Hairspray), and Harvey Fierstein (Torch Song).
More Hot Stories For You