I AM MY OWN MILF to Premiere at 2023 FRIGID Fringe Festival at The Kraine Theater
I AM MY OWN MILF is a devised drag+dance collage that imagines a world where the rich have to pay their debts.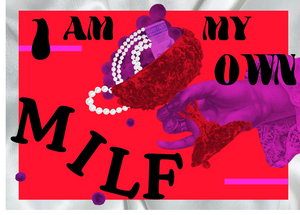 Both an homage and send-up to the Upper East Side lady & the gayz that inhabit her, this interpretatión of the life of Timon of Athens casts a middle-aged diva as hostess of Park Avenue's biggest flop parade. I AM MY OWN MILF is a devised drag+dance collage that imagines a world where the rich have to pay their debts. Part lip-sync spectaculare, part nature vlog - this show opens the purse of the self-destructive Diva and the society built to devour her. It's giving. And giving. And giving. And giving.
Conceived by Matthew Antoci
In collaboration with Lizz Mangan & Meaghan Robichaud
Directed by Andrew Mullins
Dramaturgy by James La Bella
Movement Direction by Alexandra Brokowski
Graphics by Beth Brownrigg
Garments by Ray Dondero
Additional choreography by Carly Jurman
Matthew Antoci - Creator, Performer, Co-producer
Matthew Antoci (they/them) is a multi-disciplinary performer and creator based in New York City. They work in various mediums, including multi-media theater, internet performance, and drag. Matthew has performed onstage at CultureLab LIC, The Tank, the Ballard Museum of Puppetry, and Connecticut Repertory Theatre, as well as in various drag cabarets and across the internet. They are a co-founder of the Cinnamon Summer Series and facilitated the devised website experiment The Fires We Don't See and produced and directed the company's inaugural production, Much Ado About Nothing. In the summer of 2023, Matthew will be an artist-in-residence at the Celebration Barn in Paris, ME, with collaborator Meaghan Robichaud and their original play wwwbringbackjeffreydotcom will be presented as part of the ?!:New Works series at The Brick. In addition to their work in performance, Matthew is a freelance dialect coach and astrologer. www.matthewantoci.com
Meaghan Robichaud - Performer, Collaborator
Meaghan Robichaud (she/they) is an actor, deviser, and performance artist based in NYC. Hailing from Boston, she has performed featured roles in Boston Lyric Opera's Handmaid's Tale directed by Anne Bogart as well as New York's Neo-Political Cowgirls in their site-specific piece HYSTERIA. As a deviser she has worked under the direction of Fake Friends' Michael Breslin and Patrick Foley. When she is not performing in 3D she can be seen in 2D on Tiktok @techno_pagan where she performs as herself. www.meaghanrobichaud.com
Lizz Mangan - Performer, Collaborator
Lizz Mangan (they/them, she/her) is a playwright, dramaturg, and educator with a devotion to promoting and supporting queer and underrepresented voices. Lizz is a proud alumna of the University of Connecticut where she received her BA in Theatre Studies with a focus in Playwriting and Dramaturgy and the National Theater Institute's Advanced Playwriting Program (Spring 2018).
Andrew Mullins - Director
Andrew Mullins (he/him) is a New York City-based director and facilitator focusing on working with writers and performers on the creation of new work in experimental theater, musical theater, solo performance, and cabaret. Recent credits include an autobiographical solo show by Maggie Metnick titled 12 Year Old Boys, My Mom, and Other Things That Make Me Nervous that has been workshopped in collaboration with Breaking & Entering Theater Company, as well as developmental readings of Third by Ty Autry at the 14th Street Y, No Service North of 96th by Daniel Blanda and Trivial Pursuit by Yael Haskel as part of Traguna Productions' Summer Readings Series, and Murder Pass: A New Horror Musical Comedy by Alex Knezevic and Chad Nowlan at The Tank. As well as full productions of Nice Jewish X by Brandon Adam at Theater Lab, Burn devised by The Neighborhood Watch at Pace University, and I Want to be Your Friend, Please, a solo clown show written and performed by Maggie Metnick at Dixon Place. Other Cabaret work includes: Miscast! at Fulton Street Lounge, F&%$ You Cabaret at The Loft at the Davenport Theater, Gender is a Lie The Patriarchy Told You at The Duplex, as well as numerous drag act collaborations with drag artist Michele Chakra performed in bars and cabaret spaces all around the city.
James La Bella - Dramaturg
James La Bella (he/him) is a writer and dramaturg who creates text and performance. As a dramaturg he's worked with The Civilians, The Mercury Store, Hedgepig Ensemble, The Dyon Collective, Emerson Stage, Mercutio Troupe, NYSAF's Powerhouse Theater, and the Goodspeed Opera House. As a writer his work has appeared onstage at The Tank, The Brick, Sparkhaven Theater, The Blank, Reground Theater, Candle House Collective, Mercutio Troupe, and in print in The Washington Square Review, Maine Review, and Broadway Beat. www.jameslabella.com
Alexandra Brokowski (she/her) is a performer based in NYC. She has an eye for the yes, the no, and more recently the "maybe so." She is psyched to be working on this project. Keep up with her at www.alexandrabrokowski.com
Beth Brownrigg - Graphics Designer
Beth Brownrigg (she/her) is a Brooklyn-based artist, comedian, and designer. She is currently an art assistant at The Drew Barrymore Show, and her previous work can be seen on Showtime, Amazon Prime, and Hulu. She runs Scoopty Boopty's, a living room comedy show based in Crown Heights, and is directing a house production of Horse Girls this spring. Much like counterculture icon Brandi Glanville, her creative passion lies in the gay and grotesque.
FRIGID Fringe Festival is an open and unjuried theatre festival that gives artists an opportunity to let their ingenuity thrive in a venue that values freedom of expression and artistic determination. In true support of the Indie Theater Community, 100% of box office proceeds go directly to the artists whose work is being presented. FRIGID is here to chill out the New York independent theatre scene's ideas of what a theatre festival can be! www.frigid.nyc
Performance Details:
The FRIGID New York Fringe Festival presents:

I AM MY OWN MILF
Conceived by Matthew Antoci
In collaboration with Lizz Mangan & Meaghan Robichaud

Wednesday, February 15th at 7:10pm
Friday, February 17th at 8:30pm
Friday, February 24th at 8:30pm
Saturday, March 4th at 6:40pm

Tickets: Sliding scale, starting at $15 www.frigid.nyc

Location: The Kraine Theater, 85 E 4th St, New York, NY 10003