Dan Lauria to Lead the Off-Broadway Cast of THE STONE WITCH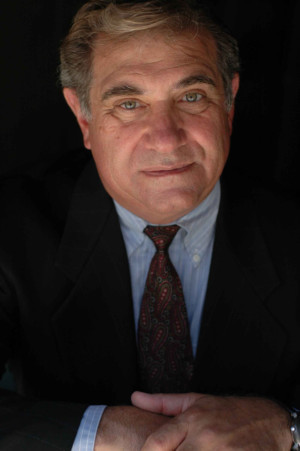 Producers Darlene Kaplan, Laura Janik Cronin and Scott J. Newsome, have announced, today, the cast and creative team for the Off-Broadway premiere of The Stone Witch, a play by Shem Bitterman (A Death in Colombia, Influence). Performances begin Monday, March 12, 2018 for an open-ended engagement at The Westside Theatre - Upstairs (407 West 43rd Street between 9th and 10th Avenues). Opening Night is set for Sunday evening, March 25, 2018 at 6:30PM.
Directed by Steve Zuckerman (Nuts, "Murphy Brown") the three-member cast features Dan Lauria ("The Wonder Years," Lombardi) as Simon Grindberg, with Rupak Ginn (Shakespeare at Fenway, "Royal Pains") as Peter Chandler, and Carolyn McCormick (Equus, "Law & Order") as Clair Forlorni.
Extraordinary art must be tamed. Simon Grindberg is the world's most illustrious children's book writer and illustrator -but his next masterpiece is a decade overdue. Peter Chandler is a starving artist with unparalleled potential-but he doesn't yet know his own value. The two men are thrown together by Clair Forlorni, an ambitious editor who hopes Peter's youthful exuberance can unleash Simon's aging genius for one final story. But creativity comes at a cost. The Stone Witch is a wondrous, hopeful and heartbreaking new play where imagination runs wild. The world premiere production of The Stone Witch was produced at The Berkshire Theatre Group in association with Darlene Kaplan Entertainment and Brierpatch Productions in 2016.
The creative team for The Stone Witch includes Yael Pardess (set & projection art content design), Mimi Maxman (costume design), Shawn Edward Boyle (lighting design), Christopher Cronin (sound design), Rasean Davonte Johnson (projection design), and Roger Bellon, Bellchant Music (composer). The Production Stage Manager is J.P. Elins.
The Stone Witch will play the following performance schedule: Monday and Tuesday at 7:00 p.m., Wednesday at 2:00 p.m. & 8:00 p.m., Friday at 8:00 pm., Saturday at 2:00 p.m. & 8:00 p.m., and Sunday at 3:00 p.m. Please note: There is no Thursday performance.
Single tickets for The Stone Witch are priced are priced at $89, $110 (Premium Seats), and may be purchased by calling Telecharge: 212-239-6200, or by visiting Telecharge.com. Student Rush Tickets are priced at $30 with valid Student I.D.
Dan Lauria (Simon Grindberg) has appeared as a guest star in over seventy television episodic programs and more than twenty "Movie of the Week" productions, plus a score of motnio picture credits. Dan is a very familiar face to the Off-Off, Off and regional theatre scene having performed, written or directed over 50 professional stage productions. In 2010/11 Dan was seen on Broadway as the legendary coach Vince Lombardi in Lombardi, with the beautiful and talented Judith Light playing Marie Lombardi. The production was directed by Thomas Kail of Hamilton fame. He returned to Broadway in the 2013 & the 2014 production of the Tony nominated A Christmas Story: The Musical directed by John Rando. However, Dan is most recognized as the Dad on the highly acclaimed Emmy winning, ABC television show, "The Wonder Years." He was recently seen in the Fox TV show "Pitch" as manager Al Lougo and has just joined the family of "This Is Us" both series written by televisions most talented writer, DAN FOGELMAN. Dan and dear friend, the lovely and talented Ms Wendie Malick have performed the play The Guys by Anne Nelson, for numerous theatre and firemen organizations around the country. The Guys is a tribute to those brave men and women who died on 9/11. Wendie and Dan now do Love Letters for fund raising events for regional theatres.
Rupak Ginn (Peter Chandler), raised in Harlem, originated the role of Peter in The Stone Witch for its world premiere at the Berkshire Theatre Festival and is delighted to be reprising it Off- Broadway. Other recent stage work includes Commonwealth Shakespeare Company's Shakespeare at Fenway. On film, he has starred in Khoya, and supporting roles include Friends with Benefits, Just Wright, The Namesake, and 5 Weddings. On television, he recently filmed the pilot episode of TNT's "Highland," played Raj on USA's "Royal Pains" for seven seasons, and has guest starred on "Private Practice," "Unforgettable," and "Person of Interest." Rupak holds an undergraduate degree from Harvard University and an MBA from Columbia University. He is also a board member of the Indian Film Festival of Los Angeles (IFFLA).
Carolyn McCormick (Clair Forlorni). Broadway: Equus, Private Lives, The Dinner Party. Off-Broadway: What I Did Last Summer, The Open House (Drama Desk Award, Lucille Lortel nomination), Family Furniture, Black Tie, Ten Chimneys, Celebration, Privilege, Biography, Eve-Olution, Dinner With Friends, Ancestral Voices. Regional: Vanya And Sonia And Masha And Spike (Paper Mill), Saint Joan (Denver), The Father (Geffen), Uncle Vanya (Old Globe), Present Laughter (Williamstown), Much Ado About Nothing (Seattle). Television: series regular on "Spenser For Hire," "Cracker," Dr. Olivet on "Law & Order" & guest star on "Billions," "The Blacklist," "Elementary," Madame Secretary," "Blue Bloods," "Body of Proof," "Cold Case," "Judging Amy," "The Practice," "Homicide," "Star Trek." Film: Mapplerthorpe, The Post, You Know My Name, Loverboy, A Simple Twist of Fate, Enemy Mine, Whatever Works, Downtown Express. The voice behind The Hunger Games audio-books and myriad Ken Burns documentaries. Education: Williams College-BFA, American Conservatory Theatre-MFA.
Shem Bitterman (Playwright) is an alumnus of Juilliard, where he studied acting, and of the University of Iowa where he earned an MFA in Dramatic Writing in 1985. Recent plays include: A Death in Colombia (Katselas Theatre Company, LA, 2011), Influence (Katselas, 2010; Best Play, Best Production, Best Ensemble nominations, LA Weekly Awards), The Stone Witch (runner-up, 2010 Stanley Award for Drama) Harm's Way (Circus Theatricals; winner, 2008 PEN USA Literary Award; runner-up, 2007 Smith Prize; published by Broadway Play Services), man.gov (Circus Theatricals, 2006; Best Play nomination, LA Weekly Awards), Sensitive Skin (The Elephant Theatre), The Circle (Circus Theatricals; 2005 PEN USA Literary Award Finalist; 2001 Best Playwright, SCA Fringe Festival). Under Mr. Bitterman's direction, The Job won the 1999 LA Times Critic's Circle Award for Best New Play and was published by Samuel French and in Smith & Kraus's Best New Plays of 1998. Other plays include: Night-Side (Actor's Theatre of Louisville, starring Pamela Gien), Peephole (Geva, starring Josh Brolin; winner, Davie Award; subsequently made into a film directed by Mr. Bitterman), The Ramp (South Coast Rep; winner, California Playwright's Competition), Beijing Legends (The Mark Taper Forum, the Pacific Jewish Theatre, Mixed Blood Versus America; winner, Fund For New American Plays), Self Storage (The Odyssey, subsequently made into the film Tinsletown starring Arye Gross), Ten Below (WPA Theatre, starring Kevin Conway and Anthony Edwards; winner, National Play Award and Lee Korf Playwriting Award), Iowa Boys (The Actor's Studio; winner CBS/FDG New Plays Award). Feature films include: The Job (directed and produced by Mr. Bitterman; winner, Best Screenplay, The 2009 San Diego International Film Festival), Play Dead (co-authored and produced with director Jason Wiles, starring Fred Durst and Chris Klein), Full Count (co-authored and produced with Mr. Wiles), Out Of The Rain (directed by Gary Winick), Off The Lip (directed by Robert Mickelson), Open House (directed by Mr. Bitterman). Mr. Bitterman has written for Warner Brothers, Disney, Dreamworks, and many other independent studios, and his plays have been developed at Sundance, Steppenwolf, Midwest Playlabs, The Taper's New Works Festival, and elsewhere. Mr. Bitterman has also lectured on the entertainment field and taught screenwriting, playwriting, and acting from the California Prisons to Beijing. Mr. Bitterman heads the Playwrights Unit at the Katselas Theatre Company. This summer, Mr. Bitterman's play, A Death In Colombia was performed at the Festival Transatlantyk in Poznan, Poland with Frances Fisher and Joe Regalbuto under his direction, and his recently completed a biopic Betty and Coretta, starring Angela Bassett and Mary J. Blige, about the friendship between Betty Shabazz, the widow of Malcolm X, and Coretta Scott King airs on Lifetime in January.
Steve Zuckerman (Director) directed Nuts by Tom Topor on Broadway, which received two Tony Award nominations and a Drama Desk Award. As Associate Director of New York's WPA Theater, he directed over 15 productions including the premieres of Nuts, Shem Bitterman's Ten Below, and Israel Horovitz's Unexpected Tenderness and North Shore Fish. His Off-Broadway revivals of Tennessee Williams' Vieux Carre and Ibsen's When We Dead Awaken, with Kim Hunter, both received Drama Desk Awards. Also Off-Broadway, he directed The Freak, Kennedy at Colonus and Today I am A Fountain Pen. Recent productions include Mr. Bitterman's plays A Death in Colombia, their seventh collaboration; Influence, which garnered three LA Weekly Award nominations including Best Production and a LA Critics Circle Award nod; and Open House, which was voted one of the Ten Best Plays of 2014. He also directed Mr. Bitterman's Man.Gov and Harm's Way, which was a LA Pen Award Winner. At the Falcon Theatre he directed the premier of Garry Marshall's Everybody Say Cheese. He has been Director of Play Development at The Circle in the Square Theatre and Artistic Director of the Impossible Ragtime Theatre in New York and the Sharon Playhouse. He has directed at many regional theatres including Baltimore's Center Stage, The La Jolla Playhouse and the Yale Cabaret where he directed the world premiere of Christopher Durang's Better Dead Than Sorry, which later moved to the Manhattan Theatre Club. He directed over 400 episodes of network and cable television shows including "Golden Girls," "Everybody Loves Raymond," "Friends" and "Murphy Brown" for which he received an HUMANITAS award. Mr. Zuckerman was trained at the University of Michigan and the Yale School of Drama. He has taught at The University of Southern California, The Circle in the Square Theater School, NYU and Juilliard.
Yael Pardess (Set Design and Projection Art Content Design) designed the original set for The Stone Witch at The Berkshire Theatre Festival. Yael designs for theatre, theme parks and museums in the US and worldwide. She designed for many of Los Angeles theatres, where she lives, as well as regional theatre, Broadway and Off-Broadway productions. To name a few: Blade To The Heat, Stand Up Tragedy (Criterion, Broadway), Richard The II, Scenes From An Execution, Julius Ceasar, (Mark Taper Forum LA), Macbeth (Guthrie), The Cherry Orchard (Lensik Santa Fe), George Gershwin Alone (Regional tour; Helen Hayes, Broadway; and The Duchess, London, West end), many of which were award winning productions. She designed for Oregon Shakespeare Company, ART Cambridge, ACT SF, Kirk Douglas LA, Shakespeare Santa Cruz and LA's many theatres. She has collaborated with leading directors such as Joel Zwick, Tom Moore, Assad Kelada, David Lee, Oscar Eustis, Kristofer Tabori, Charles Randolph Wright, Michael Arabian, Jo Bonney, Brendon Fox, Seret Scott, Robert A. Akerman, Oscar Eustis, Jessica Kubzansky, Sheldon Epps and Ron Link. She worked with Placido Domingo on an Original Opera Dulce Rosa performed at the Broad Stage in Los Angeles. Yael currently designs for the Theme Park industry where she specializes in immersive environments and multi-media shows for History Museums and Parks in the US and around the world. Among her projects: "Beyond All Boundaries" at the WW2 Museum in New Orleans (multiple award winners). Her clients include Disney, Universal Studios, and Paramount. She is thrilled to be part of this special production. www.yaelpardessdesigns.com
Mimi Maxmen (Costume Design). This will be the 18th production she has designed for Steve Zuckerman. New York: The Norwegians, Becket, Uncle Vanya (Tom Courtenay, James Fox), A Shayna Maidel, Inadmissible Evidence, Vieux Carré, A Midsummer Night's Dream, The Frogs, A...My Name Is Alice, North Shore Fish, The Seagull, Virgil Thomson's Lord Byron (Alice Tully Hall) and The Mother of Us All, Twelfth Night. Regional credits: The Diary of Anne Frank, The Stone Witch, Vanya and Sonia and Masha and Spike, The Misanthrope, Les Liaisons Dangereuses, Sight Unseen, I Married Wyatt Earp, Harvey, The Dybbuk. She has designed for the Roundabout Theater, Manhattan Theatre Club, Second Stage, Mark Taper Forum, GeVa, Cleveland Play House, the New York City, Joffrey, and Metropolitan Opera Ballet companies. Ariadne auf Naxos (Susan Graham, Ben Heppner) for Santa Fe Opera. Films include The Lightkeepers (Richard Dreyfuss, Blythe Danner), Tumbleweeds (Janet McTeer), The Singing Detective, The Pretty Boys, Luster. She currently teaches at Parsons School of Design and serves on the Advisory Board of TDF/The Costume Collection.
Shawn Edward Boyle (Lighting Design) is a projection and lighting designer with experience in theater, musical theater, opera, dance, installation, and architectural projects. He has designed for the Berkshire Theatre Group, Yale Repertory Theatre, Cork Opera House (Ireland), Grand Rapids Ballet, Merry Go Round Playhouse, Ogunquit Playouse, Goodspeed Opera House, The Lyric Stage Company of Boston, as well as several other theaters and theme parks across the United States. Shawn has worked as an Associate Projection Designer for Elaine J. McCarthy. As Elaine's associate, Shawn has mounted productions of Wicked in the United States, Australia, Japan, Germany, Holland, and the United Kingdom. Shawn also had the pleasure of serving as the Associate Projection Designer on three Broadway Shows: Thurgood, Impressionism, and The People in the Picture. Shawn has exhibited installation work at Yale Art Gallery and created mapped architectural pieces for display on Yale's Beinecke Library. Shawn was recently recognized by the Connecticut Critics Circle for his projection design of the world premiere of Sheila Callaghan's Elevada. Shawn is a member of United Scenic Artists, I.A.T.S.E local 829, as a Projection Designer and Lighting Designer. Lecturer in Design (Projection) - The Yale School of Drama.
Christopher Cronin (Sound Design). Has over 25 years of experience in theatrical sound design and engineering. Broadway credits include Cherry Orchard, Noises Off, Private Lives, Ghetto Klown, Driving Miss Daisy, Dame Edna: All About Me, Your Welcome America, God of Carnage, The Vertical Hour, Faith Healer, Bridge and Tunnel, Cat on a Hot Tin Roof, Life (x) 3, The Graduate, Prune Danish, and Much Ado about Everything. Over 50 Broadway shows as Associate: including 1984, Les Liaisons Dangereuses, The Crucible, A View from the Bridge, Wolf Hall, Fish in the Dark, The River, Cripple of Inishmaan, Of Mice and Men, Waiting for Godot, Clybourne Park, Hamlet, Enron, Red, The Norman Conquests, Boeing Boeing, Rock and Roll, Frost/Nixon, Pillowman, Democracy, Jumpers, Def Poetry Jam. Off-Broadway: Potted Potter, Freckle-face Strawberry, Night in November. Chris is the Vice President of Technical Services at Sound Associates, Inc.
Rasean Davonte Johnson (Projection Design). A video artist and theatrical designer, he has had the opportunity to work with institutions such as Yale Repertory Theatre, Steppenwolf Theatre Company, Geva Theatre Center, Berkshire Theatre Group, ALLIANCE THEATRE, Drury Lane Theatre, Court Theatre, The Hypocrites, Chicago Dramatists, Timeline Theatre Co., The Kitchen Theatre, Teatro Vista, Collaboraction, American Theatre Company, Manual Cinema, and internationally with the Ningbo Song and Dance Company. Additionally, his installation work has been seen at the Yale Art Gallery, The Bridgeport Film Festival, and the Columbus International Film Festival. MFA Yale School of Drama. www.raseandavontejohnson.com
Roger Bellon, Bellchant Music (Composer). The Stone Witch marks Emmy Award-nominated composer Roger Bellon, writer Shem Bitterman, and director Steve Zuckerman's sixth collaboration. Their most recent work, Open House, was voted one of LA's ten best plays. Born in Neuilly-sur-Seine, France, Roger attended The Berklee College of Music, Boston, where he received his Bachelor of Music degree in Music Composition. He completed post-graduate studies in composition and conducting at the Ecole Normale de Musique, Paris. Roger has scored over three hundred television episodes including the cult series "Highlander - The Series," and numerous award winning television movies and mini-series. He recently conducted the London Symphony Orchestra at famed Abbey Road Studios for his score to Iron Cross, actor Roy Scheider's last movie. He has composed scores to numerous theatre works including The Three Sisters, 63 Trillion, A Death in Colombia, Julius Ceasar, Influence, More Live about Jerzy, A Midsummer Night's Dream, the Taming of The Shrew, Harm's Way, and Man.Gov.
J. P. Elins (Production Stage Manager). Broadway & National Tours: ANN with Holland Taylor, Frost/Nixon, The Lion King, Show Boat, Chicago, Blast, Beauty and the Beast, The Music of Andrew Lloyd Webber, Starlight Express, Joseph and The Amazing Technicolor Dreamcoat, Titanic, Crazy For You, The Secret Garden, Cuba and his Teddy Bear with Robert De Niro, Radio City Christmas Spectacular, Buttons on Broadway with Red Buttons. Off-Broadway: The Belle of Amherst with Joely Richardson, Red Eye of Love, Handle With Care with Carol Lawrence, Hapgood, Nunsense, Zombie Prom, The Woman In Black, B.H. Barry's Treasure Island, and The Enlightenment of Mr. Mole. Other New York: A Thick Description of Harry Smith, Baby, Ghost Light, LCT Director's Lab. Regional: Stratford Festival Canada, Shakespeare & Company, Geva Theatre, Virginia Stage Company. For Jolie, Jon & the Family. Proud Member of Actors' Equity Association.
Darlene Kaplan (Producer). Her extensive background in the entertainment industry started at The WPA Theatre where she was the literary executive and casting director. While at the WPA she participated in the development of over thirty plays including Little Shop of Horrors, Steel Magnolias and Nuts, all of which became feature films after successful runs in New York. After moving to Los Angeles, she spent three years on staff at Universal Television, casting such diverse projects as "Columbo" and the original pilot of "Law & Order." She then became an independent casting director for television pilots, series, movies for television and features. Sixteen years ago Darlene decided to use the knowledge she had acquired to help actors shape their careers and became a theatrical manager. Her talented roster of actors can be seen in features, television, on Broadway and off-Broadway. She is now returning to her roots as one of the lead producers of The Stone Witch.
Laura Janik Cronin (Producer) Prior to co-founding Brierpatch Productions in 2008, Laura Janik Cronin worked for over 12 years in theatrical management on and off-Broadway, including The Lion King, Chicago, The Leiutenant of Inishmore, August: Osage County, November, The Look of Love, Jackie Mason: Prune Danish, Six Dance Lessons in Six Weeks, Triumph of Love, Hamlet starring Ralph Fiennes, Beauty and The Beast, Jaques Brel is Alive and Well, Spalding Gray: Stories Left to Tell, and My Mother's Italian, My Father's Jewish and I'm in Therapy. With Brierpatch Productions she helped produce the Off-Broadway run of Jason Odell William's Church and State. Laura has a Bachelor of Arts degree in Music from Mount Holyoke College and holds a Masters of Fine Arts degree in theater management from the Yale School of Drama.
Scott J. Newsome (Producer) has worked in theatrical management for almost 20 years. He co-founded Brierpatch Productions in 2008 and through Brierpatch has managed over 30 productions since then. Prior to Brierpatch, Scott's production credits include Hedwig and the Angry Inch (Off-Broadway production), Menopause The Musical, Harmony, I Love You Because, My Mother's Italian, My Father's Jewish, and I'm In Therapy, and Fuerza Bruta. Scott holds a Bachelor of Arts degree in Theater from the University of Houston.
Brierpatch Productions (General Management) is the partnership of Laura Janik Cronin and Scott J. Newsome providing general management services for theatrical productions, tours and events. Current and previous productions include: Cagney the Musical; Party Face starring Hayley Mills; Spamilton; Church & State; One Funny Mother; Dan and Phil: The Amazing Tour Is Not On Fire; Phoenix; Handle With Care; Grounded; Tennessee Williams' The Two Character Play; Inner Voices III & IV; Sleeping Rough; Triassic Parq; 7th Monarch; Rest In Pieces; Wallenberg; Tales From The Tunnel; Glimpses of The Moon; The Actors' Studio Drama School MFA Repertory Season (2011 - current).