Review: FRANKENSTEIN Is Alive at St. Luke's Theatre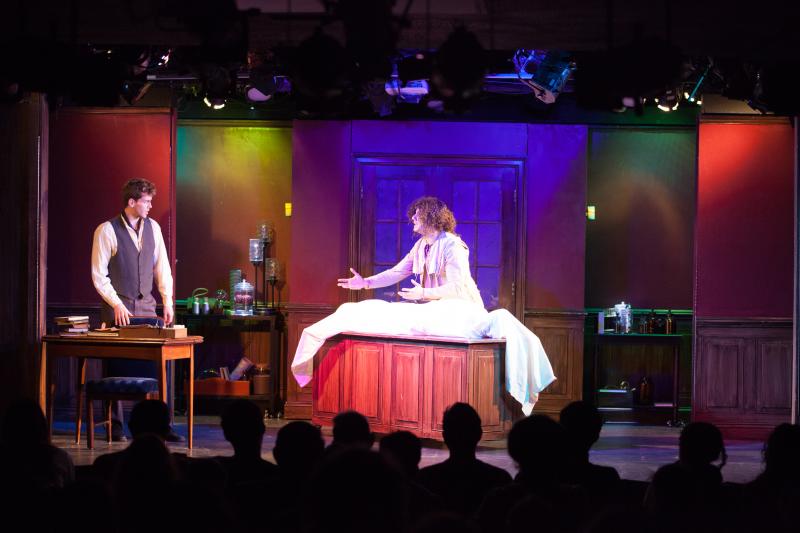 Regardless of the time, whether present day or the centuries that have passed before us, the question of human purpose has always been at the forefront of people's minds. Not only do we seek our own unique way of contribution, but also how we can be more fulfilled - better than our fellow man, and perhaps even better than the things we cannot fully understand. When knowledge turns to power, and with power then responsibility, can we really measure up to our ideas of grandeur - can we rise above the creature we have created, or even become? These and many other intriguing questions, as relevant in life as they are in death, are put forward in a wonderful show that I now have the pleasure of reviewing: Frankenstein is the perfect imbalance of monster and man, and through it all implores audiences to question the purpose of being here in terms of what we all crave: if love does not exist, what kind of life do we have?
Directed by Clint Hromsco and produced by John Lant and Tamra Pica (in association with Write Act Repertory), Frankenstein boasts a book, music and lyrics by Eric B. Sirota, major contributions from Julia Sirota and also the help of Sharon Sudol and Cara London. Now in performances at the St. Luke Theatre in the heart of Times Square, the show is presented to a New York audience after being chosen as an official selection of the New York Musical Festival's 2015 reading series. Frankenstein: A New Musical is based on Mary Shelley's classic novel, which just celebrated its two-hundredth anniversary this past January. This Gothic beauty of a novel is spectacularly transposed onto the stage in this production - from the eerie music that plays as one enters the intimate theater, to how the music and lyrics perfectly capture the existential angst (even burden) of simply being alive, Frankenstein is more than a successful attempt at creating Shelley's masterpiece upon the stage: it is a success of a show that should be considered something great in the realm of musical theater.
This was my first experience with the story of Dr. Frankenstein and his persistence in creating the perfect human being, harnessing the power of God and uncovering the reasons behind suffering and death. Although, I am a huge fan of the profundity of the existential - that which drives a person to defy the laws of nature to the extent of destroying the boundaries between a higher power and His creation. I am amazed by how far an individual will go to see that which is not meant to necessarily be understood, usually at great cost.
Frankenstein, with its heightened sense of joy, loss and all that pursues in the midst of human creation and error, is a perfect representation of man at his finest, with a creation meant to be perfect, but which instead becomes the scourge of both himself and humankind. The songs, so privy to the pains of humanity and detailed in their explanation of it, and the characters who must bear the burden of Frankenstein's desire for power - all come together in this perfectly formed musical which the audience without doubt thoroughly enjoyed.
For those of you unfamiliar with the plot, Frankenstein follows in the steps of Shelley's classic novel about a young scientist who seeks to discover the secrets of life and death. By creating the perfect human being, he strives to take illness and ailing and make suffering an impossibility, harboring the power of God in his own young hands. After returning from his studies to a household of friends and family who are most anxious to see him, he soon becomes betrothed to the beautiful Elizabeth and sets the stage for a promising life with his fiancé and scientific studies. Although, when the heart of his "perfect" human being, his experiment, begins to beat, he is horrified by the results: not a human being, but more a feral creature from which he runs away in fright.
After abandoning the search for his creation, he is confronted by this creature once again almost two years later, and by this "monster's" own hand wreaks vengeance upon those his creator holds dear. The creature, a monster that seeks the love and companionship of a human being but is instead confronted with the fear of others, refuses to go away unless his creator makes him a mate; when Frankenstein refuses, his one goal becomes revenge. A truly captivating plot joined by a score with extremely well written and profound lyrics, Frankenstein is certainly one of off-Broadway's most anticipated shows. It truly questions the significance of love in all its human (and non-human) forms - love for one's work, for one's betrothed and that which ultimately comes to destroy him: a love for power that remains unbounded until it is much too late.
Frankenstein is truly a beautiful piece of theatrical art. Everything about the production is well done: from the costumes to the set, to the beautiful music that exudes both the joy and fear of what Frankenstein has wrought with his hands, it is as entertaining as it is intense and existential. Lending music to an already engaging plot was a wonderful idea - the lyrics and melodies show the continuous angst of Dr. Frankenstein and those who are pushed aside in his pursuit of scientific discovery. The beautiful melodies of Elizabeth's songs are intertwined with the profound anger and pleading of a distraught creature, imploring his creator for answers to humanity's most difficult questions - questions that human beings are not meant to be able to answer with the assuredness of a greater power. This wonderfully talented cast comes together to present this theory to an excited audience: in life or death, does love ever cease to guide us?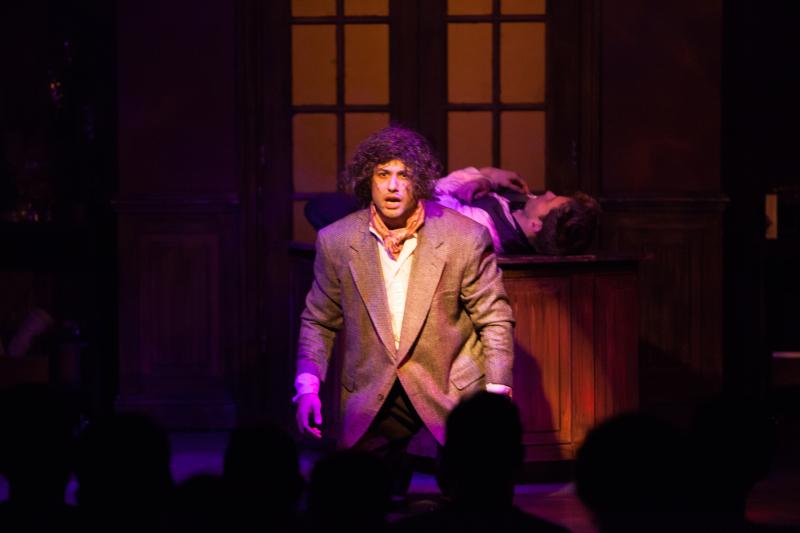 The cast and crew of Frankenstein make this the incredible performance that it is. Jon Rose, Amy Londyn, Erick Sanchez-Canahuate, Adam Kee, Stephan Amenta, Stephanie Lourenco Viegas, Gabriella Marzetta, Cait Kiley, Bryan Watson and Samantha Collette round out an immensely talented cast that perfectly portrays the trials and tribulations leading to the demise of the Frankenstein house. I was thoroughly engaged with their performance, and genuinely taken by how wrought with emotion everyone was to keep this momentum going - to keep the audience on the edge of their seats.
Although too many to name, the crew also deserves many of the great accolades this show is undoubtedly receiving. Just to mention a few names, Austin Nuckols as Music Director and Accompanist, Jennifer Anderson as Costume Designer, Maarten Cornelis as Lighting Designer, Matthew Imhoff as Set Designer and Johna Mancini as Make-up and Hair Designer are all wonderful assets of this great show. So thank you!
Frankenstein will run at the St. Luke's Theatre (located at 308 West 46th Street) every Monday until March 5th. All performances are at 7:00 pm. Tickets cost between $20 and $99 and can be purchased through Telecharge at https://www.telecharge.com/Off-Broadway/Frankenstein-a-new-musical or by calling (212) 239-6200. For more information about the show, please visit https://stlukestheatre.com.
Enjoy the show!
Photo Credit: Adam Smith Jr.