BWW Review: CIRCUS ABYSSINIA Ethiopian Dreams Come True in NYC
When one thinks of Ethiopian imports, coffee and extraordinary runners might grace the top of the list but circus artists aren't usually associated with the sovereign African nation. However, with Circus Abyssinia - an all-Ethiopian contemporary circus company, the brainchild and heart project of a pair of brothers, Mehari "Bibi" Tesfamariam and Binyam "Bichu" Tesfamariam, who are both talented jugglers and global arts entrepreneurs - the world might start to see Ethiopia in a different light. The siblings' journey to fulfill their dreams reads more like a fairytale or Cinderella story, where the heroes persevere and make magic happen with their unshakable willpower and determination, though not despite many struggles and frustrations on their way to fulfilling their dreams.
It is almost unheard of for a company only a year and a half old to find themselves in the most coveted spotlight on the world's stage - the bright lights of 42nd Street at the New Victory Theater - the most prestigious place for international performances geared towards kids and families situated in the very heart of Times Square. But while the company (along with many of its exceptional performers) is still young, these charming African gentlemen have been building this empire for most of their lives and are now making Ethiopian Dreams - the show's title -come true for every other African child ambitious enough to dare to desire to run away with the circus.
The current production features eighteen acrobats and circus arts specialty performers, each one of them extraordinary, who enact classic circus arts (hand vault, hula-hoop, juggling, clowning, contortion, Icarian Game, Rolla Bolla, aerial, acrobatics and Chinese pole) in the contemporary style (where street clothes tend to replace sequins and simplistic to bare-bones sets with lush lighting in lieu of a three-ring tent and bright lights are favored) with a distinctly Ethiopian and African cultural quality. But those expecting to see visual representations from The Lion King or ancient African pageantry may be disappointed - for the brothers and company Circus Abyssinia are aiming to portray not an archaic expression of African culture but the modern people of Addis Ababa, which might as well be Brooklyn. The uniquely African aspect is more internal than outward - the cornerstones and vision behind their mission for Circus Abyssinia are far from self-serving. Rather, it is altruistically rooted in family, community, giving back and uplifting Ethiopia as a nation whilst aiming to shape its future, one acrobat at a time.
When speaking to the Tesfamariam brothers - Bibi and Bichu - after the show, the most resonating feelings they exuded was that of gratitude, immense passion, joy and absolute devotion to their craft, country and community. In addition to that, they are utterly articulate, charming and charismatic - something that comes across brilliantly in their performance but even more so in their personal interactions which seems to be a clear source to their success, something they casually credit to "luck."
Like many African touring companies, upon their formation they found more opportunities in Asia and Australia at first. Then their acclaimed launch at the Edinburgh Fringe Festival in 2017 garnered more global interest, including the ultimate - New York City. But the brothers came from humble beginnings and carved the path for themselves.
As ancient as the circus arts are (many of the acts originated thousands of years ago and the more modern expression clocks in at a respectable 250 years), in Ethiopia, the integration of circus is only a mere 25 years young (according to Bibi and Bichu) and at around a decade older than that, they both had to explore alternative means to enhance their skills in the art form that so dazzled and delighted them. "We caught the fever at the very start of a circus in Ethiopia. It began as an after-school activity, something to keep the kids busy, but we loved it so much that we would seek out the knowledge and do what we could to imitate what we saw on TV," recalled Bichu. (Note: keep in mind there was no YouTube at the time).
"We didn't have any resources for the props so we had to carve our own juggling clubs out of wood. They were so heavy!" noted Bibi, "So that when we finally practiced with real professional clubs, it felt like a relief, easy." They went on to further explain how their lack of professional terminology (though there was nothing missing in their skill level and talent - probably because they'd not had the same resources and formal training advantages as others - everything they gained was earned through sheer determination) led them to humorous encounters with fellow jugglers admiring their tricks and acknowledging them in the correct terms and counts, which seemed to be a foreign language to the mostly self-taught artists. Even when they met the legendary Sean Gandini, he tried to engage them in juggler jargon and they weren't fully aware of who he was (as an icon, yes, but not what he looked like). Now they are great friends and he is a huge supporter.
The boys got their big break with England's Giffords Circus and with them got a taste of the big top and touring life - but they never lost their roots. In 2011, their acrobatics teacher was forced to close his school in Ethiopia. Bichu and Bibi banded together with their earnings from the acclaimed international circus and saved it. This sparked what would eventually become their circus school that started off with twenty students and has now grown to 150. This set the foundation to dream of their own touring company and show - thus Circus Abyssinia was born.
While "running away with the circus" might be frowned upon in many cultures as a career choice that is unstable at best, in Ethiopia it is even more frowned upon, where more traditional roles and values are retained and the most respected job options still remain: doctor, accountant, teacher or the like. However, maybe the most significant benefit the Tesfamariam family has contributed is to set up circus arts as a viable option for gainful employment. They should know, the brothers have used the funds they made (which are standard for circus performers of their caliber but quite remarkable by Ethiopian expectations) to fund their projects.
The fact that they are completely self-produced entrepreneurs is almost unprecedented in the international arts industry, let alone Africa. Even the eccentric filmmaker Tim Burton took notice: He and his family saw the performers in the U.K. and years later he invited them to appear in his upcoming film, Dumbo. But lest they seem to be self-serving superficial circus superstars of stage and screen, the founders are much more about promoting and uplifting others.
Bichu and Bibi proudly announced that several members of their company are the main breadwinners for their entire families, some even purchased houses with their circus pay. They are considered role models and proof to Ethiopian youth that this art form is or can be a viable source of income and respected profession. For example: The youngest member of Circus Abyssinia who appeared onstage was Yabsera Alabechew, who at a mere ten years old, was tossed like a rag doll doing dozens of furious flips from the dexterous toes of his brother, Sisay Abebe, in the Icarian Game segment of the show. The creators laughed and commented, "We have to tell him to slow down, it's too much! But he can't help himself."
Yet this inspiring and game-changing fairytale of visions accomplished, there is a dark shadow cast upon the Ethiopians' New York dreams. Seven of their members were denied visas due to the utterly ridiculous explanation of "their lack of travel experience," as the reasoning even though these were the very same artists who had journeyed across continents at the young ages of their mid-teens to early mid-twenties, something not so many Americans (besides the privileged) can claim.
The most unfortunate and embarrassing part of this is that the blame for this unfair restriction lies with the U.S. (as in the United States of America). This kind of rejection cuts deeper than most for the Circus Abyssinia performers -- the loss of this opportunity means loss of income for families depending on it, the insecurities and trauma associated with it make them lack confidence, feel personally dismissed and hesitant to make another attempt. Though they have been greeted with opened arms in most places, Bichu noted a bit of struggle their first time to Australia that was pretty quickly overcome. The fact that they have never been denied visas outright further solidifies the image of an unwelcoming America.
The silver lining and beacon of hope was the incredible action and call to arms that was taken by the NYC circus community (specifically those of Ethiopian origin) that was utterly remarkable. These fellow circus performers stepped into the shoes of those who were denied entry into the USA and enabled the show to go on. Summer Lacy, chain aerialist (whose astounding Act 2 opener made me ponder the various theatrical possibilities for this provocative portrayal of strength and vulnerability - in addition to the evocative imagery) expressed a mix of her appreciation for the opportunity to perform on such a stage with prestigious international partners and utter disgust for the mistreatment of the company.
But lest this seem a sob story, Bichu and Bibi ask for no sympathy. They are not naïve to the challenges that have existed since their interest turned into an obsession then an actual occupation, and they are aware of the many challenges that lie ahead.
What they do ask is that you come to Circus Abyssinia at the New Victory Theater in NYC by or before their final show on December 30th, so that you and your family might experience the richness of culture, outstanding talent and exuberant joy that modern Ethiopians have to offer - if not for the sake of pure enchantment, then out of solidarity and respect for the performers who were forced to miss the bright lights of Broadway.
The U.S. premiere of Bibi & Bichu's Circus Abyssinia Ethiopian Dreams is playing at the New Victory Theater presented by The New 42nd Street from November 29-December 30, 2018. For tickets and more information: www.newvictory.org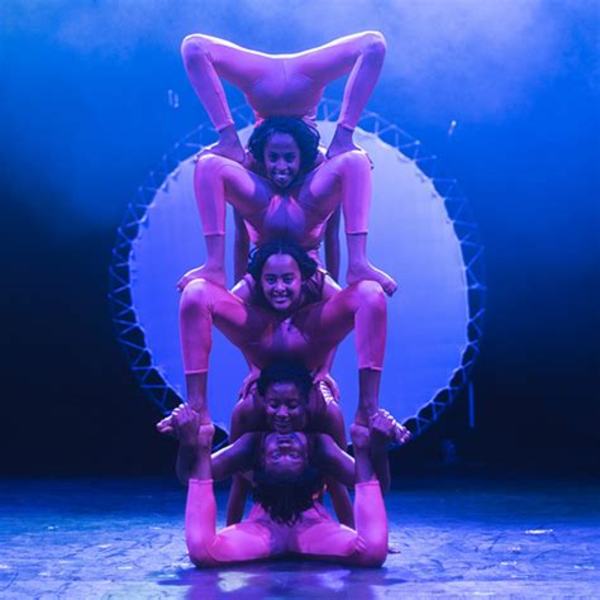 The Contortionists of Circus Abyssinia at New Victory Theater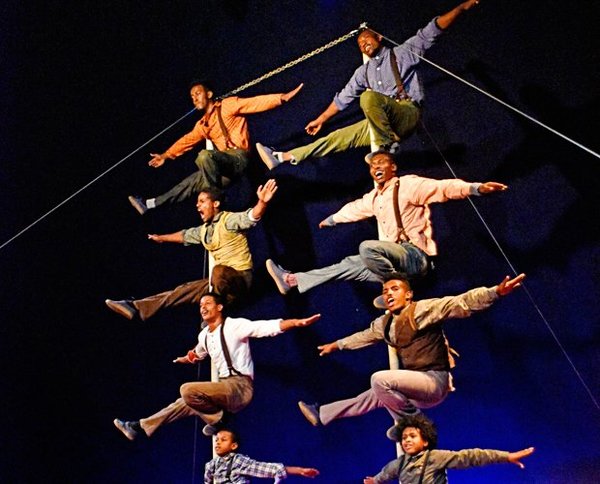 The Acrobats of Circus Abyssinia on the Chinese pole.

Circus Abyssinia Clown. Photo by Andrey Petrov.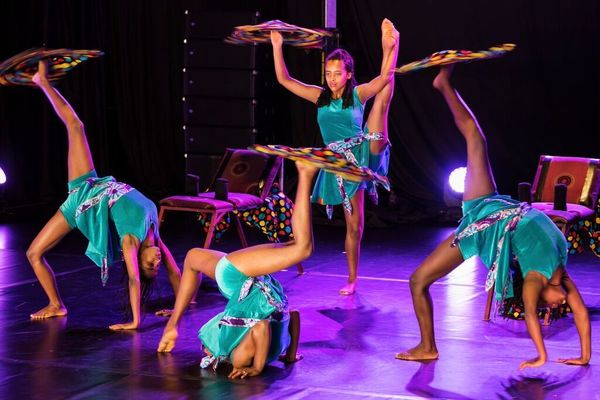 Cloth-spinning Contortionists. Photo by Andrey Petrov.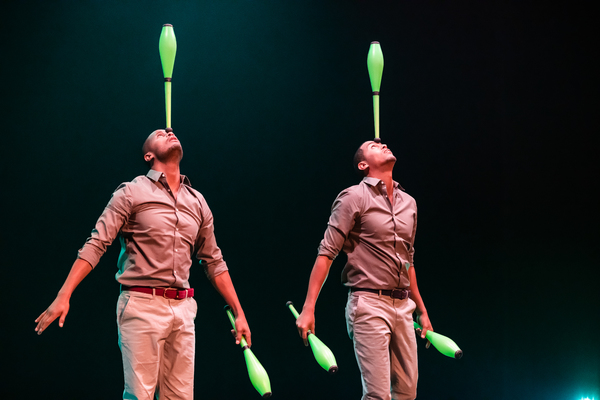 The founders, producers and creators of Circus Abyssinia: Bichu and Biti. Photo by Maike Schultz.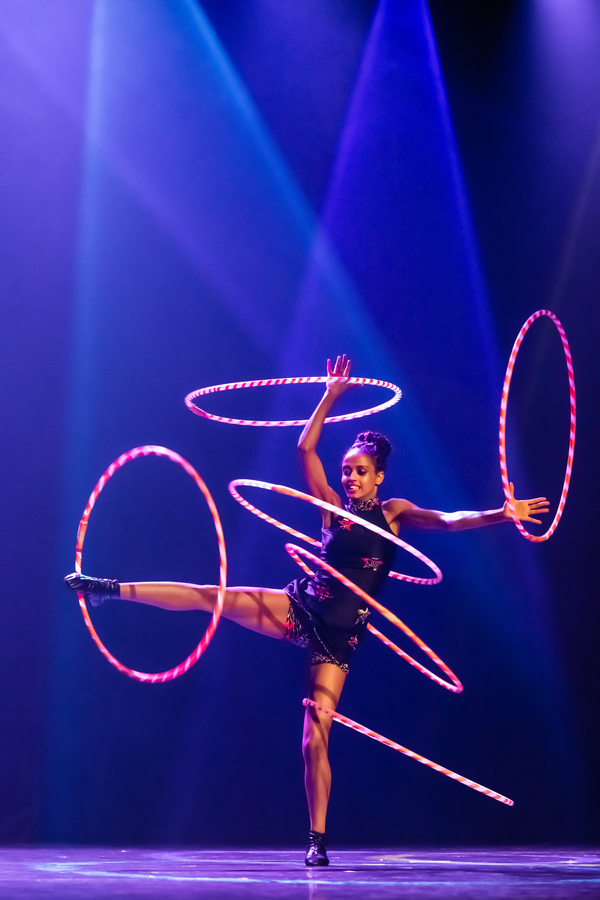 Hula Hoop Artist. Photo by Maike Schultz.