BWW Interview: Singer-Songwriter Kim McClay Talks One-Night-Only Fundraising Concert and Upcoming Debut EP
Pre-pandemic, the talented McClay could be seen touring the country as Maggie in A Chorus Line.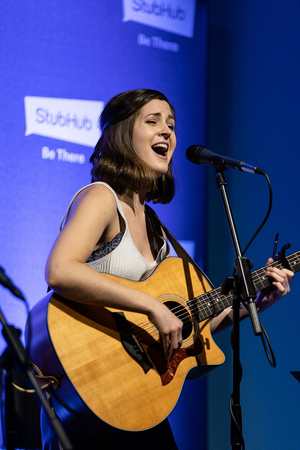 Talented singer-songwriter Kim McClay, who is perhaps best known for touring across the country as Maggie in A Chorus Line, is celebrating the announcement of her debut EP with a one-night-only fundraising concert on Friday, February 26 at 8pm (EST) on Instagram live, @heyitskimmcclay!
McClay will be performing an all-original, live acoustic set, with proceeds from the performance supporting both her EP's final mastering and relief efforts in Texas via Representative Alexandria Ocasio-Cortez's relief fund. The money raised for the concert is being distributed between housing centers, food banks, eldercare centers, and other organizations throughout Texas.
For more information about McClay and her projects, visit: https://www.kim-mcclay.com/.
We spoke with Kim McClay about what we can look forward to hearing during her concert, the process of creating her upcoming EP, and more!
---
Talk to me about your upcoming album! How did you decide that it was time for you to release an album and what has the process been like putting it together?
I have been writing songs since 2013, but what started as a hobby has turned into a full expression of my art! After several live performances with my songwriting, the COVID shutdown happened. In an effort to rebrand this pandemic year as a "gap year," I saw how this gift of time left me open to explore the possibilities with recording. I promised myself at the beginning of 2021 that this would be "the year of the album," and I've been fundraising, researching, and planning ever since. I began my process by reaching out to songwriter friends of mine who've recorded to get a feel for what studios were recommended and what to expect from different music engineers. From there, I contacted my pal Dustin Beardsley (my multi-talented band leader/trumpet player/mixer), and we hashed out some details so that we could get a timeline established to plan for an early summer release. It has definitely felt like a crash course in recording; I've set up a soundproof studio in my closet to record certain vocals from home, and I have watched many YouTube videos about LogicPro (my DAW of choice). So, I'm learning a lot and doing a lot of the work myself, but ultimately I'll get into a studio with my full band next month.
What can we expect to hear on the album?
The album will be a 10-song EP that is a culmination of my work thus far: from my first acoustic tracks to more full-band bops. My style is quite eclectic: it encompasses the genres of indie/songwriter, jazz/funk, and pop in a poetic and energetic way. I take a lot of inspiration from James Taylor and Joni Mitchell but also from more recent artists like Lake Street Dive and Sara Bareilles.
How did your virtual concert come together, and what can we expect to see and hear?
I decided to do this concert once I booked the studio space to record! I realized that once I lay down these tracks with the full band, we won't have the opportunity to hear some of those songs acoustically. A stripped, acoustic evening of songs both old and new, this concert will be a chance to share my songs as they were originally written. It will also be a full circle moment for me since I had my first "concert" for a few friends in my 5th floor walk-up apartment 4 years ago... this is just me, myself, and my guitars.
Talk to me a bit about what your concert will be helping to raise funds for.
The fundraising aspect of the concert will be twofold. I wanted to raise funds for the recording process (as a self-produced album, everything is self-funded). This concert will help support the mixing and mastering process of the EP. I will also be donating a portion of the proceeds to Representative Alexandria Ocasio-Cortez's Relief Fund. The money raised there is being distributed between housing centers, food banks, eldercare centers, and other organizations throughout Texas for relief after their recent snow storm.
How does it feel to be able to perform again during this time? What are you most looking forward to?
It is always a delicious experience to get to perform! Though it's never the same being "onstage" online, it is always a thrill to get to put on my performer hat. I've had a few Zoom performances over the past year, but I am most looking forward to this one. I have home-field advantage, for one thing, but I mostly am excited to get a chance to showcase my work in such an intimate setting. Literally inviting the listeners into my home for an evening, I get to enjoy my living room and a cocktail while I take in the company of internet friends. It will be the last time (for now) that I'll get this acoustic setting in such a way!
Photo credit: Rebecca Michelson