Interview: SUPERHERO's Jake Levy
At Second Stage Theater, theatre fans are gathering to see Tom Kitt's newest musical come to life. Superhero -a new musical about a fractured family, the mysterious stranger in apartment 4-B, and the unexpected hero who just might save the day- is captivating audiences, and making a heroic splash off-Broadway- so much so, that this new, adventurous musical scored itself an extended run.
One performer in particular, Jake Levy, who plays Superhero's antagonist, Dwayne, caught up with BWW about his theatrical journey, and the new journey that Superhero has presented for him.
---
Tell us about Superhero.
Superhero
is the world premiere of a new musical written by
Tom Kitt
, with a book written by
John Logan
. We're performing at the
Tony Kiser
Theater -
Second Stage
's Off Broadway Stage. They did a reading of it about a year ago at the
Eugene O'Neill
in Connecticut, and now they're doing an Off-Broadway run! I'm performing alongside some absolute powerhouses -
Bryce Pinkham
, and
Kate Baldwin
... it's all very exciting. I play Dwayne, who is the bully in the show. I also cover Simon, the lead in the show.
For those who don't know your credits, what are some of your favorite roles that you've played?
Bobby Strong in Urinetown is one of my absolute favorites. I did a lot of amazing shows at UCLA and had the chance to portray some of my favorite characters. There I played Pippin in Pippin- I love that show a lot, and even named my cat Pippin. I also played Tommy Ross in Carrie. I was also Dr. Pomatter in Waitress in Concert with Positivity Productions at UCLA. I'm a little young for the role, but that character is very much a reflection of myself. Being that quirky, funny kind of guy was amazing. That role was one of my favorites.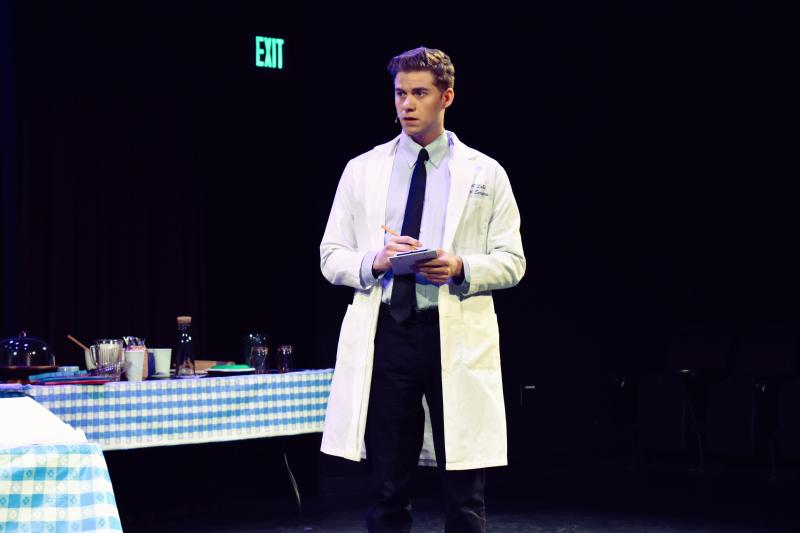 What roles would you like to play professionally?
Definitely Dr. Pomatter in Waitress, Fiyero in Wicked like every other musical theatre guy, Marius in Les Miserables, Gabe in Next to Normal, and Moritz or Melchior in Spring Awakening.
When did you start performing onstage? How did you get your start?
I come from Great Neck, NY, which is a small town on Long Island. I started doing acting classes when I was seven years old in Manhasset, NY at the Actor's Garage. My acting teacher, Ann Gray, got me started on the path to success in the professional world. I got an agent through her class, and soon enough I started doing commercials and smaller roles. I'd go into the city after school for auditions, and that translated into my first off-Broadway musical when I was ten. It was called Take Me Along at the York Theater. I had a small role, but nevertheless, it sparked my love for musical theatre. From there, I got singing lessons, dancing lessons - the full nine yards I needed to break into the professional world.
How did you know you wanted to perform in New York City?
I ended up going to college at UCLA, and was in the
Ray Bolger
Musical Theatre program. There, I truly gained all the tools I needed to move forward professionally. I just graduated in 2018. I grappled with the notion of moving to New York and pursuing musicals, or staying in Los Angeles to pursue film.
Well good thing you went to New York!
Exactly! I think it was definitely a good decision to go to New York. I had envisioned that a few years after college, I'd hopefully get that role I wanted, or get somewhere close to an off-Broadway or Broadway stage. To have this happen so soon is amazing. I have an amazing team working for me, and they set up my audition for Superhero. It was the first musical audition I had in New York, which blew my mind. Getting a role is truly about being prepared, and being at the right place in the right time. That right place or right time doesn't come around so frequently, but everything truly aligned with this production.
What about Superhero's audition made it the right place and time for you?
The team was looking for someone who could believably swap between Dwayne, this popular jock, and cover Simon -the homebody type, and total comic book nerd.
I'm sure it's difficult to find someone who can balance between those two.
Physically and emotionally, to represent both is interesting. It's a total 180. In that audition process, sitting in that final callback room, there was a really nice moment we all shared. I looked around, and all the actors in the room looked exactly the same. We started talking about where we graduated from, and what we were doing now that college was over. It was intimidating but heartwarming, because we were all in the same place in our lives at this callback for an amazing musical. At that point, I felt so blessed to be there with this amazing group of people to do what we've been working so hard to do. With no guarantee of a job at the end of the tunnel, after four years of training in school... to have that tangible proof that what we did in college was worth it was incredibly special. That was what stood out to me about the Superhero audition process.
That's incredible!
Absolutely! The audition process was short, but so meaningful. What's exciting now, is that I get to originate a role. It gives me freedom, as an actor, to create this person. Obviously there is a template set, but it comes to the movements, the voice, the walk - that's mine, and it's incredible. On top of that, to get to know all these wonderful people I'm working with is so special. I have gotten to jump in with such an amazing and experienced team.
What are you taking with you to this show that you'e learned over your career?
My professors in college really imparted something valuable to me, which is to tell a story. We are storytellers creating what's next. To connect that to Superhero's audition process was imperative. I went into that room and told a story. We had very little time to prepare the material for the callbacks, and UCLA taught me in these situations to buckle down, be honest, and tell a story.
I also got some great advice from Adam Kantor. We grew up in the same town, and when I was auditioning for colleges, he told me that you have to go into each room and audition for yourself. The people who are casting, from an objective standpoint, have a problem that needs a solution. As long as you walk in there knowing that you're the solution, knowing that your love for your work and your passion for performing is what you can provide in order to solve that problem, then you'll be successful.
---
Due to high ticket demand, Second StageTheater has announced a one-week extension of the world premiere musical Superhero. The production will now play through Sunday, March 31, 2019.
SUPERHERO features Kate Baldwin, Bryce Pinkham, and Kyle McArthur, as well as Julia Abueva, Jake Levy, Salena Qureshi, Thom Sesma,and Nathaniel Stampley.
Directed by Jason Moore, Superhero features a book by John Logan and music and lyrics by Tom Kitt. The full creative team includes musical staging by Lorin Latarro, scenic design by Beowulf Boritt, costume design by Sarah Laux, lighting design by Jen Schriever, sound design by Brian Ronan, projection design by Tal Yarden, and illusion design by Chris Fisher.
SUPERHERO features orchestrations by Michael Starobin and Tom Kitt, music direction by Bryan Perri, music coordination by Michael Aarons, and casting by TELSEY + COMPANY.
Before we can save the world, we have to save each other. From the Tony and Pulitzer Prize-winning composer of Next to Normal and the Tony Award-winning writer of Red comes a deeply human new musical about a fractured family, the mysterious stranger in apartment 4-B, and the unexpected hero who just might save the day.