BWW Interview: Angelina Fiordellisi's FIRST LOVE Is a Keeper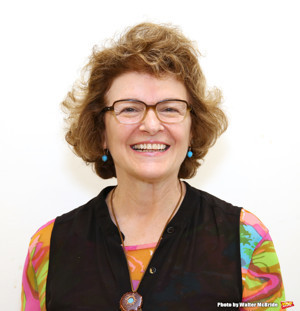 What's not to love about a couple in their autumn years getting felled by Cupid's arrow for the first time?
FIRST LOVE may conjure up youth's embrace, but in this revival of Charles Mee's 2001 play, a cranky old couple turn young love on its head. Angelina Fiordellisi plays Edith, a sturdy 60-plus-year-old character who finds her life intertwined with the quirky Harold (Michael O'Keefe), also way north of youth.
"There are all these plays about younger couples or couples remembering their first love," said Fiordellisi. "I found this play absolutely fascinating."
FIRST LOVE, though not written as a trilogy, is one of three "love" plays by Mee. The others are BIG LOVE and TRUE LOVE.
Edith and Harold meet cute when they argue about rights to a park bench. As the relationship changes, so does the set; a bench turns into a table that turns into a bed. Magical realism with a Magritte sensibility. Now and again an ethereal being (Taylor Harvey) wanders gracefully through the scene. And sometimes plays the piano.
"I feel that the young woman is a muse, an otherworldly goddess that comes in and brings us together," Fiordellisi said. "She offers us challenges and is teaching us what being in love is.
"I think she wants us to be together and test each other to go more deeply in love," she added.
Edith and Harold court each other in seductive ways. A mutual striptease finds them both near naked. There are some sweet, nightclub-y moments when each sings to the other.
"Disrobing was absolutely a challenge," Fiordellisi said with a full-throated laugh. "I haven't taken care of my body the way most actresses do, but there've been lots of good reasons why: Torn meniscus, my theater was falling apart and eating too much McDonald's.
"I'm very healthy now and it was still a challenge to take off my clothes," she said. "Michael is so free with his body it's inspiring."
Fiordellisi noted that there are few savory parts in theater for older women, regardless of their ability. "I was thrilled he wrote about a woman of a certain age that was multi-dimensional," she said. "Many parts for older women call for gray hair and kind of fades in the background-the grandma or auntie.
"Edith is a beautiful human being, sexy, funny, active and vibrant," Fiordellisi said. "The part was very appealing."
Edith is a quick wit, sure of herself most of the time and ill-tempered-traits Fiordellisi shares. "I think I still have a temper," she said with a laugh, "and a lust for life, and not being afraid to be vulnerable."
Fiordellisi believes in love at first sight. "I was very fortunate to have met my husband when I was 30 and knew something about life," she said. "It was really different and special. A true love. We've been through a lot together. We don't even argue anymore," she said with a chuckle. "He's still my boyfriend."
Edith and Harold have learned patience from one another. "The relationship works because we're truthful with each other," Fiordellisi said. "We say what everybody thinks. Once you get to a certain age, you have less to lose.
"It feels good to be direct with people; it's brilliant," she said. "Edith is much more direct and Harold is a little more damaged and is afraid of failing."
Fiordellisi was a triple threat back in the day. "As a young woman I was one of those actor, singer, dancer types. I did the national tours of ANNIE and ZORBA. So I had been singing for a long time," she said. "Then I stopped for 35 years, and now I'm back. And I get to sing that beautiful song" -she sings the title-"'Bewitched, Bothered and Bewildered.'"
Another of Harold's eccentricities is his seemingly short attention span. "He'll do things unpredictably in the middle of an argument. He'll disappear in another world," she said. "Then the poetry and his singing-it's all very unexpected."
Her talent was noticed by a grade school teacher. "I was in fourth or fifth grade, and my teacher contacted my parents and told them I was very special and they should put me in a performing arts school," she recalled. At the time she was enrolled in Catholic school.
"I was a tap dancer and inspired by Shirley Temple. I was always singing, creating plays, making commercials," Fiordellisi said.
Lucille Ball and Chita Rivera are among her favorite performers. "I was crazy for Lucille. I would reenact scenes from her show and everybody loved that." She almost met her idol. "One of my dear friends, Charles Nelson Reilly, was directing a play in Los Angeles and I went to see it and she was there," she said.
"I could have met her right then and there but I said I'd rather see her backstage instead. I feel like such an idiot," Fiordellisi said. "But I never met her, and I always felt bad about that."
She and O'Keefe dovetail nicely as their relationship endures shocks and surprises in the intermission-less one act. "I've been such a fan of his ever since 'The Great Santini,'' Fiordellisi said. "He is so great and pleasant, with great stories.
"And he's very generous on stage," she added. "He really listens and is a great sparring partner."
Of course, there are pre-show rituals. "I take a lot of naps," Fiordellisi said. "In the afternoon and in-between shows. I can't go out at night because I'm too exhausted. It's a good workout."
O'Keefe practices yoga every day.
"I stretch and at 5 p.m. I start vocal warm-ups that last half an hour," she added. "Then I have a series of prayers and meditations to open my heart and allow me to be a channel for grace."
Her hope for audiences of a certain age is simple: "I hope those who are lonely will realize there's hope for them."
First Love is playing at the Cherry Lane Theatre, 38 Commerce Street. It is directed by Kim Weild, scenic design by Edward Pierce, costume design by Theresa Squire, lighting design by Paul Miller and sound design by Christian Frederickson.
Related Articles View More Off-Broadway

Stories

Shows
Naomi Serviss is an entertainment/spa writer whose roots include covering Broadway. She has written for Newsday, The New York Daily News, The New York Times (read more...)