Norway Interviews
The latest interviews about live + streaming theatre in Norway.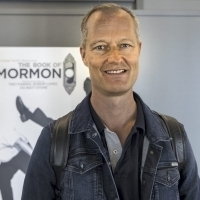 Johan Osuldsen - The Face Of Cultural Versatility
by Christian Ranke - July 05, 2019
, Norway
It is very difficult to tag Johan Osuldsen under one banner. He started out as a dancer and performer, spanning over several decades. Later he became known as a choreographer and director and subsequently directed for television. He is also a composer as well as translator of several musicals (inclu...

BroadwayWorld Award Winner - Charlotte Brænna
by Christian Ranke - March 07, 2019
, Norway
Charlotte Braenna played Lucille Frank in the Scandinavian Premiere production of Jason Robert Brown's PARADE, just out of school. She has since starred in many musicals such as Kathy Selden in SINGIN' IN THE RAIN, Mother in BILLY ELLIOT and MARY POPPINS at Folketeatret. Recently she played Sandy in...

Espen Grjotheim: NORWAY'S PHANTOM UNMASKED
by Christian Ranke - January 31, 2019
, Norway
On the Norwegian musical theatre scene he has originated roles such as Sky in Mamma Mia and Galileo in We Will Rock You, as well as playing Jean Valjean in Les Miserables, Karl Oskar in Kristina and Freddy in Chess. Currently he is playing the title role in The Phantom of the Opera for which he rece...

When Dreams Come True! 23 Year Old Graduate Had a Dream She Joined The PHANTOM ensemble. Six Months Later She is playing Christine Daae
by Christian Ranke - October 30, 2018
, Norway
The opening premise of 'The Phantom of the Opera' is all too familiar. The leading lady can't go on, and a chorus girl has to step in and save the performance with close to no time to prepare or rehearse, but her debut is a triumphant success. This scenario actually became a reality at Folketeatret,...

Producer Karianne Jaeger - The Journey of Creating An All New PHANTOM OF THE OPERA
by Christian Ranke - September 05, 2018
, Norway
As I am greeted by 'The Phantom of the Opera' producer, Karianne Jaeger, and led up through the back stage's circular stairs the atmosphere in the theatre feels very focused and concentrated. Stagehands working to fit the stage pieces in the cramped wings, technicians are lighting the ballet dancers...

John Mauceri Conducting His Life Anywhere He Wants To Be
by Gil Kaan - November 09, 2017
, Costa Mesa
Conductor extraordinaire John Mauceri, at 72 years young, has the memory of a straight-A college kid vividly recalling detailed facts of incidents long ago right off the top of his head. The go-to expert on all subjects Leonard Bernstein, John will be conducting BERNSTEIN ON STAGE at the Valley Perf...

Nasty Woman Margaret Cho - A Powerful Force That Tours
by Gil Kaan - August 23, 2017
, Costa Mesa
The very unique, very outrageous, very out-spoken, and always very funny Margaret Cho has begun her new tour FRESH OFF THE BLOAT, with European dates following the U.S. stops. Named this year by Rolling Stone magazine as one of the '50 Best Stand-Up Comics of All Times,' Margaret will be tackling cu...