BWW Review: SCROOGE - A CHRISTMAS CAROL at Lillestrøm Kutursenter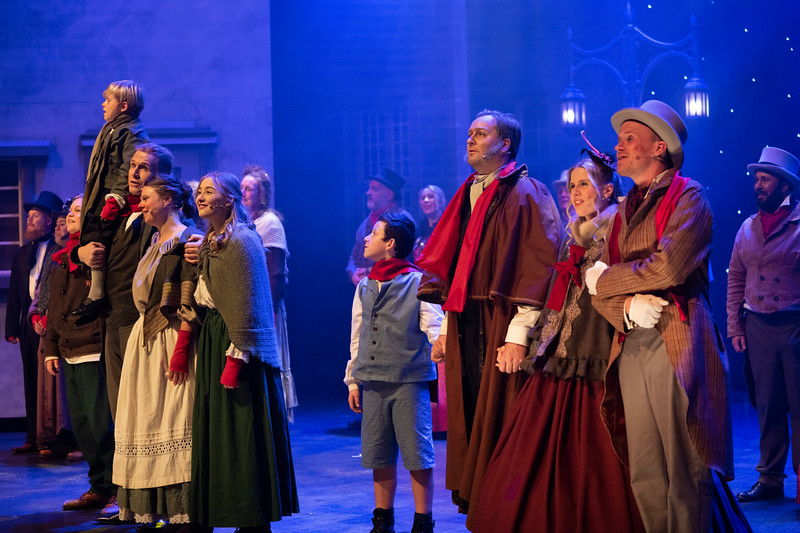 Just like Scrooge, I am not a big fan of Christmas. The joyfulness I once felt as a child has now been replaced by a grown-ups cynical way of thinking and also sorrow since it tends remind me of loved ones now lost. I tend to maneuver carefully through the holiday season, a man pretending to be joyful as to not upset the children or ruin it for them and their parents.
So I was prepared to do the same when I attended Lillestrøm Kultursenter's new production of "Scrooge - A Christmas Carol". I was going to try to "mute" my cynical view of Christmas as not to ruin it for the potential audience and the performers on stage. But I was visited by the ghost of Christmas Present by the name of Bjørn Birch (writer, director), who has with the assistance of everyone involved on and off-stage made a Scrooge that, halfway through the first act, managed to make me feel the joy again for an hour or two. That in itself is a Christmas miracle.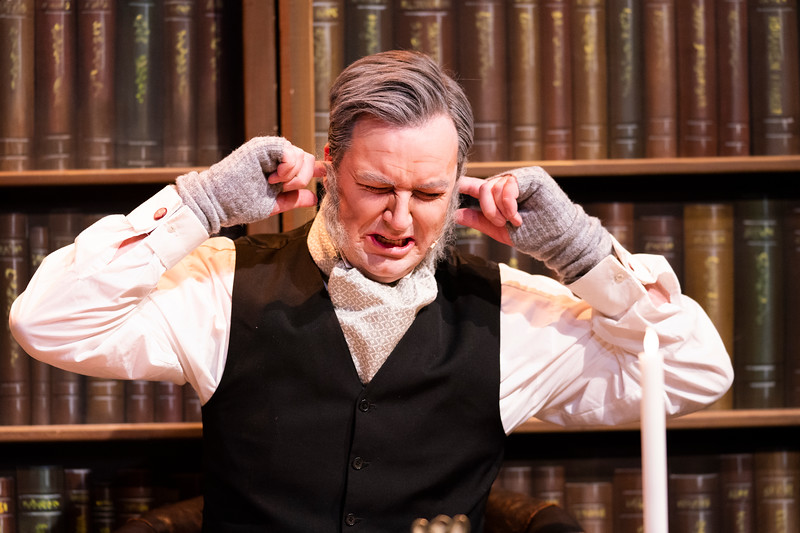 From the moment you enter the small theatre you are surrounded by the Victorian streets of London. The impressive set stretches into the auditorium on both sides. It is easy to be immersed in the old streets of London when, thanks to the brilliant and grand scenic design by John Johansen, you are practically there. The look of the time period is much helped by the fantastic costumes by Jeanette Gjestvang.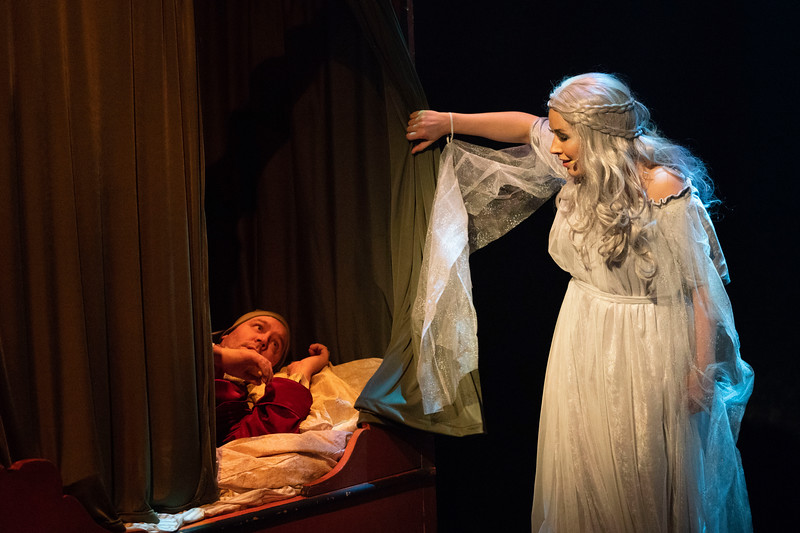 "Scrooge - A Christmas Carol" is based on a novella written by Charles Dickens in 1843. It recounts the story of Ebenezer Scrooge, an elderly miser who is visited by the ghost of his former business partner Jacob Marley and the spirits of Christmas Past, Present and Yet to Come. After their visits, Scrooge is transformed into a kinder, gentler man.
The story has been dramatized multiple times over the years both as plays, musicals and films. The most known version being the musical film adaptation starring Albert Finney and Alec Guinness, which was later staged as theatrical musical in 1994. It's also worth mentioning the version by Alan Menken from 2004, which had its Norwegian premiere last year at Kolben.

This original Norwegian adaptation was first staged at the very same theatre during the 2002-season, starring Arvid Selsing as Scrooge (now in the ensemble playing multiple parts).
Apart from incorporating some juvenile humor here and there, for the youngest audience members, Bjørn Birch's libretto follows the original novella quite closely. It is neither too pompous nor is it flavorless and suits the story well. It is written in a way that keeps the children entertained but at the same time educate them in some pretty substantial life lessons (and some adults too). Some of the longer dialogue scenes could stand a few cuts, though.

The score written by Svein Gundersen (Jungelboken, Olsenbanden Jr.) is compilation of melodies that is both based in the time period of the plot, with both beautiful choral numbers and recitatives, but also intertwined with som pretty catchy songs with a more modern feel including power-ballads and jazz-numbers.

This is a "book musical" and is not sung through, so in a sense it follows the the classical style more than the modern. I would have liked a solo somg by the title character early on to establish him more. And especially since he has a rather long monologue early on which would have been perfect for it. Sadly the lyricist, Trond Brænne, died in 2013 so I understand it would be hard to make this happen without his collaboration. Writing for children was something Brænne did exceptionally well and it is evident in the lyrics he left behind.
Rune Svendsen delivers a solid performance as Ebenezer Scrooge with a high baritone voice. He was perhaps a tad too angry and loud in the beginning, for my taste. I would have liked to see more of the grumpy, cynical character, deprived of sentiments. But he gives a very convincing performance with honest emotions. From the moment he witnessed his younger self I was sold.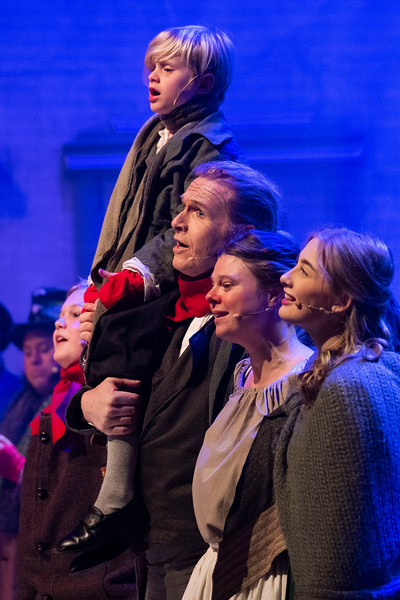 The supporting cast is the "core" of the show. It is truly an ensemble piece. For Scrooge is very much like us in the audience - merely an observer of the story. Especially Espen Monsrud as Scrooge's assistant, Bob Cratchit, delivers a truly genuine and moving performance. Nina Holter plays his in a very credible and shows a lot of spunk during the family scenes in Cratchit's home, After Tiny Tim death, played by Felix Bjørlo. Espen Monsrud does a very mving rendition of the song (Togetherness) Lars Christian Wahlberg portrays nephew Freddy with tremendous drive and heart. He also encompasses great diction which is often neglected by performers, both amateurs and professionals.
One of the highlights of the evening was the duet (Separate Lives) between young Ebenezer and his lost love Belle, played brilliantly by Mathias Steen Hauge and Tiril Marie Olsen. Hauge has a wonderful young tenor voice, well suited for musical theatre. Even though still in his mid-teens I truly hope he will pursue his talent. Another highlight is the finale of act one (Give of oneself) sung radiantly by (Regional Broadway World nominee) Hanne Selmer-Olsen, aided by the choir. The comical talents of the evening belonged to Børge Pallesen as the Ghost of Christmas Present, Also worth noting is Einar Egenes and Stein Eriksson as the comical duo (Sir Benjamin Denham and Archibald Redlaw). The rest of the ensemble gave, for the most part, conclusive portrayals in the minor roles and did not just serve as "filler" on stage in any way.
In conclusion "Scrooge - A Christmas Carol" is a perfect remedy for those of us who have issues with Christmas and for the rest you, do like Scrooge and act now before it's too late.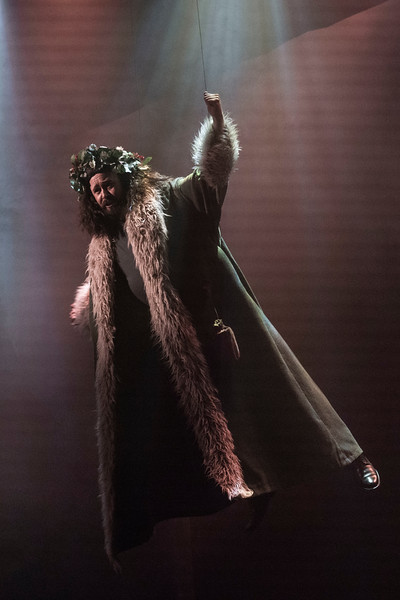 Related Articles View More Norway

Stories

Shows