ShowKids Invitational Theatre Wins Pair Of Top Acting Honors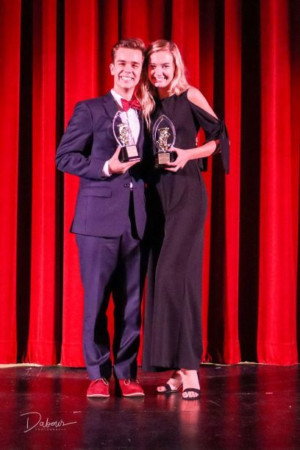 ShowKids Invitational Theatre had a pair of award winners at the 2018 NJACT Perry Awards Sunday night at the Union County Performing Arts Center (UCPAC) in Rahway. Cast members Natalie Mehl and Jonah Lione both earned best acting honors for their magical performances as Mary and Bert in SKIT's production of Mary Poppins.
Natalie Mehl, of Lebanon Twp., NJ, was awarded the "Outstanding Youth Actress in a Musical" Perry for her "Practically Perfect" performance in the title role. This was Mehl's first nomination. A rising star in her first year at Liberty University in Virginia, Mehl earned standing ovations "with snaps" as Elle Woods in Legally Blonde last summer in her Plays in the Park debut. Other SKIT credits include Hairspray (Amber), Disney's My Son Pinocchio (Blue Fairy), Me and My Girl (Lady Jacqueline), Seussical the Musical (Amazing Mayzie), Footloose (Rusty) and Shrek the Musical (Teen Fiona). And, regional theater credits include The Little Mermaid (Flotsam) and A Christmas Carol (Alice the Cook, Christmas Past). Natalie also has numerous television, commercial and voice over credits and has appeared in New York Fashion Week walking for various designers.
Jonah Lione, of Clinton, NJ, won "Outstanding Youth Actor in a Musical" for his portrayal of the charming chimney sweep Bert. The third time was the charm for Lione, who has been nominated twice before for this award for his performances in prior SKIT productions: as the hip TV host Corny Collins in Hairspray and the hilarious sidekick Lefou in Beauty and the Beast. In addition to thanking his director, cast, crew and family, Lione credited the production's dance captain Amy Schroeder with "teaching me to tap dance in six months" in his acceptance speech. Lione is senior at North Hunterdon High School, so Hunterdon County audiences have one more year to enjoy his work in both NHHS and SKIT productions.
In addition to the pair of Perry wins, SKIT's seven nominations for its production of Mary Poppins also included the evening's highest honor - "Outstanding Production of a Musical". Seven shows were nominated for the top award this year, and although the Perry went home with another theater company, the "Supercalifragilisticexpialidocious" SKIT cast earned a standing ovation for its spirited performance at the annual award ceremony. Carolyn Newman and Kristy Nasto co-directed the production, with Diane Lehnert and Carolyn Newman co-producing.
"Mary Poppins is a heartwarming story and this is truly such a delightful cast of hard-working kids," says Carolyn B. Newman, SKIT producer/director. "It's great to be recognized for great work, but it's more important to be nice, and this is honestly one of the nicest groups I have ever worked with in all my years of directing. Natalie and Jonah are both so deserving of their awards."
Other Perry Award nominees for SKIT's production of Mary Poppins were:
- Julian Denison and Barry deVersterre for Outstanding Lighting Design of a Musical
- Kristin Gallagher for Outstanding Costume Design of a Musical
- Robin Adams and Sheryl Bunca for Outstanding Properties in a Musical
- Jennifer Palermo for Outstanding Music Direction
The NJACT Perry Awards are given for outstanding achievements in New Jersey Community Theater, from more than 200 shows produced by theater companies around the state. Mary Poppins marks SKIT's 15th Perry nomination for best musical, and SKIT has earned more than 170 total nominations over the last 30 years, more than any other theater company in the state.
SKIT founder, director and producer Carolyn B. Newman is a Hall of Fame member, inducted by NJACT in 2015, and choreographer Maria Mantak was inducted into the Perry Award Hall of Fame in 2017.
SKIT is a nonprofit, family community theatre group. Founded in 1986 to offer the children of Hunterdon County an opportunity to experience the joys of theatre and give the community professional quality children's theatre productions, SKIT has since blossomed into an organization that also provides families the opportunity to share quality time while providing an unending amount of wonderful memories. ShowKids Invitational Theatre programs are made possible in part by the New Jersey State Council on the Arts/Department of State, a Partner Agency of the National Endowment for the Arts, through the funds administered by the Hunterdon County Cultural & Heritage Commission.
https://youtu.be/hkKJvf06o7Q
More Hot Stories For You