Nicky Silver Play Reading And Billy Martin Solo Show Start Things Off At The Black Box's New Englewood Location
This Saturday is a staged-reading of The Agony & The Agony, a hysterical comedy by Nicky Silver.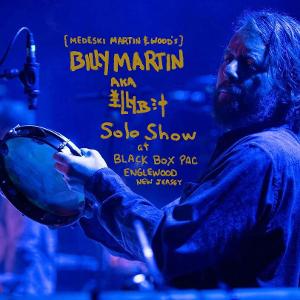 Tickets are now on sale for two "soft- opening" events at The Black Box's new Englewood space, located on the 2nd Floor at 8 East Palisade Ave (between Palisade Ave and Dean Street): www.blackboxpac.com!
This Saturday, February 11th at 8PM is a staged-reading of The Agony & The Agony, a hysterical comedy by Nicky Silver.
Featuring Michael Gardiner, Shari Cohen, Ilana Schimmel, Chris Marzulla, Michael Patrick Sullivan, and Daniel Yaiullo, this one-night-only special event is in anticipation of a full production later in The Black Box '23 season.
In The Agony & The Agony, Richard Aglow is an agoraphobic playwright who is finally writing again! Richard's aspiring-actress wife, Lela--who married him despite his homosexuality--has invited a leading Broadway producer over to convince him to cast her in his next production.
The problem: that producer wrote the rejection that broke Richard's spirit. The arrival of Lela's lover, his pregnant girlfriend and the ghost of one of the twentieth century's most notorious killers complicate matters further. Limited seating, $20 general admission.

Next Saturday, February 18th at 8PM, Medeski Martin & Wood's Billy Martin -- a long-time Bergen County resident -- will perform a solo set utilizing percussion instruments, found objects, voice, flutes, bird calls, and more!
Designed for people of all ages and backgrounds, this mind-blowing, unique, and soulful performance will take you to places beyond the imagination -- continuing an ongoing residency for Mr. Martin at The Black Box. Limited Seating; $25 ($15 for students) general admission.
For all Black Box events, advance tickets are available until two hours before show times, with CASH or VENMO accepted at the door. For further information on The Black Box's 2023 Season of new and under produced works by world-class writers and artists, please visit www.blackboxpac.com, email blackboxpac@gmail.com, call (201) 569-2070.