Female Empowerment is Front and Center at Big Dreams & Silver Screens' 5th Anniversary Celebration of the Rahway International Film Festival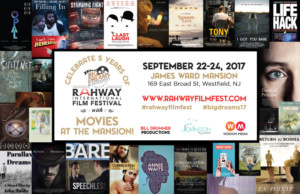 The Rahway International Film Festival is now celebrating its Fifth Anniversary as well as its first year under the newly minted non-profit organization, Big Dreams & Silver Screens. A transitional year in more ways than one, their fifth year sees the festival moving from Rahway, NJ to Westfield, NJ and beginning to rebrand as Big Dreams & Silver Screens, Inc.
Founded and produced by two young women in New Jersey, in an industry still largely dominated by men, the festival has publicly supported feminism- the advancement of women's rights on the basis of the equality of the sexes. They do not shy away from screening films by male filmmakers nor do they tout only female-driven stories because this would undermine their mission to promote equality. Festival directors Gina Marie Rodriguez and Stacy Ignacio advocate for equality among the sexes, and as such, make every effort to screen films by both male and female filmmakers in balanced numbers.
"Female empowerment is not the stripping away of men's rights. It is the acknowledgment that women are just as capable as a man to achieve whatever it is they set forth to accomplish. Equality is a right, not a privilege and to treat it as such does a disservice to every man and woman in this world today. We have a very simple goal, and that is to give a voice to those who may otherwise not be heard" says festival founder Gina Marie Rodriguez.
Each year, the festival selects one woman to be honored as their "Woman in Film" Award Honoree with the intention to highlight the filmmaking prowess of women in the industry. Advancements continue each day but there is still a long way to go concerning fairness in the treatment of women. Previous recipients include Piper Perabo, Susan Sarandon, and Dena Seidel.
Assistant Festival Director, Stacy Ignacio says "This award is a way of reminding our audience that success comes in all shapes and sizes; a way to remind the women in this industry that they are not invisible. We see their hard work, their dedication, and their talent and we want to shine a light on their success."
This year's Woman in Film Honoree is Ms. Ferne Pearlstein, the writer and director behind the wildly successful film, "The Last Laugh." The film is an exploration into the world of humor and taboos as they relate to traumatic instances, namely the Holocaust. Does humor help or hurt those affected? When all is said and done, who gets the last laugh?
The festival will be hosting a special screening of "The Last Laugh" on Sunday, September 24, 2017 at 8pm to be followed by an awards presentation for the guest of honor, Ms. Pearlstein.
Ms. Pearlstein joins the ranks of previous honorees, Piper Perabo, Susan Sarandon, and Dena Seidel of New Jersey.
Tickets for "The Last Laugh" and the Woman in Film Awards Ceremony are on sale now through EventBrite here: https://riff-2017-film-block-8.eventbrite.com/
The festival will run from Friday, September 22, 2017 through Sunday, September 24, 2017 at the James Ward Mansion in Westfield, NJ.
For the festival's full lineup, please visit www.rahwayfilmfest.com.
Tickets to the Opening Night Gala are available here: https://riff-2017-opening-night.eventbrite.com/

All tickets are available here: http://bigdreamsandsilverscreensrahwayfilmfest.eventbrite.com/