East Lynne Theater Co. Presents SHERLOCK HOLMES ADVENTURE OF THE SPECKLED BAND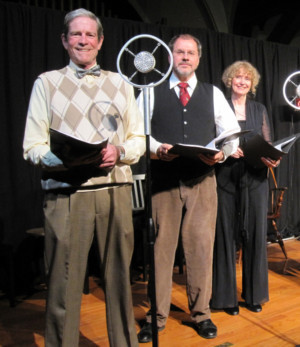 "Mr. Holmes, I am under such a strain that I shall go mad if it continues. Do you think that your powers could shed a little light in the darkness which surrounds me?" asks Enid Stonor. And with these words, Sherlock Holmes and Dr. Watson find themselves in a race against time to stop the bizarre murders in an eerie country manor.
Step back in time, on Fridays and Saturdays, October 26 - 27 and November 2 - 3 at 8:00 p.m., when the Equity professional East Lynne Theater Company presents Sir Arthur Conan Doyle's "Sherlock Holmes' Adventure of the Speckled Band" in the style of a radio broadcast, complete with live sound effects and commercials, just like the Sherlock Holmes' radio series on NBC that premiered in 1930.
"The Speckled Band" was adapted by Craig Wichman with the permission of Dame Jean Conan Doyle. Craig is Founder and Producer of the nationally acclaimed Quicksilver Radio Theater and this script received the National Federation of Community Broadcasters' "Gold Reel" for Radio Drama Award.
The cast, under the direction of Gayle Stahlhuth, includes Craig, portraying Sherlock Holmes, and Lee O'Connor, who, after 10 years of playing the famous sleuth, is taking on the role of Dr. Watson. Craig has performed in several Off-Broadway productions, and appeared in television's "Law and Order." Lee, ELTC's technical director, is one of the main storytellers for the company's "Tales of the Victorians," and performed in ELTC's "The Dictator" and other shows.
Returning to their usual roles are Marty McDonough as Dr. Roylott, Susan Tischler as Enid Stonor, Gayle Stahlhuth as Violet Stonor and Mrs. Hudson, and Rob LeMaire is once again playing several roles and operating the sound effects. Marty was in ELTC's "Nothing Matters," "Rain," and "Strictly Dishonorable." Recently, he played Dr. Tinkey in "A Marriage Contract" at Metropolitan Playhouse in NYC, and is the "voice" for a variety of ads, animations, and video games. Susan was commissioned by ELTC to create and perform "Helpful Hints," based on a "how-to" book written in 1916, and recently took on the title role in "Calliope Rose" produced by SPQR Theater in Cape May. She is now the main storyteller for ELTC's "Ghosts of Christmas Past Trolley Rides," in partnership with Mid-Atlantic Center for the Arts and Humanities. Gayle has produced over 100 shows since becoming ELTC's artistic director in 1999. She recently directed and performed in ELTC's "Arsenic and Old Lace," and will once again be "going solo" in ELTC's Christmas show, this time focusing on the works of O. Henry. Rob was also in ELTC's "Arsenic and Old Lace," and also served as assistant director. He directed "Story Theater" for the company's Student Summer Workshop, and is currently directing "Pride and Prejudice" at Ocean City High School. This October at New Jersey Theatre Alliance's annual gala, he's one of several theater directors being honored for making a positive impact by working with students ages 10-18.
The performances are at The First Presbyterian Church of Cape May, 500 Hughes Street, where the company is in residence. Tickets are $28 for general admission, $20 for full-time students and military (active/retired/veteran), and, as always, anyone age 12 and under is free. For information and reservations, call 609-884-5898 or visit www.eastlynnetheater.org. "Adventure of the Speckled Band" is part of Cape May's "Sherlock Holmes' Weekend." For other Sherlock Holmes' events, contact Mid-Atlantic Center for the Arts and Humanities at 609-884-5404 or visit www.capemaymac.org.
A few tickets are still available for ELTC's annual gala on Monday, November 5 at Aleathea's at The Inn of Cape May, this year titled "An Evening with Patsy Cline." Contact the theater for details and tickets.
Photo: Lee O'Connor, Craig Wichman, and Susan Tischler in East Lynne Theater Company's
Photo credit: Frank Smith
More Hot Stories For You