Center Players Presents THE PRISONER OF SECOND AVENUE Next Month
The production will run from Feb. 10-26th at Center Playhouse, 35 South St., Freehold.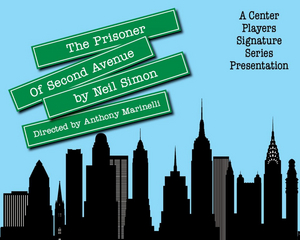 Center Players presents Neil Simon's classic comedy The Prisoner of Second Avenue as its first production of 2023. Directed by award-winning filmmaker and playwright Anthony Marinelli of Manalapan, the production will run from Feb. 10-26th at Center Playhouse, 35 South St., Freehold.
The play centers around Mel Edison, an advertising executive who is at war: with New York City, with his neighbors, and most of all with himself. After being laid off from his job of 22 years, he has a hard time breaking the news to his devoted wife, Edna, but after their apartment is robbed and it doesn't seem possible that things can get any worse, Mel has a nervous breakdown. Soon, Edna goes back to work to support the family while Mel becomes a virtual prisoner in his own home, feeling worthless and unsure of what the future holds. This dark comedy shows how a husband and wife can weather any storm as long they have each other's love, support -- and a very big shovel.
"Even though the original Broadway production opened in 1971, I found a lot of similar themes to what we're experiencing now in this country with layoffs, inflation, and a general insecurity about the future," noted Marinelli. "Plus, ageism is still very real, so the fact that Mel is worried that he won't be able to find another job at age 47 is still a concern to many. Of course, Neil Simon handles these issues with humor, which is what makes the play so enjoyable and relatable."
The cast features Michael Tota (Wall), Rebecca Grossman (Hoboken), RoseMarie Franklin (Ocean Grove), Jerry D. O'Donnell (Manalapan), Maureen Blair (Avon) and Tracy Howard (Manalapan).
Performances are Fridays and Saturdays at 8pm and Sundays at 2pm. Tickets are priced from $28-30 and are available online at www.centerplayers.org or by calling 732-462-9093.