Cent. Stage Co.'s January Thaw Festival Closes with Matuto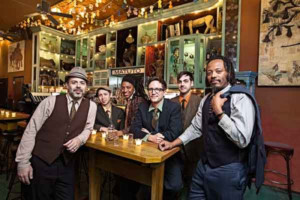 Centenary Stage Company closes the annual January Thaw Music Festival on Saturday, January 27 at 8 PM with the Brazilian bluegrass of Matuto in the Lackland Performing Arts Center. Matuto, Brazilian slang for "country boy", infuses the syncopations of Brazilian music with the folk traditions of the American South. It's Bluegrass meets Brazil and features the rich tones of Rob Curto's forró accordion playing, in the rural rhythms of maracatu (from the Pernambuco region), in the urban beats of Rio's samba, and in the intricate, chorinho-inspired melodies all balanced with clear connections to American jazz, blues, bluegrass, and folk. The band's core members share a combined obsession with connecting the dots between Brazil, rural America, and creative reinterpretation of long-standing party-hardy forms.
In 2002, South Carolina native Clay Ross moved to New York to pursue a jazz career, but just a few years later found himself in Recife, Brazil, immersed in the region's folkloric music. Returning to New York, he began looking for like-minded collaborators and found the perfect match for his love of Brazilian music in renowned accordionist Rob Curto (Forró for All). Born in New York, Curto is widely regarded as forró's (NE Brazil's accordion-driven country roots music) foremost ambassador in the States. He spent years living and playing in Brazil, completely absorbing and interpreting the country's musical traditions.
Since their debut performance during Carnaval in Brazil's party - ready northeastern city of Recife, Matuto has toured North America and Brazil, playing hundreds of shows each year, from popular American world music and folk festivals to major Brazilian celebrations. They have been featured showcase artists at the prestigious annual world music gathering WOMEX and have toured as U.S. State Department musical ambassadors in Africa, Europe, and The Middle East. Tapping NYC's diverse jazz, roots, and world music scenes, they have recorded three highly regarded albums including most recently The Africa Suite, a series of original pieces based on the band's engagement with the people, sounds, and traditions on the road as ambassadors.
Matuto revels in cultures colliding and in the ongoing exchange of ideas. They know its history is not without tension, but those very tensions can fire creative expression and good times. "We're questioning the boundaries and borders of the present and past" muses Ross. "We can't always answer these questions, but we can let them guide us towards new possibilities through music."
Tickets for Matuto on Saturday, January 27 at 8 PM in the Sitnik Theatre of the Lackland Performing Arts Center are $22.50 for adults and $17.50 for children under 12 in advance. As with all concerts, jazz and special events ticket prices increase $5.00 on the day of the performance. Matuto is sponsored in part by Heath Village Retirement Community and Home Instead Senior Care.
For more information or to purchase tickets visit centenarystageco.org or call the Centenary Stage Company box office at (908) 979 - 0900. The Centenary Stage Company box office is located in the Lackland Performing Arts Center at 715 Grand Ave. Hackettstown. The box office is open Monday through Friday from 1 - 5 PM and two hours prior to every performance. Centenary Stage Company can also be found across social media platforms; Facebook, Twitter and Instagram. Like and Follow to receive the latest in Centenary Stage Company news and special offers.
The 2017-2018 season of performing arts events at the Centenary Stage Company is made possible through the generous support of the Geraldine R. Dodge Foundation, the NJ State Council on the Arts, the Shubert Foundation, the Blanche and Irving Laurie Foundation, the Sandra Kupperman Foundation, and CSC corporate sponsors, including Premier Season Sponsor Heath Village Retirement Community, The House of the Good Shepherd Silver Sponsors Hackettstown Medical Center, Home Instead Senior Care (Washington), and Fulton Bank of New Jersey, and Centenary Stage Company members and supporters.
Photo Credit: Vincent Soyez
Related Articles View More New Jersey

Stories

Shows
More Hot Stories For You