Bob Malone Returns To His Native New Jersey For A One-Night-Only Special Event
Bob Malone has toured the world as a solo artist for over two decades and has played keyboards with rock legend John Fogerty since 2011.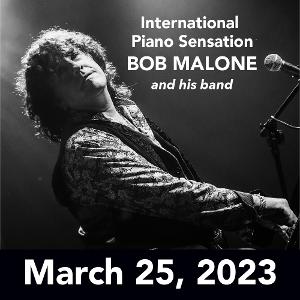 The Sieminski Theater welcomes International Piano Sensation Bob Malone and his band to the Sieminski Theater in Basking Ridge, NJ on Saturday, March 25 at 7:30 PM.
Bob Malone has toured the world as a solo artist for over two decades and has played keyboards with rock legend John Fogerty since 2011. He is also a busy session player and is featured on the 2017 Ringo Starr record "Give More Love." His recording of "You're A Mean One, Mr. Grinch" was the theme in the Illumination/ Universal movie trailers for The Grinch, heard by millions on YouTube and in theaters. Bob combines unforgettable songwriting with a one-of-a-kind hybrid of rock, blues, and New Orleans R&B, delivered with high-energy piano virtuosity and a voice all his own.
Born and raised in New Jersey, and based in Los Angeles, Bob tours extensively as a solo act - including sets at Umbria Jazz Festival (ITALY), HB Town Music Festival (CHINA) Glastonbury Music Festival (UK), Colne Blues Festival (UK), Long Beach Bayou Fest (US), Falcon Ridge Folk Fest (US), and Blue Mountains Music Fest (AU). He's been featured twice at WWOZ Piano Night in New Orleans, and has opened for Boz Scaggs, The Neville Brothers, Rev. Al Green, Dr. John, and many others. As a member of John Fogerty's band, he's played New Orleans JazzFest, Byron Bay Blues Festival (AU), Bospop (NL), Radio City Music Hall, and The Hollywood Bowl, appeared on Good Morning America and The View, and has been onstage or in the studio with Bruce Springsteen, Bob Seger, Jackson Browne, Billy Gibbons, Jimmy Buffett, and Allen Toussaint.
Through timeless songs and behind the scenes stories of recording with Rock N' Roll royalty like Ringo Starr and Bob Seger, this show redefines an evening of classic rock. From The Hollywood Bowl and Radio City Music Hall to far-flung juke joints and big city jazz clubs, Bob and his piano have graced thousands of stages worldwide for over two decades.
You will experience high-energy classics by piano greats from Ray Charles to Leon Russell to Elton John to Billy Joel, plus anthems by Fleetwood Mac, The Band, CCR, Bob Dylan and more, transformed into foot-stomping displays of keyboard pyrotechnics. All seamlessly combined with the best of Bob's own catalog of songs - bluesy rockers and cathartic piano ballads heard on SiriusXM radio, NCSI New Orleans, Entertainment Tonight and The Grinch movie.
Tickets are available online at www.sieminskitheater.org or by phone at 908-580-3892. Tickets range from $59.00 to $79.00 with discounts available for students and seniors.
Enjoy an exceptional preshow dining experience in our Wilson's Tapas Bar Lounge restaurant before the evening performance. Culinary dishes prepared by Fellowship Village's award-winning executive chef feature only the freshest ingredients and highest quality. Dinner and two drinks are $59.99 per person plus tax and 20% service charge. Make a reservation by calling 908-580-3818 for 5:30 pm seating on the day of the performance.
Bringing a professional performing arts venue with a diverse lineup of entertainment to Basking Ridge and the surrounding communities makes the Sieminski Theater and Somerset County an artistic and cultural destination. We enjoy a newly expanded performance schedule from American Theater Group, Light Opera of New Jersey, New Jersey Festival Orchestra, Trilogy Repertory, and countless national touring groups. Our intimate 257 seat award winning venue features technical amenities that rival any Broadway theater. Visit us at www.sieminskitheater.org to view our upcoming entertainment schedule, where any seat, is the best seat in the house.