Axelrod Welcomes Luis Salgado For Lin-Manuel Miranda's IN THE HEIGHTS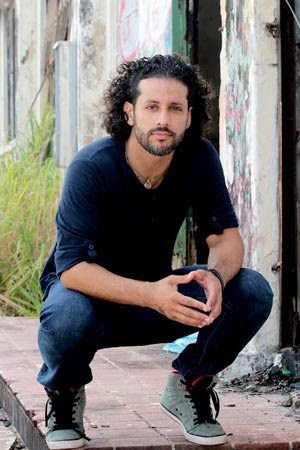 Before the Broadway revolution called HAMILTON, Tony and Pulitzer Prize winner Lin-Manuel Miranda broke the Broadway mold with his first musical IN THE HEIGHTS. The show won Miranda his first two Tony Awards for Best Musical and Best Score, and signaled to the Broadway theater community that he was The Man to watch: "a singular new sensation" is how The New York Times described the star and composer-lyricist in its review.
From the original production of IN THE HEIGHTS also came performer and choreographer Luis Salgado whom the Axelrod Performing Arts Center (APAC) is pleased to welcome as its newest director-choreographer for its upcoming production of IN THE HEIGHTS in March. Working closely with Tony Award-winning choreographer Andy Blankenbuehler (who also won the Tony for Hamilton), Salgado was the Latin dance choreographer for the Broadway production and also created the role of Jose in the original cast.
Blankenbuehler acknowledges Salgado's contribution to his award-winning work on the show: "With his head of curly dark hair and his unbelievable finesse and charisma, I knew that Luis Salgado would take my vision and magnify it with his unmatched abilities."
Salgado shares his own experience with the APAC team: "My very first journey with this show was an explosion of pride through its movement as I worked next to Andy Blankenbuehler enhancing the choreographic authenticity in numbers like 'Carnaval' and the 'Club' among others. Now I am ready to rediscover the text, to go deep into a human conflict of belonging, of being, of accepting home."
APAC will be the first theater on the Jersey Shore to produce IN THE HEIGHTS and by securing director-choreographer Luis Salgado, the company believes it is can capture the true spirit of the work. "Mr. Salgado brings not only his boundless talent and his Broadway experience to this production, but also a unique passion and vision to bring integrity to this beautiful Latino American story. We are confident that our audiences will be swept away by Luis Salgado's stunning production featuring a gifted, high-energy multi-ethnic cast," says APAC Artistic Director Andrew DePrisco.
A Puerto Rican American, Salgado today is considered one of New York's foremost Latin dance specialists. He appeared on Broadway in WOMEN ON THE VERGE OF A NERVOUS BREAKDOWN with Patti LuPone, Laura Benanti and Brian Stokes Mitchell and is currently in the company of ON YOUR FEET! THE MUSICAL. In addition to helping to create the original choreography for IN THE HEIGHTS, he also worked toward bringing PETER AND THE STARCATCHER and the recent GODSPELL revival to Broadway.
Salgado hopes that this new production of IN THE HEIGHTS at APAC will empower and inspire theatergoers on the Jersey Shore: "For me, IN THE HEIGHTS has always been a project of the heart. It elevates my spirit to know that a show honors my Latino community in a pure celebration of the people and heritage. A show that doesn't need to rely or limit itself with the stereotypical 'conflict' of drugs or violence to make great theatre."
Salgado is as passionate about the Latino message of IN THE HEIGHTS as he is about creating "art with a purpose." His own Salgado Productions was formed for that very purpose: "To produce art with a purpose through a nurturing and collaborative creative process. To focus on the development of new artists and material including plays, concerts, musicals, films and events." In accord with that mission statement, Salgado Productions has brought exciting theatrical works to Puerto Rico, Brazil and Peru as well as around the U.S.
"I am grateful," Salgado concludes, "that Axelrod theater will be the home to this magical production written by my friend, the young, talented musical theater icon Lin-Manuel Miranda. It's with the utmost respect that I take this journey and hope you all can come enjoy it with us...."
For two weeks, APAC held audition in both New Jersey and New York City. Salgado and his production team met over 100 performers who responded with great excitement and enthusiasm to be working on this invigorating piece of musical theater.
Tickets for IN THE HEIGHTS at APAC are currently on sale. The show opens on Saturday, March 11 and runs weekends through March 26. The theater is located at 100 Grant Avenue, Deal Park. Prices range from $25 for students to $38 (premium adult). For online purchases, visit www.axelrodartscenter.com. The box office is open Monday through Friday from 10 am to 3 pm: 732-531-9106, ext 14. The Axelrod offers ample free onsite parking and is completely handicap accessible.