Organist Paul Jacobs To Perform & Record Christopher Rouse's Organ Concerto & Wayne Oquin's Resilience
In these February 2023 concerts Mr. Jacobs will record both of these works live with the Nashville Symphony.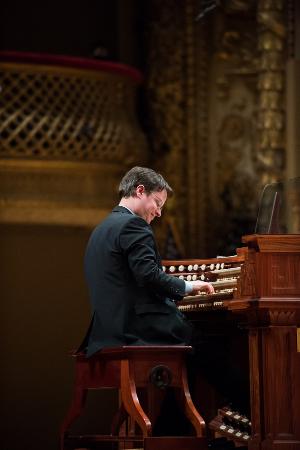 Grammy-award winning American organist Paul Jacobs, a frequent guest with the Nashville Symphony, will return to Nashville, TN, to join the ensemble under the baton of Giancarlo Guerrero to perform and record two American composers' works-Organ Concerto by Christopher Rouse, which was written especially for Mr. Jacobs, and Resilience by Wayne Oquin. Entitled 'Guerrero Conducts An American In Paris,' the three-concert-series takes place at the Schermerhorn Symphony Center (1 Symphony Pl, Nashville, TN 37201), on Thursday evening, February 23, 7:00 PM, Friday evening, February 24, 8:00 PM, and Saturday evening, February 25, 8:00 PM.
Mr. Jacobs gave the world premiere of Oquin's Resilience in 2017, and Rouse's Organ Concerto in 2014; in these February 2023 concerts Mr. Jacobs will record both of these works live with the Nashville Symphony. Full program information follows:
Brian Raphael Nabors Pulse
Wayne Oquin Resilience - Live Recording
Christopher Rouse Organ Concerto - Live Recording
George Gershwin An American in Paris
General admission of $25 - $178 is available for all three concerts. The concert on February 24 is part of Nashville Symphony's YP Nights event; $10 tickets included with a free drink are available with the code: YPNIGHTS. For more information, please visit the event page and Organist Paul Jacobs' website.
The internationally celebrated organist Paul Jacobs combines a probing intellect and extraordinary technical mastery with an unusually large repertoire, both old and new. Reviewing Mr. Jacobs' performance of Bach's Six Trio Sonatas, Jay Nordlinger of The New Criterion wrote: "Jacobs is an excellent player. Among his qualities are crispness, clarity, tidiness, smarts. He pays attention to details, including note values: He is not one to linger over a note-to hold it too long-but rather releases it at just the right time. This makes a difference in music." (November, 2009)
An eloquent champion of his instrument, Mr. Jacobs is known for his imaginative interpretations and charismatic stage presence. Mr. Jacobs is the only organist ever to have won a Grammy Award-in 2011 for Messiaen's towering "Livre du Saint-Sacrément." No other organist is so frequently re-invited as soloist to perform with prestigious orchestras, thus making him a pioneer in the movement for the revival of symphonic music featuring the organ. Having performed to great critical acclaim on five continents and in each of the fifty United States, Mr. Jacobs regularly appears with the Chicago Symphony, Cincinnati Symphony, Cleveland Orchestra, Edmonton Symphony, Indianapolis Symphony, Kansas City Symphony, Los Angeles Philharmonic, Lucerne Symphony Orchestra, Minnesota Orchestra, Montreal Symphony, Nashville Symphony, National Symphony Orchestra, Pacific Symphony, Phoenix Symphony, Philadelphia Orchestra, San Francisco Symphony, Toledo Symphony, and Utah Symphony, among others. Mr. Jacobs is also Director of the Oregon Bach Festival Organ Institute, a position he assumed nine seasons ago.
Mr. Jacobs has transfixed audiences, colleagues, and critics alike with landmark performances of the complete works for solo organ by J.S. Bach and Messiaen, as well as works by a vast array of other composers. He made musical history at the age of 23 when he played Bach's complete organ works in an 18-hour marathon performance on the 250th anniversary of the composer's death. A fierce advocate of new music, Mr. Jacobs has premiered works by Samuel Adler, Mason Bates, Michael Daugherty, Bernd Richard Deutsch, John Harbison, Wayne Oquin, Stephen Paulus, Christopher Theofanidis, and Christopher Rouse, among others. As a teacher he has also been a vocal proponent of the redeeming nature of traditional and contemporary classical music.
Past recital engagements have included performances under the aegis of the Chamber Music Society of Lincoln Center, Cleveland Orchestra, Dallas Symphony, Kennedy Center, Lincoln Center White Light Festival, Los Angeles Philharmonic at Disney Hall, Madison Symphony Orchestra, Philadelphia Orchestra, Phoenix Symphony, Pittsburgh Symphony, Oregon Bach Festival, San Francisco Symphony, Seattle Symphony, Warsaw Philharmonic, Spivey Hall in Atlanta, the St. Louis Cathedral-Basilica, Bach Festival Society of Winter Park, as well as at the American Guild of Organists.
He has given the world premiere of Christopher Rouse's Organ Concerto with the Philadelphia Orchestra-
co-commissioned by the National Symphony and the Los Angeles Philharmonic-and, with the Toledo Symphony, has performed Michael Daugherty's Once Upon a Castle, a work he recorded in 2015 with the Nashville Symphony Orchestra and conductor Giancarlo Guerrero which was released by Naxos in September 2016, and awarded three Grammys, including Best Classical Compendium.
In 2022, Mr. Jacobs celebrated the bicentennial of eminent 19th century French composer César Franck's birth with two solo organ recitals in New York City at the Church of St. Mary the Virgin, under the auspices of the American Guild of Organists. Reviewing the second concert in the series, Zachary Woolfe of The New York Times called Mr. Jacobs "one of the finest organists and teachers of our day...Jacobs's textures were also beautifully varied in the 'Prière,' the trumpet mellowed by the vast space without losing its focus; the 'Prélude, Fugue et Variation' was a wistful nocturne, sensitively controlled and never overblown. The 'Final' moved from roaring lows to shimmering highs, its dotted-rhythm motif bounding before its pile-on conclusion." (June, 2022)
­­­­­­­­­­­­­­­Performing Stephen Paulus's Grand Concerto for Organ and Orchestra and Joseph Jongen's Symphonie for Organ and Orchestra with the Boston Modern Orchestra Project under the baton of Gil Rose at Boston's Symphony Hall in February 2022, Mr. Jacobs was roundly praised by critics of the Boston Globe, New York Times, Boston Classical Review, and the Musical Intelligencer.
When he performed Michael Daugherty's Once Upon a Castle with the Philadelphia Orchestra under the baton of conductor Edward Gardner and with the Kansas City Symphony under the baton of conductor Jason Seber, Cameron Kelsall of Broad Street Review wrote on March 3, 2020:
Step aside, Hugh Jackman. If anyone deserves to be called the greatest showman, it's organ virtuoso Paul Jacobs, who returned to the Philadelphia Orchestra this past weekend for the local premiere of a witty, memorable work written specifically for him.
In the fall of 2019, Mr. Jacobs highlighted the organ on the New York concert scene, performing in a three-recital series for solo organ to critical acclaim. The series, entitled "The Great French Organ Tradition," gave New Yorkers the rare opportunity to hear this master organist on three important New York instruments: on the Holtkamp organ in the Juilliard School's Paul Recital Hall; the 1933 Aeolian-Skinner "Opus 891" at the Church of St. Mary the Virgin; and St. Ignatius Loyola's 1993 Mander Organ.
Marking an important milestone for the development of organ playing in Asia, Mr. Jacobs participated in the 2017 launch of China's first International Organ Competition-in Shanghai-when he was appointed to serve as president of the competition's jury. After another successful guest engagement with the Philadelphia Orchestra at Philadelphia's Verizon Hall performing both Oquin's Resilience, for organ and orchestra, and James MacMillan's A Scotch Bestiary, Mr. Jacobs was invited by Music Director Yannick Nézet-Séguin to tour three major European cities with the Philadelphia Orchestra in May 2018. He played the Oquin work in Brussels, Luxembourg, and in Hamburg's recently inaugurated Elbphilharmonie.
Prodigiously talented from his earliest years, at 15, young Jacobs was appointed head organist of a parish of 3,500 in his hometown, Washington, Pennsylvania. He has performed the complete organ works of Olivier Messiaen in marathon performances throughout North America. In addition to his highly esteemed recordings of Messiaen and Daugherty on Naxos, Mr. Jacobs has recorded organ concertos by Lou Harrison and Aaron Copland with the San Francisco Symphony and Music Director Michael Tilson Thomas on the orchestra's own label, SFS Media.
Mr. Jacobs studied at the Curtis Institute of Music, double-majoring with John Weaver for organ and Lionel Party for harpsichord, and at Yale University with Thomas Murray. He joined the faculty of The Juilliard School in 2003, and was named chairman of the organ department in 2004, one of the youngest faculty appointees in the school's history. He was awarded Juilliard's prestigious William Schuman Scholar's Chair in 2007. In addition to his concert and teaching engagements, Mr. Jacobs has appeared on American Public Media's Performance Today, Pipedreams, and Saint Paul Sunday, as well as NPR's Morning Edition, ABC-TV's World News Tonight, and BBC Radio 3. In 2021 he received the International Performer of the Year Award from the American Guild of Organists, and in 2017 Washington and Jefferson College bestowed him with an honorary doctorate. Mr. Jacobs has written several well-received articles for the Wall Street Journal.