Critics Choice: SOMETHING WICKED, RENT, NOISES OFF and So Much More On Tap This Weekend

After a weekend like last week's - the Predators kicked off the new NHL season, Adele gave two concerts, Tennessee State University celebrated homecoming, Chris Stapleton performed at Ascend Amphitheatre and enough theater all over the city (and state) to keep you really hopping - things may be calmer in Music City this weekend (well, probably not, but let's continue with this scenario, nonetheless...) and what would be better than a night out - or an afternoon, since there are plenty of matinees on tap Saturday and Sunday - at the theater? The opportunity to see some live theater is just what the doctor (or the critic, for this particularly artistic prescription) has ordered...
Here are our suggestions - our choices, as it were - for the shows to catch, the people to see, before Monday morning rolls around. Again. When work beckons, we promise you'll have so much more interesting water cooler chatter to share that you'll be the envy of everyone at the office:
Nashville Ballet debuted Paul Vasterling's experimental take on Shakespeare's Macbeth last night at TPAC's James K. Polk Theatre with Something Wicked, playing through Saturday night.
While the ballet explores the story's classic themes of power and fate, Nashville Ballet's version delves deeper into the role of the three witches: "In Shakespeare's tale, the witches predict Macbeth's fate as King of Scotland, which spurs Macbeth and his wife to murderous actions to fulfill the prophecy," Vasterling explains. "In our version, the witches don't merely plant this seed in Macbeth's head. Instead, they actively manipulate him as a pawn in their own greedy quest for power."
With the witches in the driver's seat, the ballet explores a primitive question of human nature: Are we a victim of fate, or do we have the free will to play our own cards? As Macbeth embarks on a murderous quest for the throne, what was once his motivation-power-is ultimately what becomes his source of guilt, paranoia and eventual descent into madness.
Something Wicked is the full-length debut of a workshop-style piece presented during 2013's Emergence, which allowed audiences a first glimpse into the creative process. Vasterling's original choreography, concept and interpretation features the Grammy-nominated ALIAS Chamber Ensemble, performing a collection of works by contemporary American composer Kenji Bunch.
"This ballet feels especially communal," Vasterling says. "During the creation process in 2013, the dancers played a large part in guiding the direction of the piece by infusing their interpretations and movements into the choreography. Not only that, but we encouraged audience feedback and incorporated it into what you'll see on stage this time around."
Tickets start at $28 and can be purchased in person at the TPAC box office in downtown Nashville, by phone at (615) 782-4040 or online at www.nashvilleballet.com.
Meanwhile, downstairs at TPAC's AnDrew Johnson Theatare, Nashville Repertory Theatre's 2016-17 season continues with its rollicking production of Michael Frayn's Noises Off, featuring an all-star cast of some of Nashville's favorite actors. Noises Off runs through November 5 in Johnson Theatre.
"Noises Off is a laugh-out-loud, non-stop stampede of craziness," says actor Martha Wilkinson, who leads the cast as British comedy TV doyenne Dotty Otley. "The challenge of landing all the jokes and getting physical gags just right is tough, but that's part of the fun, and when it's done well, it's hilarious. (And of course, for this play, coming together "correctly" means deftly making the entire thing fall apart.) Having played this same role of "Dotty" in Nashville Rep's 2005 production, I'm looking forward to once again battling with slamming doors, those damn sardines, and that blasted newspaper!"
Written by Michael Frayn, Noises Off contains a famous second act which highlights the show's comedic brilliance. For Act Two the entire set rotates 180 degrees allowing the audience to watch the backstage calamity during a performance of "Nothing On" as actors struggle to keep the play on track in the face of revenge, missing whiskey bottles, and total lack of control.
Director Rene D. Copeland's cast includes, in addition to nine-time First Night Award winner Wilkinson, Steven Kraski, Cori Anne Laemmel, Jenny Littleton (from The Doyle and Debbie Show), Eric D. Pasto-Crosby, Brian Webb Russell and Jacob York, as well as Nashville Rep newcomers Morgan Davis and Chase Miller.
Here's our take on Nashville Rep's Noises Off: "There comes a moment in Act Two (or maybe it's Act One - on second thought, maybe it's the second Act One, although it could be the third...) of Michael Frayn's Noises Off, now onstage at TPAC's AnDrew Johnson Theatre, in which Martha Wilkinson comes onstage, hits her mark, cuts her eyes at another actor and with perfect timing reaches out to touch his arm, her expressive face showing every word the audience needs to hear, eliciting guffaws and applause as her reward.
"In less than sixty seconds, Wilkinson delivers a master class in comedy that very few people are capable of and, once again, she proves why she's Nashville's gold standard of comedic actors. It's a brief moment, to be sure, but thanks to Wilkinson's impeccable timing and Rene Copeland's focused and razor-sharp direction, it's a highlight of the latest Nashville Repertory Theatre show now onstage at TPAC's AnDrew Johnson Theatre through November 5.
"While Wilkinson assays the play's starring role of British TV doyenne Dottie Otley, who's leading the British tour of a new comedy ("Nothing On," by the fictional Robin Housemonger) that's ridiculously plotted and portentously implausible, director Copeland surrounds her with a bevy of Nashville actors bent on delivering the goods in this latest local revival of Frayn's insane farce, which is fresh off its own Broadway revival.
"Frayn's superbly written script, which affords audiences a glimpse at the offstage and backstage goings-on that accompany the mounting of a new play - and take it from me, it has parallels to the openings of shows from Broadway to Bismarck to Bristol to the West End...and back again - and the hilarious hijinks and hyperbolic happenings that are just a part of a life in the theater."
In Andrew Jackson Hall, TPAC's big auditorium, the 20th Anniversary Production of Jonathan Larson's 1996 Broadway hit Rent plays through Sunday, with a vibrant and young cast of actors giving a fresh take on the Pulitzer Prize-winning musical.
Here's what we had to say about the 20th Anniversary production of Rent: "It's hard to believe that Jonathan Larson's epic rock musical masterpiece, Rent, debuted on Broadway in 1996, making headlines around the world, winning the Pulitzer Prize and bringing a whole new generation of audiences to the theater 20 years ago. Larson who died just prior to the show's off-Broadway opening that same year didn't live to see the acclaim with which his musical - based upon Puccini's La Boheme - was greeted, but if we believe in such things, we may rest assured that since his untimely demise he has watched over Rent's evolution, which includes the 20th Anniversary production now touring the country in an astounding revival which reaffirms its place among the very best of American musical theater.
"Performed with commitment, focus and enough energy to send audiences home on a contact high, by a cast of vibrant, young actors, this revelatory revival of Rent - now onstage at TPAC's Andrew Jackson Hall in Nashville through Sunday, November 23 - proves the show's undying power, the scope of its story something that audiences of all ages can identify with, regardless of their own personal experiences. For a generation now (if we follow the lead of anthropologists and historians who define a generation as a period of 20 years), Rent has engaged people with its tale of a group of disparate friends who come together to form a family in New York's "Alphabet City" at a time when their lives are filled with seemingly nonsensical letters that together form portentous acronyms (AIDS, HIV, STD, AZT, NIH, CDC...each frightening in its own jumbled, inartful way) and who, in a sense of camaraderie and joie de vivre, create a world of imagination and inspiration, bonding over a shared sense of desperation and malaise that gradually transforms into something far deeper and more compelling.
"Revolutionary in its own, unique way (as only the very best of American musical theater can be), Rent continues to engage the mind, to challenge preconceived notions and to illuminate the human condition in ways that are at once confounding and endlessly entertaining. While Hamilton, Lin-Manuel Miranda's mega-smash Broadway musical that shows the founding of the United States of America through a lens that resonates deeply with today's audiences - and is, in fact, this generation's genre-bending, epoch-shattering and paradigm-shifting musical that redefines this particular, made-in-America art form - so, too, did Rent for the previous generation of people yearning for a new interpretation that spoke directly to their souls."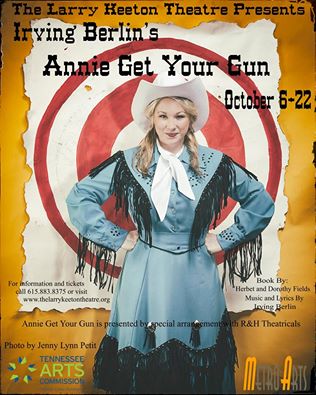 In Donelson, The Larry Keeton Theatre's production of Annie Get Your Gun plays its final performances this weekend, closing Saturday night - with the holiday-themed Nuncrackers just around the corner - and starring Tonya Pewitt and Chris Cavin, directed by Jamie London, with musical direction by Ginger Newman and choreography by Taylor Tracey.
From my essentially rave review of the show: "There's something about Tonya Pewitt, a certain, almost indefinable, something that makes her an ideal musical theater leading lady (perhaps, we admit, that's a dated term in these politically correct times - we are, after all, in the 21st century and the election of the first woman president of the United States seems imminent - but in regard to Miss Pewitt, we use the term affectionately, respectfully and even reverently), attributes that she has accumulated, if you will, in a lifetime spent as a fan of classic Broadway and film musicals. She's charming and oh-so-engaging, beautifully alive onstage in a way only great musical theater stars can be when the follow spot hits them upon their first entrance.
"Tonya Pewitt is, without question or danger of fulsome exaggeration, electrifying. There's magic in her voice, a sense of lighter-than-air whimsy that is paired with down-to-earth gravitas that makes her watchable every time she steps onto a stage. Without question, she's beautiful - her sparkling eyes and ready smile attest to that - but what is most intriguing about her is that there is a serious young woman and dedicated stage artist beneath the drop-dead gorgeous veneer. Tonya Pewitt may look every inch the quintessential leading lady, but there's the part of her which shows you her depth as an individual and her complete and total devotion to her craft.
"So it should come as no surprise whatsoever that her current star turn as "little sure shot" Annie Oakley, in The Larry Keeton Theatre's production of Irving Berlin's classic Annie Get Your Gun, is so wondrously magical or that Pewitt and company deliver a stunning revival of the show, replete with a bevy of showtune standards that remain as spectacular today as they did when the show bowed on the Great White Way in 1946.
"Directed with a sense of elan and stylish theatrical glee by The Keeton's artistic director Jamie London, with superb musical direction by Ginger Newman (the woman knows her stuff!) and sprightly, energetic choreography by Taylor Tracey (fresh off her own starmaking turn in the company's Cabaret), Annie Get Your Gun continues to entertain and to delight audiences with its confectionery take on the story of Oakley and her relationship with marksman Frank Butler, the man who would be her boss, her husband, her lover and her rival for the rest of their lives, and the story is told in fine fashion thanks to the credible performances of Pewitt and Chris Cavin, the towering, barrel-chested baritone who plays Frank Butler to perfection in his own starry, if somewhat understated, fashion."
At the Center for the Arts in Murfreesboro, Young Frankenstein - the Mel Brooks musical based upon what the comic mastermind calls his own favorite movie - picks up for its second weekend of performances, with Patrick Kramer and Alexius Frost leading the cast, under the direction of Renee Robinson.
When Gene Wilder's death was announced on August 29, the cast and crew of Young Frankenstein felt a personal connection, since they were in the middle of rehearsing one of Wilder's greatest scripts. Kramer, who is portraying the same role that Wilder made famous - Fredrick Frankenstein, was upset when he heard the news: "MR. Wilder was such an influence on me as a young performer. The man's brilliance and dedication to his craft places him among the upper echelon of comedic geniuses...As I continue down my own Young Frankenstein path I will hold his spirit in my heart and dedicate my performance to his own. I know I will never be close to his brilliance; I just want to honor him."
The award winning film and the musical are affectionate parodies of the classic horror film genre, in particular the various film adaptations of Mary Shelley's novel Frankenstein produced by Universal in the 1930s. The story is about a young neurosurgeon - Fredrick Frankenstein (he pronounces it "Fronkenstein") who inherits the castle of his grandfather, the famous Dr. Victor von Frankenstein. In the castle he finds a funny hunchback called Igor, a pretty lab assistant named Inga and the old housekeeper, Frau Blucher. Young Frankenstein does not believe in the work of his grandfather, but when he discovers the book where the mad doctor described his reanimation experiment, he suddenly changes his mind and creates a monster...who can sing and dance. The show is full of comic sequences and lively production numbers including, "The Transylvania Mania" and the iconic "Putting On the Ritz."
During a recent rehearsal, Robinson asked Alexius Frost, who is portraying the role of Frau Blucher, "If Gene Wilder was sitting in the audience, what would you say to him?" Frost smiled and replied with the sentiment shared by her cast, "I would tell him, 'thank you - thank you for your comedy.'"
Tickets can be purchased on the Center's website at www.boroarts.org, or by calling (615) 904-2787; or at the Center's box office at 110 W. College Street in downtown Murfreesboro. Prices are $15 for adults; $13 for seniors, students and military; and $11 for children. Group rates are available. Performances are at 7:30 p.m. on Friday and Saturday evenings and 2 p.m. on Sunday afternoons.
Out in Old Hickory, Shawn Whitsell directs A Soldier's Play, which is described as "a thought-provoking piece which speaks to the heart and stirs the soul." Charles Fuller's 1982 Pulitzer Prize-winning play is a riveting story set in a segregated backwater Louisiana army camp in 1944. It artfully explores racial tensions among black and white servicemembers during the course of a murder investigation.
A Soldier's Play runs at Lakewood Theatre Company through October 23, with Friday and Saturday shows at 7:30 p.m. and Sunday matinees at 2:30 p.m. Tickets are $15 for adults and $12 for seniors/ military and students. Tickets can be purchased online at www.ticketsnashville.com or at the door.
Music Valley Event Center (home of Miss Jeanne's Theatre) presents a double feature for the stage: Devil Boys from Beyond by Buddy Thomas and Kenneth Elliott and Vampire Lesbians of Sodom by Charles Busch.
Devil Boys from Beyond, a spoof of science fiction films, was a 2009 Winner in Overall Excellence for Outstanding Play at The New York International Fringe Festival, and is being directed by Asa Ambrister. Cast members include: Kathleen Jaffe, Don Breedwell, James Bealor, Kathryn Sutton, Ron Lee, Johann Sorensen, Evan Grabenstein, and SuzAnne Booth.
Zach Parker helms the long-running off-Broadway camp hit Vampire Lesbians of Sodom, starring local favorites Veronika Electronika, Evan Grabenstein, SuzAnne Booth, Tristan Penn, Michael Rex and Caressa Alan. It is described by The New York Times as featuring "costumes flashier than pinball machines, outrageous lines, awful puns, sinister innocence, harmless depravity."
Tickets are $15 for entry into both shows, and $12 for Seniors, Military and Students (with ID). Parking is free. Walk-ins and reservations are accepted. Music Valley Event Center is located at 2416 Music Valley Drive, Suite 150, across from Gaylord Opryland Resort & Convention Center in Nashville. Call (615) 902-9566, or visit the theatre's website at missjeannes.com for more information.
Continuing at the Z. Alexander Looby Theatre this weekend is the final weekend of Tennessee Women's Theater Project's production of Annapurna, by Sharr White, starring Holly Butler and Alan Lee, under the direction of company founder Maryanna Clarke, a 2012 First Night Honoree with her husband Chris Clarke, "the lifter of heavy objects" for the company.
According to a synopsis, "Twenty years ago Emma walked out on her husband, the rough-hewn cowboy poet Ulysses. Now she shows up at his filthy trailer in the Colorado Rockies, and he's a mess: hooked up to an oxygen tank, wearing just an apron, and frying breakfast sausage. Their reunion, an alternately funny and touching mixture of old battles and enduring compassion, revives all the ups and downs of their onetime bond."
The show's garnered impressive reviews from Amy Prough Stumpfl of The Tennessean, as well as from Nashville Scene's Martin Brady (not the Civil War photographer...oh, wait, that's Matthew Brady...)
Featured at the Theatre Shop
T-Shirts, Mugs, Phone Cases & More
Jeffrey Ellis is a Nashville-based writer, editor and critic, who's been covering the performing arts in Tennessee for more than 35 years. In 1989, Ellis (read more...)