BWW Review: Radical Arts' EVIL DEAD, THE MUSICAL is Bloody Good Halloween Fun
Forget about those whiny, cry-baby Walking Dead fans and the increasing din of their lamentations regarding the imminent demise of Rick Grimes from their universe and instead focus your attention and horror film-inspired energies on Evil Dead, The Musical - a wickedly wild and ridiculously off-kilter send-up of the genre - now onstage in a terrifically entertaining, if uneven, production from Radical Arts, the little theater company who, for all intents and purposes, can.
A tuneful send-up of the Evil Dead series of movies, the musical stage version is every bit as implausible and unlikely as any horror movie could ever hope to be: It's offbeat and odd, relying upon all of the cinematic tropes it sends up, featuring a handsome, square-jawed hero who's as impressed with himself as audiences are expected to be and he is surrounded by a group of dimwitted pals who you just know are going to end up demon-fodder before the intermission wends its way to the midway point. The Radical Arts version of Evil Dead, The Musical is every bit as kooky and krazy as every production of the title that has preceded this one and it is because of that pedigree you shouldn't waste any time getting yourself to Music Valley Event Center before the 2018 edition folds up its metaphorical tent to be stored away for the immediate future.
After 10 years, Radical Arts' fearless leader Seth Limbaugh (who's as nice a bloke as you'd ever hope to meet en route to an abandoned cabin in the woods where murder and mayhem await) informs audiences in his pre-curtain speech, Evil Dead, The Musical will no longer be the company's Halloween season offering. Instead, he intones, they are skimming through a selection of similar titles - also with "splatter zones," we suspect - with which to delight theater audiences looking for the off-beat and absurd to whet the whistle of their seasonal desires.
The aforementioned "splatter zones" appellation refers to the seats that make up the first six or so rows in which audience members pay a premium price (which includes an Evil Dead t-shirt!) to be soaked in fake blood as the show's plot plays out onstage and around them, creating an immersive atmosphere that's pretty damn fun, even if your loyal reviewer chose to stay out of range of the blood and guts so that he might remain objective and unstained. Still, the closest spray of man-made stage blood fell about 18 inches away from my Buster Browns (actually, I wore Rockports, but "Buster Browns" sounds funnier, n'est ces pas?)...
Evil Dead, The Musical - which features music by Christopher Bond, Frank Cipolla, Melissa Morris and George Reinblatt, with a libretto by Reinblatt - is based upon the three entries that comprise the film series and the characters and situations are rearranged to protect the innocent, presumably, and to provide the bigger payoff in laughs, guffaws and satisfying gasps of disbelief and, well, horror. Perhaps the horror isn't quite so much of the macabre, conventionally frightening kind, but more of the groan-worthy variety. Let's face it, the show's creators know a thing or two about hammering the funny bone over and over and they lovingly satirize a genre while paying homage to it through their creative efforts.
The "evil" beings in Evil Dead, The Musical, aren't zombies, exactly, but they are among the living dead and their presence in this realm is made possible by the discovery of a book written centuries ago and only recently translated by a forensic archaeologist (or something like that). Unwittingly releasing these demons into the modern world, the scientist guy (Emilio Steele in a Cliff Huxtable-inspired sweater that's as scary as anything else we glimpse onstage) himself falls victim and leaves a tape recording in which he explains what the fuck just happened to make the world go straight to hell (or something like that).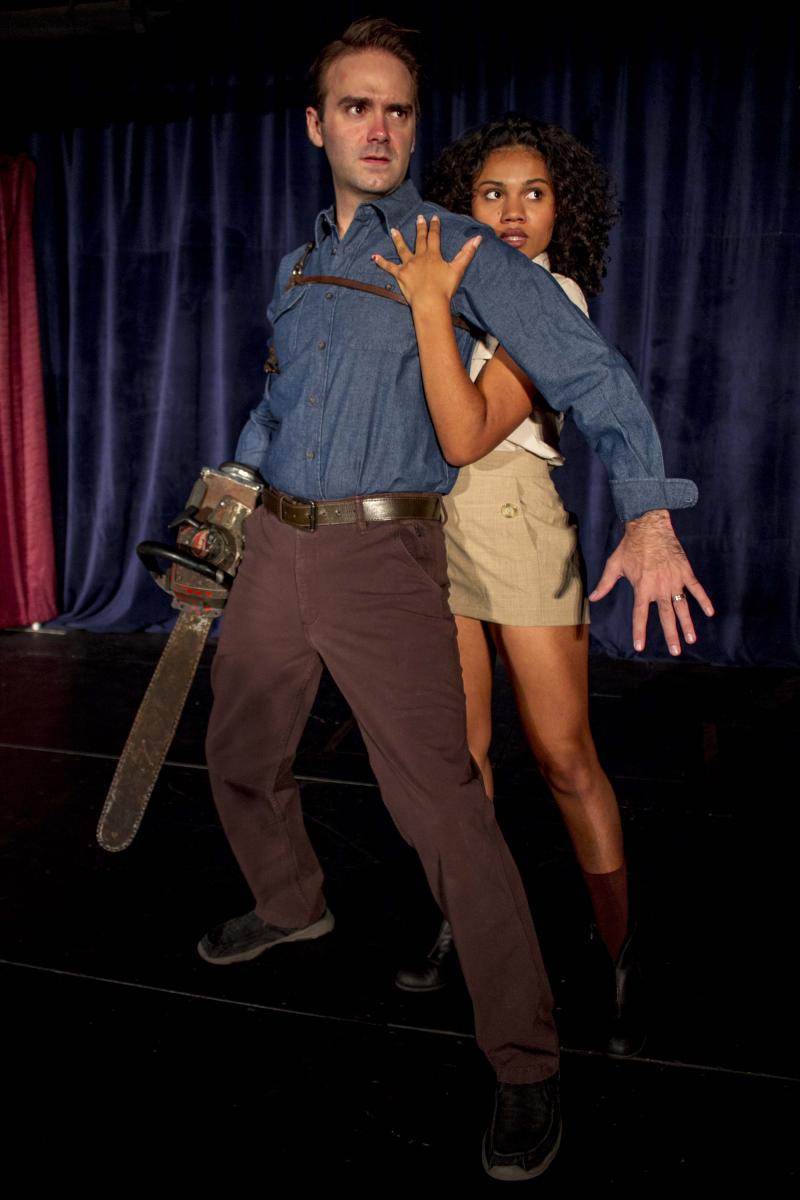 Yessi Short directs Radical Arts' 2018 edition of Evil Dead, The Musical, with tongue planted firmly in cheek, assembling an attractive and capable cast of young actors who give their all - we'd say they give it "the old college try" were it not for the fact that we suspect no one's very familiar with that phrase anymore - to create a theater experience that is at once unique and somewhat predictable. Richard O'Brien trods much of the same creative, inspirational ground with his better-known Rocky Horror Show, but Evil Dead, The Musical is every bit as enthralling (if one could call it that and I just did, so I guess you can) and entertaining and, therefore, is equally watchable.
Kaitlyn Moore supplies the rudimentary choreography that sometimes shows off some inspired thinking, but more often than not just moves the cast members about the venue to keep the proceedings from becoming too static.
Leading Short's gung-ho ensemble is Luke Sanders, superb as the square-jawed, all-American hero named Ash, who delivers his lines with the perfect cadence of a silver screen heartthrob/anti-hero who you can expect to lose the girl, get another girl, lose her and end up a legend in his own mind. Ever the stalwart leading man, Sanders sets the tone for the show with his spot-on performance and it's his Jack Webb-esque (look him up, gentle readers, I don't have all day to explain every pop culture reference to you) way with a completely ludicrous line of dialogue that'll have you roaring for more.
Sanders is surrounded by some equally engaging actors as the members of his posse - whom, we are told in the show's opening musical number, are headed to an abandoned cabin in the woods, where nothing could possibly go wrong, for the best spring break vacation ever in the history of spring break vacations. That set-up provides the evening's first big laughs, because you're certain someone will fall victim to evil faster than you can say "Michael Myers." Hillary Mead is wonderful as Ash's girlfriend (they met at work - "Shop Smart at S Mart" - where's she's a check-out girl and he stocks shelves in housewares) and their duet on "Housewares Employee" is a hokey send-up of musical theater "meet cute" songs.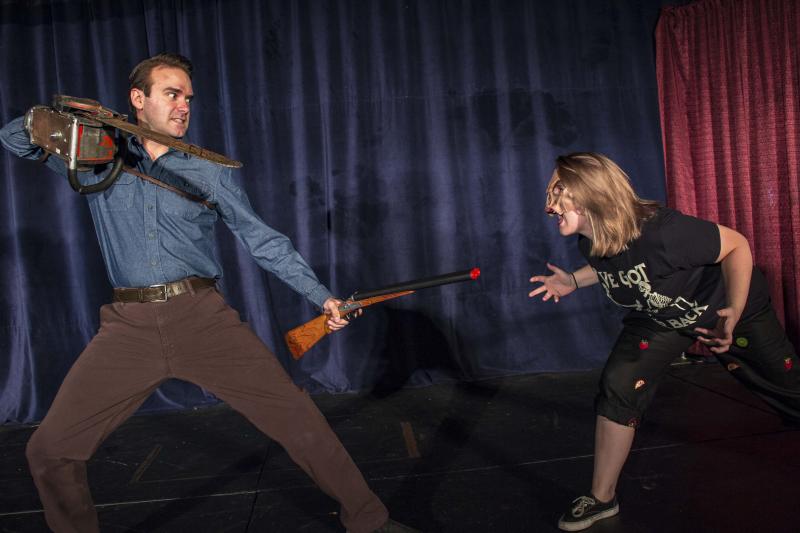 Among the other horror movie archetypes on board for the spring break adventure of a lifetime are the over-sexed, party-in-his-pants Scott (played with sufficient horny disregard by Joey Bishop), with his vapid and vacant girlfriend (the result of a drunken one-night stand just three days previous) Shelly played to the hilt by Carlie Young. Finally, there's Ash's annoying younger sister Cheryl, whose know-it-all personality marks her as the likely first victim. Bethany Pape shows off some good comic timing even as she succumbs to evil.
Miranda Pepin, Russell Forbes and William Riley Hughes make their first appearances in the final scenes of the first act in order to supply more conflict and upheaval to power the show through another stanza. Pepin's overwrought, overbearing characterization is perfect as she portrays Annie, the daughter of the scientist come to the cabin in search of her father. She's accompanied by her fiancé Ed played by the reliably amusing Forbes, who's great as the put-upon and largely ignored "bit player" whose fate is pre-determined long before the show ever starts. Hughes is quite good as Jake, the slack-jawed yokel, who plays Sherpa to Annie and Ed and who, we must admit, should have been gutted right after his big musical number.
There's nothing epoch-shattering about Evil Dead, The Musical. In fact, it doesn't aspire to be anything more than what it is: a satire of horror movie stereotypes that'll make you laugh gleefully and uproariously. The music and lyrics are fairly bad - clearly, no one has aspirations to become musical theater's next Andrew Lloyd Webber or Jason Robert Brown (although, from what we hear, there are some pretty terrifying stories circulating about both of them) - and yet they are undoubtedly pretty swell.
The production's set design - credited to Limbaugh and James Mingus - is nothing much to look at, but it provides a good backdrop for the musical's action, and Miranda Johnson's costume design is rather witty and whimsical in its way.
The 2018 Radical Arts production of Evil Dead, The Musical is a great way to get into the Halloween spirit, but the show would benefit greatly from a more focused direction that would speed up scene transitions to ensure the onstage action (and inherent hilarity) continues unabated and unhindered.
Evil Dead, The Musical. Music by Christopher Bond, Frank Cipolla, Melissa Morris and George Reinblatt. Book and lyrics by George Reinblatt. Directed by Yessi Short. Musical direction by Seth Limbaugh. Choreograpy by Kaitlyn Moore. Presented by Radical Arts, at Music Valley Event Center, 2416 Music Valley Drive, Nashville. Through November 2 (including a special Halloween presentation on October 31). For details, call (615) 852-7779 or go to www.radicalarts.org. Running time: 2 hours, 20 minutes (with one 15-minute intermission).
Related Articles View More Nashville

Stories

Shows
Jeffrey Ellis is a Nashville-based writer, editor and critic, who's been covering the performing arts in Tennessee for more than 35 years. In 1989, Ellis (read more...)