BWW Review: Nashville Rep's Timely - and Timeless - Take on INHERIT THE WIND
Theater's power to illuminate and to elucidate even while offering diverting entertainment has perhaps never been felt so strongly as in Nashville Repertory Theatre's engaging version of Jerome Lawrence and Robert E. Lee's Inherit the Wind, a fictionalized account of the 1925 Scopes Monkey Trial in Dayton, Tennessee, now onstage at TPAC's Andrew Johnson Theatre through April 25.
Brought to vibrant life by director Rene Dunshee Copeland and her tremendously talented ensemble - an artfully deft collection of some of the region's best-known, most beloved actors along with a cadre of aspiring young performers from Lipscomb University's burgeoning theater department - Inherit the Wind, first produced onstage in the mid-1950s as a response to the pervasive anti-communist political storms of the McCarthy era, remains potently timeless and somehow universal in these equally tumultuous times in which we now live.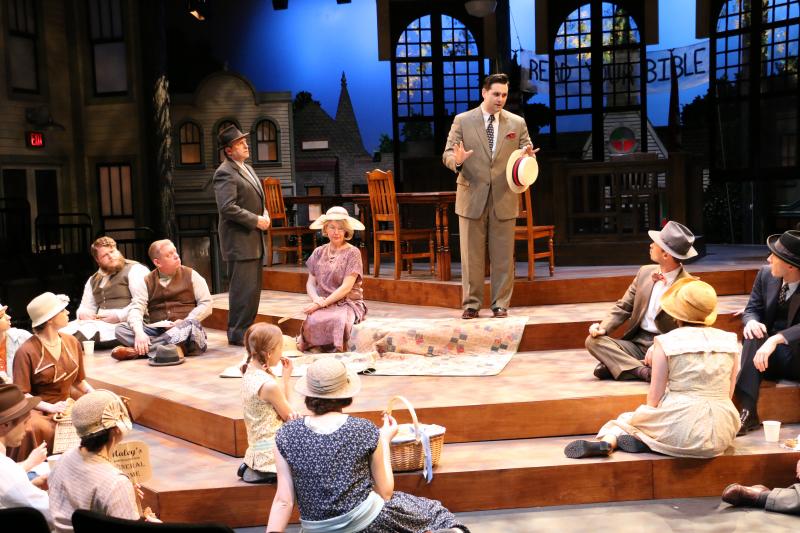 From the perspective of someone wanting to learn more about the history of social conservative politics in the United States, Inherit the Wind offers two-and-one-half hours of briskly told history as entertainment: the facts are adapted for consummate dramatic impact, with names changed presumably to protect both the innocent and the guilty, as well as to afford the two playwrights leeway in telling the story they want to convey, complete with contemporary flourishes of theatrical storytelling that bring the stage-bound script to life. And thanks to Copeland's skillful eye, the attention to detail shared by the entire creative team, and commendable performances by every cast member, the story remains relevant and enormously prescient, proving the adage that no matter how much things change how amazingly they remain the same.
The subject for any political debate may change - whether it's teaching evolution to schoolchildren in the first quarter of the 20th century or the consideration of gun rights in the 21st - the tenor of the times remains constant, with tempers flaring on either side of the debate and social change coming at what is presumably a glacial rate. Yet Inherit the Wind ably captures those moments, fraught with tension and dread (and more than a little despair, it seems), condensing them to a palatable two-plus hours during which audience members can perhaps consider their own stance on any given subject. Moreover, Inherit the Wind reminds us, eloquently and rather succinctly, that scientific advancements notwithstanding, there are still those among us who contend the earth is flat and that the world was created by an unseen higher being in the brief span of seven days.
As mystifying as that may be - and I must confess I have a difficult time accepting such conventions as anything other than ludicrous and unbelievable - it nonetheless provides much food for thought, ensuring that the play's impact is felt long after the theater has been cleared just as certainly as the grounds of the Hillsboro courthouse are cleaned up of the detritus of religious frenzy and the general acrimony of all sides weighing in on the debate in the carnival-like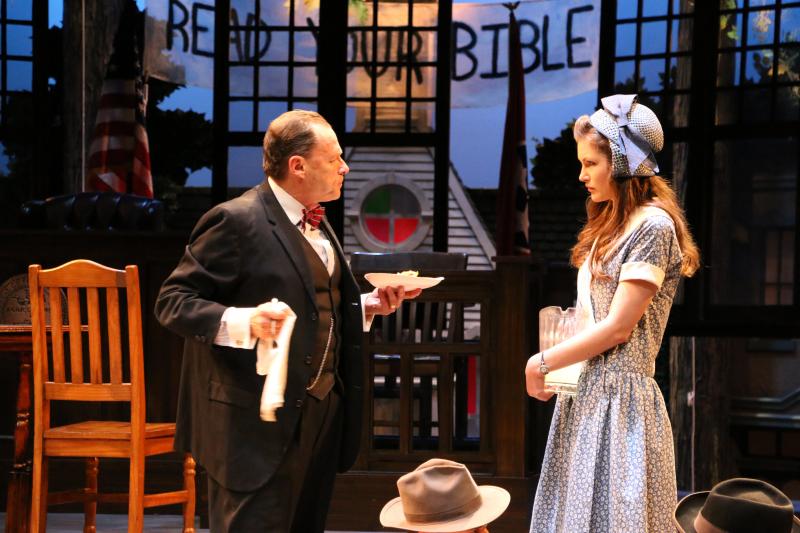 atmosphere of the legal proceedings.
Set against the backdrop of yet another stunning Gary C. Hoff scenic design that captures the essence of a small Southern town (although the play is inspired by the Scopes Monkey Trial in Dayton, the fictional town of Hillsboro is never placed in a particular state, even if the Tennessee state flag in the courtroom would clearly say the play's action takes place in the Volunteer State), with its church spires and bucolic surroundings providing a deceptively peaceful and languorous sense of time and place. Phillip Franck's atmospheric lighting creates an immersive ambience for the play, evoking nostalgic, sentimental images of small town life in the process. In one particular scene, in Act Two (Copeland intelligently condenses the sometime meandering tale to a brisk two acts), sharp-eyed viewers will see the lazily turning blades of a ceiling fan that punctuate a discussion of the play's themes - a design element which instantly denotes the 1925 period and the setting as a Southern courthouse on a steamy summer's day.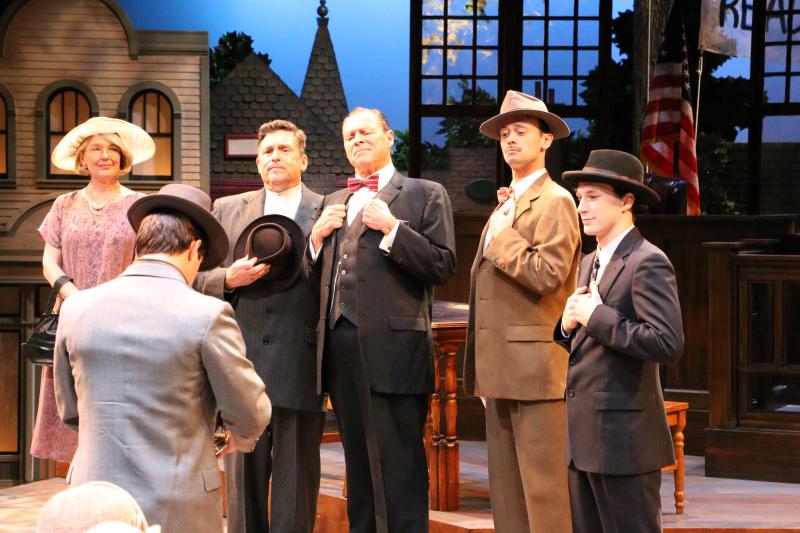 Given these physical attributes - every Nashville Repertory Theatre production has the ability to transport audiences to another time and place, thanks to Hoff, Franck and company - the actors are effectively become the characters they are playing, making the story come alive. Copeland's casting ability has never felt more on-target than with Henry O. "Chip" Arnold and Brian Webb Russell, two of the finest leading men to be found on any stage, in the roles of Matthew Harrison Brady and Henry Drummond, the two lions of the courtroom doing battle once more for the hearts and minds of every juror and every spectator in the room (in fact, the audience becomes part of the action as presumed trial onlookers due to the manner in which TPAC's Andrew Johnson Theatre is utilized for this production).
Arnold is perfectly strident as Brady, the three-time presidential candidate who still clamors for public adulation as an orator and legal eagle, delivering his lines with confidence and great vigor while subtly portraying the character's frailties and own remarkable misgivings, even while never displaying one iota of diffidence. Russell, exuding a blend of legalese and down-home charm, makes the far more relatable (to me, at least) Drummond less of a theatrical stereotype and more an authentic character determined to do right by his client, the young educator here known as Bert Cates (played with earnest sincerity by Lipscomb senior Scott Patrick Wilson, whose impending graduation will likely leave a six-foot-five-inch gap in the school's student body thanks to his outsized talents and remarkable range as an actor).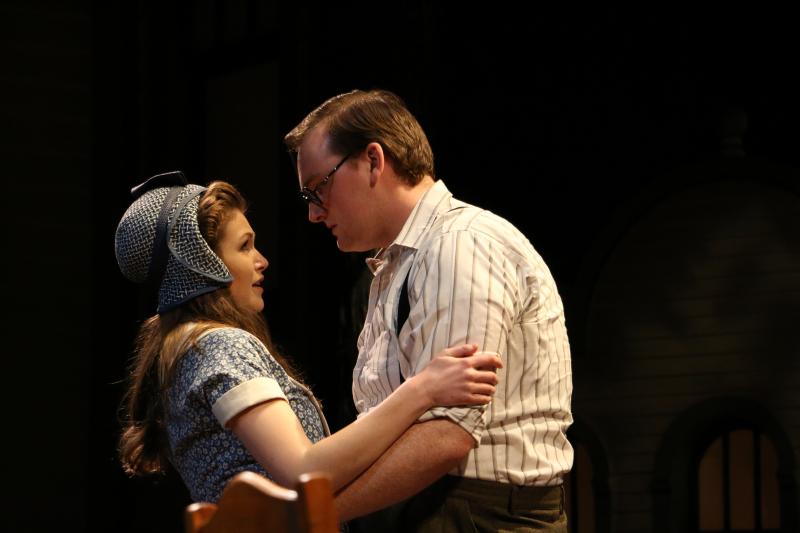 Watching Arnold and Russell spar in the courtroom is assuredly thrilling, but probably less so than it was in the rehearsal hall during which the younger Lipscomb actors observed them in a master class of acting. It's seeing Copeland's multi-generational cast (which includes the amazingly gifted Bella Higginbotham and Gus O'Brien among Hillsboro's more youthful citizens) that is perhaps most electrifying and most satisfying about Inherit the Wind: one cannot help but be impressed by the enthusiasm and commitment of every cast member, regardless of their age, their seasoning or their experience. And we say "bully!" (that's seems period apropos for this play) for this and any future collaboration that brings such a diverse group of actors together to create theater so impressively.
As E.K. Hornbeck, the cynical journalist based on H.L. Mencken, Jacob York delivers a spellbinding performance that seems both understated and superbly over the top at the same time, capturing the duality of the character with a good deal of charm and more than a little charisma. Even when York's Horbeck needles townspeople for their backward thoughts and provincial ways, he remains tremendously likable and providing a sardonic commentary throughout the play's sometimes rambling action.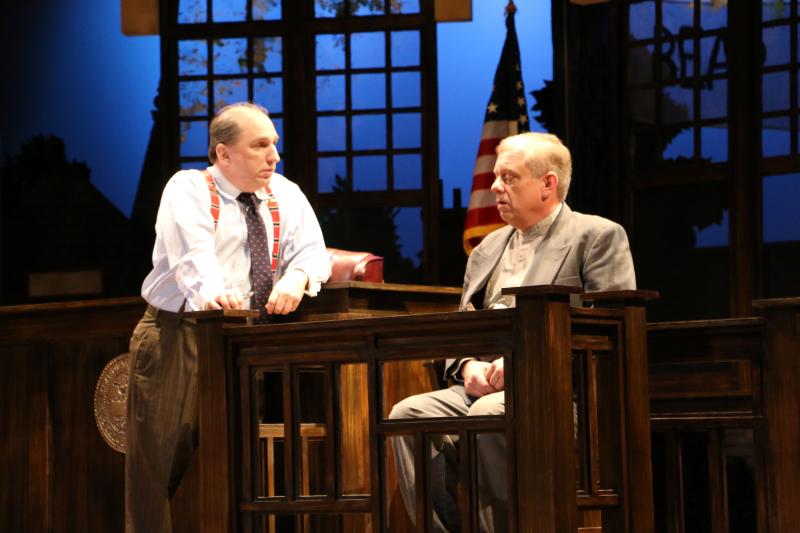 Arnold, Russell and York are not the only more experienced, most lauded performers found among Copeland's ensemble; rather, it's filled with people Nashville audiences have watched intently since the time when many of them were the same age as young Miss Higginbotham and young Mr. O'Brien. Matthew Carlton is terrific as a hellfire and brimstone preaching man of the cloth, Bonita Allen is the luminous Mrs. Sarah Brady, John Mauldin is the town's everyman Mr. Meeker, Rebekah Durham is effective as somewhat overly zealous Mrs. Krebs (the head of the church's ladies' aid society), Sam Whited is perfectly cast as the county judge, Brett Cantrell is good as the politically motivated and ever-aware town mayor, while Derek Whittaker plays a down-to-earth townsman with aplomb.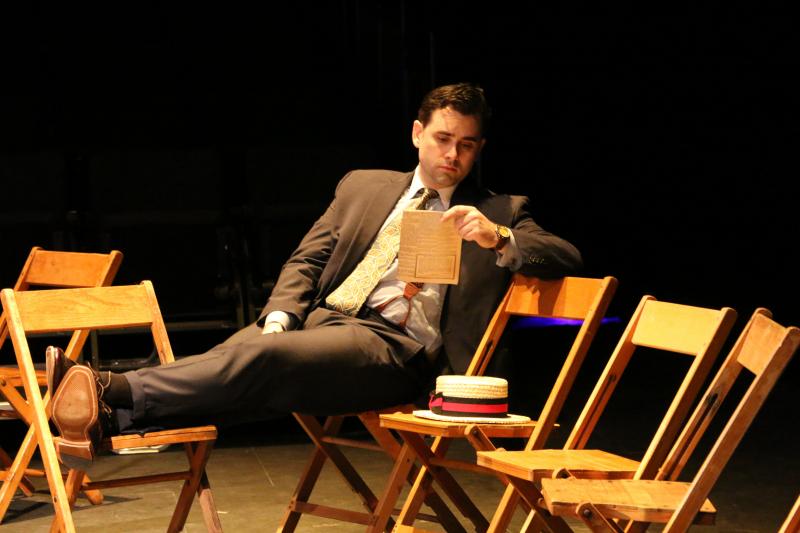 In addition to Wilson's sympathetic portrayal of an educator determined to make his students think by providing them with passage to the larger world outside their small town environs, there are other equally capable performances by Lipscomb students, including LU Theatre favorites Emily Meinerding (who has a truly impressive resume to her credit) as Rachel Brown, the local preacher's questioning daughter seeking intellectual edification while pining for the heart of the man she loves, and Sam Kell, who is quite good as the town's prosecutor Tom Davenport, who serves as second chair to the formidable Matthew Harrison Brady.
Inherit the Wind. By Jerome Lawrence and Robert E. Lee. Directed by Rene Dunshee Copeland. Presented by Nashville Repertory Theatre, at Tennessee Performing Arts Center's Andrew Johnson Theatre, Nashville. Through April 21. For details, go to www.nashvillerep.org. Running time: 2 hours, 30 minutes (with one 15-minute intermission).
Related Articles View More Nashville

Stories

Shows
Jeffrey Ellis is a Nashville-based writer, editor and critic, who's been covering the performing arts in Tennessee for more than 35 years. In 1989, Ellis (read more...)