Review: Nashville Children's Theatre's THE LITTLE MERMAID is Utterly Delightful
It's not unusual for an audience at Nashville Children's Theatre to express its utter delight at what they're seeing performed onstage - typically, younger audiences are likely to be more vociferous, more generous with their applause and, quite frankly, louder in their responses (whether good or bad) to a production. You know clearly where a show stands in relation to their audience.
Therefore, it should come as no surprise whatsoever that the opening night audience for NCT's holiday season offering of Disney's The Little Mermaid rewarded the cast and crew with loud cheers, sustained applause and, more importantly, their rapt attention - were it not for the fact that last night's audience was comprised primarily of (how will we say it without offending?) more experienced theater-goers.
To put not too fine a point on it, we've never been part of an NCT audience more enthusiastic than the opening night crowd assembled in Ann Stahlman Hill Theatre for the premiere of NCT's brilliantly conceived, exquisitely designed and heartwarmingly performed The Little Mermaid.
Heap all the accolades on executive artistic director Ernie Nolan, who directs and choreographs with a deft blend of emotionally charged precision and enough heart to make even the rustiest, crustiest Tin Man wax rhapsodic on love for the theater. Nolan's handprint is seen throughout the production - which features the superb musical direction of David Weinstein and the gorgeous visual aesthetic of scenic designer Court Watson, costume designer Robin L. McGee and lighting designer Scott Leathers - which radiates with charm while presenting a physical production of near-epic proportions.
Watson's skillfully designed sets are crafted with care and designed with imagination and wit. Case in point: his diaphanous show curtain is used in a variety of ways to create the visual evocation of life under the sea and to show characters swimming through the choppy waters. McGee's costumes are multi-hued and picture perfect, with as much attention paid to the actors portraying sea creatures (they are dressed in various shades of aqua, blue, teal and turquoise to represent the very water in which they live) as to the principals. Ariel's costumes are lovely and beautifully fitted (every little girl will long to wear her wedding dress, and some little boys we suspect), Prince Eric looks every inch the strapping young and heroic royal he is and all the other characters are impeccably dressed. Leather's lighting is used to grand effect throughout to create an otherworldly atmosphere that immerses the audience in the story, with evocative illumination as it unfolds.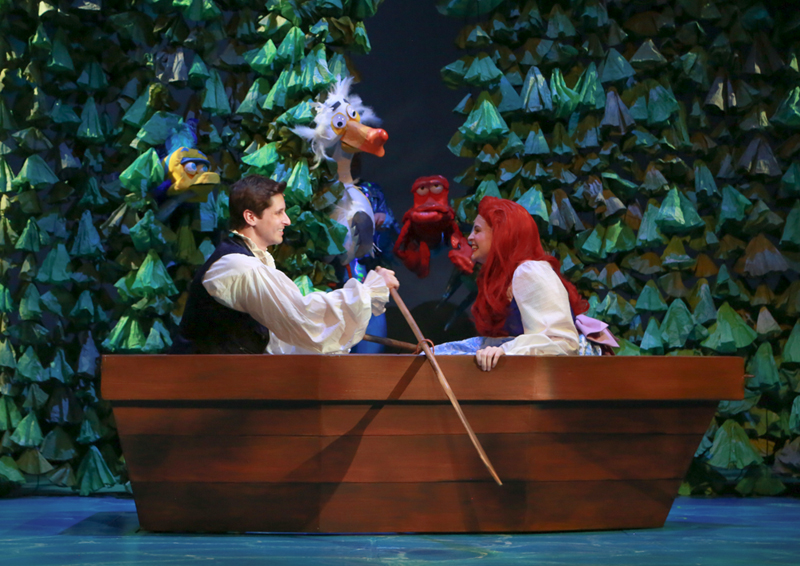 Truth be told, though, it's the altogether amazing puppet design of Brian Hull which truly elevates the production to something special indeed, creating a Little Mermaid that is unlike any other you've seen during the show's illustrious life in theater, post-Broadway. By using puppets to bring many of the iconic undersea characters to life in Disney's The Little Mermaid, powered by human imagination and ingenuity which results in some of the most startlingly multi-dimensional figures onstage, Nashville Children's Theatre's production is uniquely awe-inspiring.
NCT's The Little Mermaid represents the very best of artistic collaborations: with all eyes focused on the prize of presenting a beloved musical to an audience that practically demands it be treated if not by reverence, then with respect. Under Nolan's watchful - and unerringly trained - eye, the creative collective that brings the show to life in this revision of the original production that features music by Alan Menken, lyrics by Howard Ashman and Glenn Slater and a book by Doug Wright, based on the original Hans Christian Andersen story and the 1989 animated Disney film, does so with utmost care and exacting attention to detail. The result is a delightful reconfiguring of a show that most audience members never knew they needed, but now will embrace with complete acquiescence and acceptance.
NCT's The Little Mermaid comes in at a briskly paced 75 minutes (without intermission), using judicious editing to craft a show that retains all of the comedy and charm of the original, but keeping it within a time frame that ensures audiences of all ages will absolutely fall in with it all over again. Some of the music has been cut (although only hardcore devotees of the show are likely to notice where the editing has excised part of the score, although even I made note of the relative brevity of Chef Louis' "Les Poissons") by musical director David Weinsten, who is credited with the musical adaptation and arrangements. The songs best remembered from the Menken score retain all their wonderful wit and entertainment value. The sustained applause that followed the first night performance of "Under the Sea" was something we've never experienced in a local production (in fact, the only thing that surpasses it in memory is the standing ovation that almost always follows the performance of "A Musical" in the first act of Something Rotten). The capable NCT cast deserve kudos for refusing to rush the moment and to take in the adulation and palpable ardor of the crowd. The number is stunning: a technicolor spectacle that's filled with all manner of stage wizardry and theatrical sleight of hand that delivers a visual treat, leaving the audience yearning for more. Likewise, "Part of Your World," "Poor Unfortunate Souls," "Kiss The Girl" and "She's in Love" (performed with its girl group vibe joyously intact) are just as fabulous and just as worthy of thunderous applause. Weinstein and his five-person orchestra sound at least ten times that size, performing the score with immeasurable talent and skill.
The resulting TYA (theater for younger audiences) adaptation artfully crafts a show that moves fluidly, perhaps even cinematically. All the beloved characters are here - Princess Ariel, Prince Eric, King Triton, Sebastian, Scuttle, Flounder, et al., and four of Ariel's mersisters - and all the best moments remain sublime and intact.
What does not waver, however, is The Little Mermaid's engaging tale of a forthright mermaid princess, Ariel, who longs to experience life on land, to walk on her own two feet upon the man-made streets of the nearby village. By leaving her life under the sea behind her, however, Ariel sacrifices so much more, ultimately leading her to the realization of that which is most important to her in her heart of hearts: loving the people who love you with their deepest devotion, and accepting others, regardless of the differences that separate you, to come together with a sense of heartwarming acceptance. The story of Ariel is as heartfelt and genuine as ever, sure to pluck at the heartstrings of even the gruffest and most resolutely unfeeling person seated somewhere in the darkened auditorium, wiping away a stray tear here and there to retain their sense of detachment.
Nolan's superb ensemble of actors who bring the show so vividly to life onstage are impressive in their commitment - not to mention swift in their ability to change costumes (McGee's designs are not only gorgeous and of the highest quality, but also virtually innumerable in quantity) at such breathless, breakneck speed - and their focus on the tasks at hand is nothing if not astonishing.
Leading the cast as Princess Ariel is Catherine Birdsong, who may have been fated since birth to play the role of the titian-tressed beauty. Birdsong's innate charm buoys Ariel throughout her theatrical journey and movingly conveys the conflicting emotions that make her such a compelling character. As Ariel longs to experience life on land, her desires are expertly telegraphed in the briefest of moments, the most inconsequential of gestures, to create a sense of authenticity and warmth that belies the fact mermaids don't actually exist in this world. Beautiful, confident, graceful and vulnerable, Birdsong's Ariel is both ethereally lighter than air, yet somehow heartrendingly genuine. When she sings "Part of Your World," every conceivable wonder of the world is conjured up by her expressive face and bright eyes.
Playing opposite her as the dashing heartthrob Prince Eric, Corbin Williams is similarly capable of playing a range of steadfast, full-throated and somehow genuine emotions - even if his character is written more as a romantic archetype than a flesh and blood man. Williams, however, infuses Prince Eric with all the human qualities required to make it easy to understand Ariel's infatuation with him and there is enough of the bon vivant thrill-seeker about him to make him every guy's best mate.
Piper Jones delivers a memorable Ursula, the underhanded and deceitful sea witch who bargains with Ariel for her voice and her very soul. Jones commands with the stage with her amazing presence, delivering a "Poor Unfortunate Souls" performance for the ages, clad in a costume that takes on a life of its own. Jack Tanzi and C. James Bare are electrifying as Ursula's henchmen (or, perhaps more accurately, henchfish?) Flotsam and Jetsam.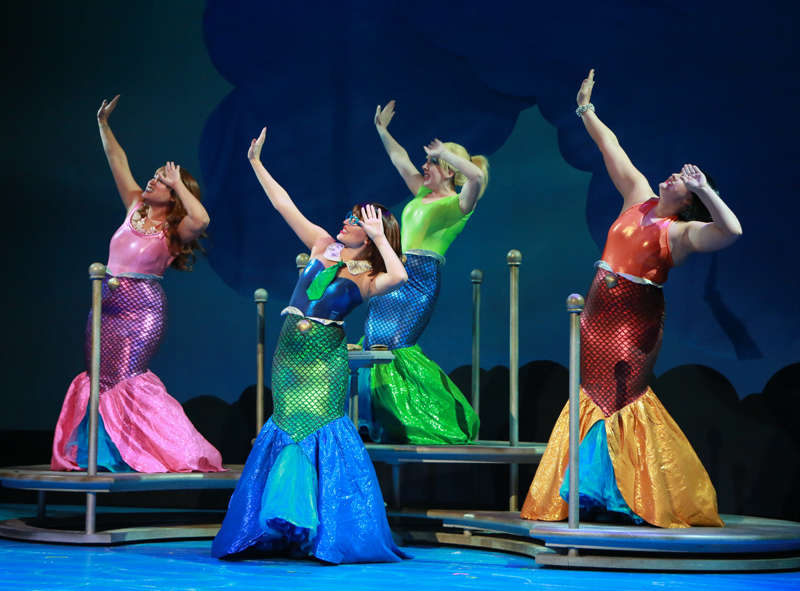 As Sebastian, James Rudolph is terrific, lending his fine voice to the character and creating through the movements of his own body and his manipulation of his crab puppet a character that fairly leaps from the stage. Likewise, Abbey Rhyne's Flounder is so much more than the sum of her parts (talented young actor meets puppet fish), resulting in a sublime performance that is sweetly believable. Isaac Brotzman very nearly stops the show (in order to cart it off with his own bag of theatrical tricks) as Scuttle, the worldly seagull who considers himself an expert on all things hominid, and who has some of the show's most colorful and entertaining comic moments.
Galen Fott cuts a regal and imperious swath as Ariel's demanding yet devoted father King Triton, and Richard Daniel is terrific as Prince Eric's similarly crusty major domo Grimsby.
Sarah Bailey, Lexie McEntire, Meggan Utech and Darci Wantiez (who doubles as Carlotta, the royal housekeeper) are wonderfully arch as Ariel's quartet of mersisters, morphing assuredly and with style into any number of other characters. Their performance with Abbey Rhyne of "She's In Love" is performed with 1960s girl group precision and skill and is one of the show's musical highlights. Jonah M. Jackson, Taylor Kelly and David Torres-Fuentes complete the ensemble, delivering consummate support throughout the tale with their yeoman-like performances.
Nashville Children's Theatre's production of The Little Mermaid is remarkable - once again proving that the company continues to set the standard to which others may aspire and further establishing NCT's role as the region's flagship professional theater company. The Little Mermaid runs through December 23, so you have absolutely no excuse if you miss this show.
Disney's The Little Mermaid. Music by Alan Menken. Lyrics by Howard Ashman and Glenn Slater. Book by Doug Wright. Based on the Hans Christian Andersen story and the Disney film. Music adapted and arranged by David Weinstein. Directed and choreographed by Ernie Nolan. Musical direction by David Weinstein. Presented by Nashville Children's Theatre. Through December 26. For details, including ticket information, go to www.nashvillect.org or call the box office at (615) 252-4675. Running time: 75 minutes (with no intermission).
production photos by Michael Scott Evans
About The Little Mermaid SHELLEBRATIONS during Thanksgiving
Prior to the 2 p.m. performances over Thanksgiving weekend - Friday, November 23, Saturday, November 24, and Sunday, November 25 - NCT will host special Shellebration parties. At these playful events each family will enjoy a photo with Ariel, a delicious treat from Five Daughters Bakery, and a special take-away.
Shellebration tickets are $10 per person regardless of age. A Shellebration ticket does not include admission to the performance of Disney's The Little Mermaid.
Ticket Sales
Single tickets for all NCT 2018-19 shows are on sale. To purchase a membership or single tickets call NCT's box office at (615) 252-4675 or visit www.NashvilleCT.org.
All performances take place at The Martin Center for Nashville Children's Theatre, 25 Middleton Street, Nashville in the SoBro neighborhood. Free parking is available on site.
Weekend and Evening performances
Performances are at 7 p.m. on Fridays and Saturdays, and at 2 p.m. on Saturdays and Sundays from November 9-December 23. (No performance on Sunday, November 11.)
About Nashville Children's Theatre
Founded in 1931 by the Junior League of Nashville, Nashville Children's theatre is the oldest professional children's theatre in the United States and is the largest theatre in Middle Tennessee. A national leader in theatre arts and education programs for young people, NCT was ranked by Time magazine as one of the top five children's theatre's in the country.