BWW Review: NEWSIES Makes Headlines for Start of Circle Players' 69th Season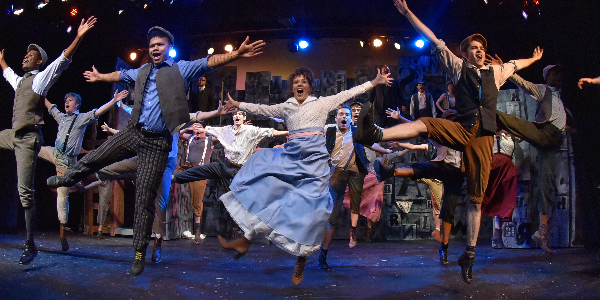 High-spirited, energetic and enormously entertaining, Circle Players' Newsies is a certified hit - thanks in large part to the focused direction of Jim Manning, the athletic and challenging choreography of Tosha Pendergrast and the superb musical direction of DaJuana Hammonds - performed by an impressive cadre of actors young and old, a blend of familiar faces and Nashville stage newcomers, who infuse the show with all the spunk necessary to bring the turn-of-the-century newsboys and a smattering of historic figures to life.
Circle's Newsies is so good, in fact, that it may well be the most satisfying musical from the company (now in its 69th season as the oldest community theater in Middle Tennessee) for quite some time, thanks to Manning's impeccable vision and the presence of Hammonds and her live orchestra, which is a welcome addition after several Circle productions that have been performed to musical tracks. There is nothing quite like a live orchestra accompanying the high-flying actors onstage to elevate any production and Hammonds and her players do their part to ensure the success of Newsies.
Circle Players benefits from its position of being among the first companies to present Newsies during the 2018-19 season. Already, at least six productions of the show are on-tap for audiences in Middle Tennessee, yet another example of a new title's popularity among companies when rights are first released for non-professional productions. And although Circle Players' iteration of Newsies, which is based upon the 1992 Disney film of the same name, is indeed of a "non-professional" sort, audiences can rest assured that it's presented in an altogether professional fashion with strong casting, eye-popping scenic design (Manning, once again, uses plenty theatrical legerdemain to give his cast an inventive, imaginative backdrop against which to tell their story), thrilling musicality and breathtaking choreography.
Indeed, if Newsies is in fact the best Circle Players musical we've seen in recent memory, it clearly includes the very best examples of choreographer Tosha Pendergrast's creativity and showbiz pizazz. Possibly the most popular choreographer to be found on local stages, Pendergrast always has multiple productions in process, regardless of the time of year (already she's slated to choreograph upcoming productions of Hair and A Chorus Line, also part of Circle's 69th and Broadway season, as well as staging the "Heat Wave" number in an upcoming production of The Boys in the Band, running September 27-October 1 at The Barbershop Theater), and Newsies best represents the amazing range of her skills, while her hardworking cast perform their hearts out to pay tribute to her herculean efforts to ensure they are at the zenith of their own abilities.
"The King of New York," the rousing Act Two opener is awe-inspiring and kicks off the show's second stanza in grand style, while Act One's "Carrying the Banner" and "Sieze the Day" are breathtaking examples of what a community theater cast can achieve when they are given the direction they need - and deserve - and the opportunity to show off their hard work.
Would that Harvey Fierstein's book, Alan Menken's music and Jack Feldman's lyrics prove as inspirational and garner such praise as Circle Players' creative collective does for their efforts, which is performed by the young and eager ensemble of actors on Manning's impressively designed set (he uses clever representations of hot type - kind of like a California job case writ large across the expansive stage), which is illuminated by Daryl Ritchie's lighting design and all the disparate elements (including costumes by Denese Evans Kelley, props by producer Janet Kleinfelter and sound by Cameron Cleland) that help set the tone for the show.
Unfortunately, Feirstein's book for Newsies simply lacks the emotional heft and the epic sweep that is needed for a historical saga such as the one told in the musical in order to totally immerse its audiences in the experience. Newsies lacks the gravitas to place it alongside such shows as Ragtime, Titanic or Les Miserables. And while it's likely that was not the intent of the show's creative team, the comparisons seem logical given the musical's subject matter, even if audiences could seemingly care less about that.
Fierstein's book is clever enough - his newsboys and girls surely crack wise - and the action moves along at a sprightly pace (frankly, I credit Manning for the pacing and for the ease with which one scene dovetails so splendidly into another), but Menken's score is unexceptional and derivative, at best, with every musical number sounding quite like all the others in the score. Feldman's lyrics to get lost in the oftentimes muddied sound design we experienced in the performance reviewed, which may leave you scratching your head in wonderment at what the actors just sang.
Newsies focuses on the real-life 1899 Newsboys Strike in New York City, in which the horrors and rigors of child labor - and the plight of the poor and disadvantaged, in general - were brought sharply into focus at a time of the rise of yellow, tabloid journalism exposed the rampant greed of America's gilded age. We're told throughout the musical the economic state of the world is bad and times are hard as they can be, but gosh-darn it, those ragamuffin newsies remain upbeat and optimistic about their futures (or the lack thereof), replete with the all-encompassing love of family, three squares and a feather bed upon which to drift off to slumber every night. As simplistic as that sounds, even if those dreams are unattainable, Newsies suggests that such basics remain just as vital to an individual's well-being today.
It's a story that should be told, filled with many untold truths amid the changing times peopled by historic characters like Joseph Pulitzer (whose bequest inspired the prizes for journalism excellence that bear his name; he also gave the money to Columbia University that resulted in the establishment of this country's first college of journalism) and Teddy Roosevelt (interestingly, Pulitzer was indicted in 1909 for libeling TR and J.P. Morgan via the pages of The New York World).
Manning has assembled a top-flight ensemble of actors to bring the story to life with heart, including Melissa Silengo, who is perfectly cast as aspiring reporter Katherine Plumber (there is no role in memory that is more suited for Silengo's apparent talents - it could have been written expressly for her), and Michael Sallee who plays the newsboys' leader, Jack Kelly, with amazing confidence and thorough commitment. Sallee plays Jack with the requisite energy and power that is needed for the character to be believable, and his scenes with Silengo are fairly electric. Both Silengo and Sallee perform their musical numbers with gusto, ensuring their onstage relationship reads authentic from the audience. Sallee's Jack is broad-shouldered and sell-assured, as exemplified by his easy interactions with the others hawking the daily news on the streets of New York City, while Silengo's Katherine embodies the type of woman called a firebrand at the turn of the century, what with her ambition and drive to succeed and to inspire.
Brian Jones is splendid as the imperious newspaper baron Pulitzer, coming off as blustery and somewhat buffoonish at times, but the actor's commitment to the role makes certain audiences will delight at his onstage machinations. Katharine Boettcher is delightful as performer and theater owner Medda Larkin, whose protective and maternal interest in Jack and the other newsies, ensures their safety in the perilous times represented in the play and she delivers one of the show's notable musical moments with her performance of "That's Rich" in Act One.
Among the striking newsies, Dewayne Mitchell is particularly impressive as the straitlaced and unassuming strike leader Davey, showing off some impressive musical bona fides in the process, while Addison Bowen charming her audience and fellow castmates alike as Les. Christian Redden makes a most welcome return to the local stage after some two-and-a-half years as Jack's best pal Crutchie, displaying his capabilities to perfection and, hopefully, providing a harbinger of what lies ahead in his stage career.
Manning's ensemble, which includes an impressive array of talents young and old, emphatically and enthusiastically take on each of their many and varied roles to give Newsies a rich and entertaining pedigree. Clay Hillwig is good in a trio of roles, while Kyle Rybczyk returns to the Circle stage with equal grace, and Nick Spencer very nearly steals the show from his fellow thespians with an adroit performance of Teddy Roosevelt that is noteworthy, for sure.
The rest of the cast, whether cast as back alley thugs, hardworking newsies, municipal employees or gorgeous showgirls fill the stage to send Newsies well over the top and into the realm of the unexpected and thrilling that typifies extraordinary musical theater and they are to be praised. Congratulations to Teal Davis, Austin Smith, William Robinson, Jake Rybczyk, Carter Wright, Emily Seifert, Maddi Keaton, Kameryn Harris, Kinsey Burchett, Megan Castleberry, Webb Bankemper, Noah Clark, Nicholas Page, RC Hollingsworth, Tyler Inabinette, Sawyer Latham, Joy Poine, Toby Silverman, Benjamin Pendergrast (and whoever I may have left out) for their commitment to Newsies and to providing outstanding entertainment for Circle Players' 69th year.
Newsies. Music by Alan Menken. Lyrics by Jack Feldman. Book by Harvey Fierstein. Based on the Disney film written by Bob Tzudiker and Noni White. Originally produced on Broadway by Disney Theatrical Productions. Directed by Jim Manning. Music direction by DaJuana Hammonds. Choreography by Tosha Pendergrast. Presented by Circle Players at the Z. Alexander Looby Theatre, Nashville. Through August 26. For details, go to www.CirclePlayers.net. Running time: 2 hours, 40 minutes (with one 15-minute intermission).
Related Articles View More Nashville

Stories

Shows
Jeffrey Ellis is a Nashville-based writer, editor and critic, who's been covering the performing arts in Tennessee for more than 35 years. In 1989, Ellis (read more...)