Review: Belmont University Musical Theatre's Delightful and Entertaining THOROUGHLY MODERN MILLIE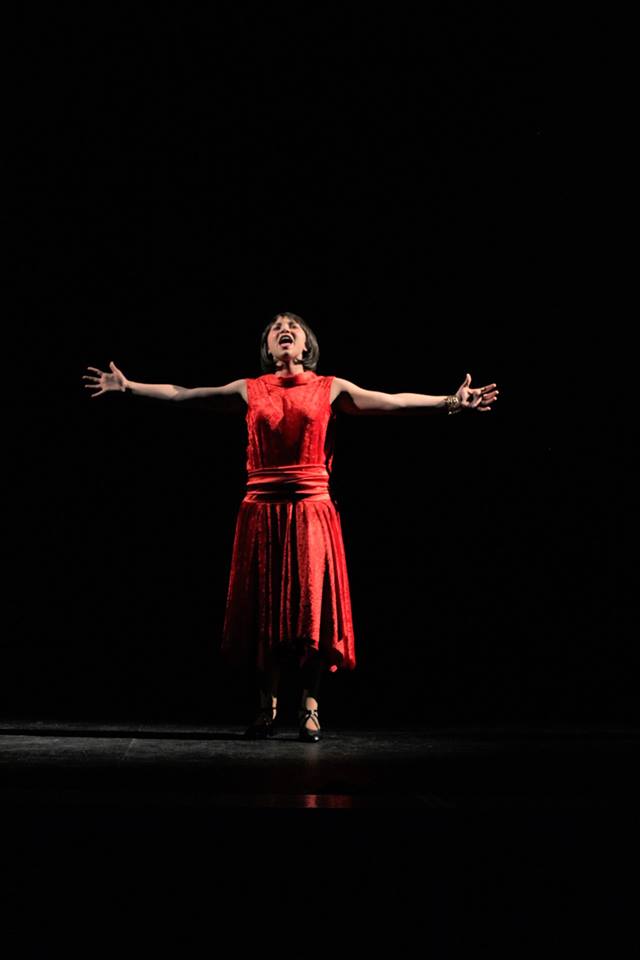 Anna Perry's energetic and period-perfect choreography - along with impressive performances from a cadre of university students destined for Broadway stardom - ensures that Belmont University Musical Theatre's Thoroughly Modern Millie is a complete and utter delight, featuring a memorable score wrapped up in a rather daft but engaging storyline that earns every bit of the resounding applause in a standing ovation that comes at show's end.
Yet another feather in the cap of BUMT's faculty (which includes program coordinator and production manager Nancy Allen, director David Shamburger, musical director Jo Lynn Burks, assistant director Erica Aubrey and the aforementioned Perry), Thoroughly Modern Millie is the perfect springtime musical diversion. It's a light-hearted romp, amusingly and tantalizingly enacted by a tremendous ensemble of musical theater triple threats in a production that is as stylish as Millie Dillmount's flattering new bob that instantly casts her as a "young modern" shortly after her arrival in Manhattan from the plains of Kansas.
It's 1922 and the accompanying storyline of Thoroughly Modern Millie, which features a collection of bathtub gin-swilling, fleet-footed and fresh-faced young moderns reveling in their newfound freedom at the very start of the Roaring '20s, seems funny and fresh (even if some of the jokes are as old as the hills) in Shamburger's fast-paced production.
Perry's superb choreography - which makes grand use of the Troutt Theatre stage and dazzling dance steps of the period - propels the action ever-forward, putting the tremendous talents of her student actors on full display and showing off their abilities to startling effect. Not only are Perry's big production numbers eye-popping and exhilarating, but if you watch closely, you'll see her creative hand in smaller, more intimate moments that justifiably call attention to her awesome skills. Among the most electrifying moments in the production are her show-opening "Not for the Life of Me"/"Thoroughly Modern Mille" production number that sets the glorious tone for the entire show, and Act Two's opening, "Forget About the Boy," in which Millie and her fellow stenogs threaten to rip the roof off of the Troutt Theatre with their joyous tap-dancing.
Likewise, musical director Burks' tremendous orchestra - onstage but often out of sight throughout the show - play the score by Jeanine Tesori and Dick Scanlan with consummate skill and showbiz acumen. Could there be a conductor more entertaining than the peripatetic and confident Burks? We sincerely doubt it. Her obvious enthusiasm for the material always ensures that her musicians and actors are along for the adventure of a musical theater lifetime.
Heading Shamburger's exceptionally talented ensemble are Ranae McIntyre and Bobby Hogan as Millie Dillmount and Jimmy Smith (they alternate in the roles with Katelynn Fahrer and Austin Querns), the star-crossed romantic leads of the deliciously off-kilter tale, along with Gabe Hoyer and Lauren Metzinger (sharing their roles with Brooks Bennett and Brooke Bucher) as the secondary romantic leads, Trevor Graydon III, Millie's boss at Sincere Trust Insurance Company, and "Miss Dorothy," Millie's best chum at the Hotel Priscilla, which provides low-cost lodging to any number of young women looking to make good in the Big Apple. Macy Medford, Peri Barnhill, Ginny Swanson, Emily Urbanski, Rachel Zimmer and Emma Oesch play the members of that particularly watchable sextet.
Winningly cast as Millie, McIntyre shows tremendous stage presence and commitment in her performance, charming her way through every scene with confidence, while somehow retaining her character's wide-eyed innocence even as she claims her place among all the sophisticated young women in New York City, circa 1922. McIntyre looks every inch the "young modern" in Allison Hearn's gorgeous costumes and she makes audiences sit up and take notice with her performance of "Gimme, Gimme," the Act Two number that's become a favorite of ambitious young actresses everywhere in search of an audition piece, and with "Not For the Life of Me" that introduces her in the musical's first moments. McIntyre commands the stage with ease, gracefully capturing Millie's ambition, which she underscores with the added warmth of a lovestruck and romantic ingenue, to carry the show.
Hogan, who has the look and manner of a Broadway leading man to augur future success, sings and dances his way through the show with an easy charm. His onstage chemistry with McIntyre is palpable in their scenes together, most notably during their opening sequence in which boy meets girl, boy offends girl and girl squares her shoulders and decides to prove the boy wrong. The initial contretemps between the two serves to presage the very moment they once again bump into one another and audiences watch them fall in love. Hogan has a lock on roles that call for a singing/dancing matinee idol - his expressive face and broad smile make him a dead ringer for any number of Broadway song-and-dance men since the 1920s - and he makes the most of every scene entrusted to him.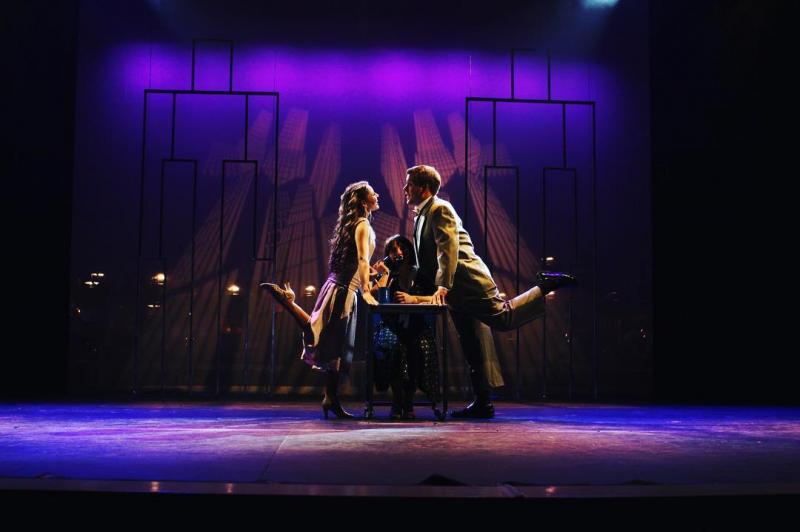 Hoyer, who has a collection of stellar reviews to accompany his stage roles in BUMT productions during his tenure at the school, virtually steals the show as the affable and well-meaning, if rather unaware, Graydon and he exhibits a notable sense of comic timing that simply cannot be taught: It's innate and so much a part of the young actor that it's almost breathtaking. His duet with Metzinger as Miss Dorothy, "I'm Falling In Love With Someone" (which interpolates Victor Herbert's "Ah! Sweet Mystery of Life"), is one of the show's musical highlights. Hoyer and the lovely Metzinger combine for a performance that is perfectly modulated, yet altogether stunning.
If Hoyer doesn't walk away with the show tucked into his back pocket, it may be because of the performances of four other cast members: Erika Johnson as the manipulative Mrs. Meers, who runs a white slavery ring when she's not swanning about the Hotel Priscilla; Hudson Snyder and Darian Goulding as her bellmen/henchmen Qin Ho and Bang Fu; and Maggie Hutchison as the socialite Muzzy Van Hossmere, who's pulled herself up by the spaghetti straps of her luxe period costumes, to become the Macon, Georgia-born Muzzy with an accent as sweet as molasses and as lyrical as a songbird's. Johnson shows off her own impeccable timing in her over-the-top performance as "Meersie" and shows off her onstage versatility in the process, while Snyder and Goulding deliver perfectly nuanced comedic performances, all the while singing lyrics in Cantonese - their performance alone may be worth the price of a ticket.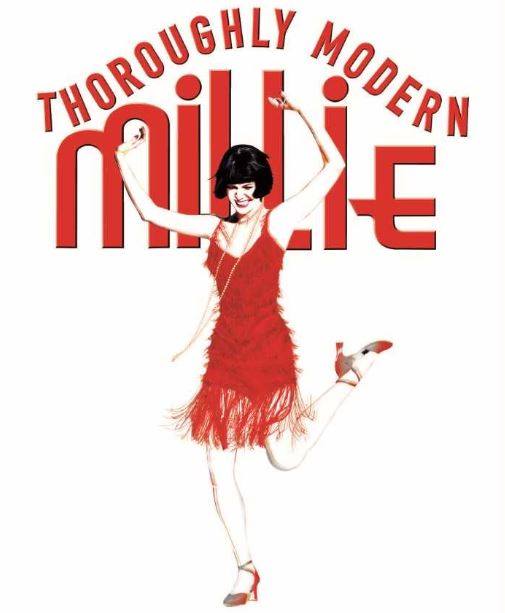 They are surrounded by an enthusiastic supporting cast featuring some of the BUMT program's best-known personalities who are just as likely to be cast as leads in upcoming productions as the assembled starpower in Thoroughly Modern Millie.
Shamburger's focused direction perfectly sets the action in the midst of the 1920s, the milieu of the era evident throughout the sterling production.
Caroline Morris' lighting is beautifully designed and ideally accentuates the scenic design by Shamburger. Randy Craft's sound design ensures that every voice is heard in the hard-to-fill confines of the Troutt.
Playing through this Saturday (after a March 22 opening), there remain three more performances of Thoroughly Modern Millie at Belmont University's Troutt Theater, which prove to be the perfect accompaniment to a beautiful beginning of spring in Nashville. Don't miss it!
Thoroughly Modern Millie. Book by Richard Morris and Dick Scanlan. New music by Jeanine Tesori. New Lyrics by Dick Scanlan. Original story and screenplay by Richard Morris for the Universal Pictures Film. Directed by David Shamburger. Musical direction by Jo Lynn Burks. Choreographed by Anna Perry. Presented by Belmont University Musical Theatre. At the Troutt Theatre, Nashville. Through March 30. Running time: 2 hours and 45 minutes (with one 15-minute intermission).